Right now our shop is crammed full of amazing, unique gifts for everyone in your life. (OK, maybe not your uncle who only wants vintage Nixon paraphernalia, but just about everybody else). Here are just a few of our staff picks for the best stuff to wrap up this season.
And if you don't spot the gift you're seeking on this list, come on into the store and let us help you find that perfect present for someone you love (or for yourself … you surely deserve a little something, too).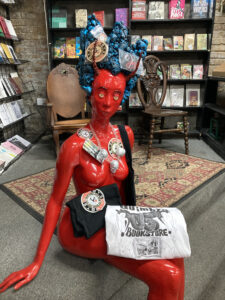 Quimby's Schwag
You know you love us … so spread the love around by gifting some Quimby's merch, featuring original designs by some of our favorite artists.
Quimby's Gift Certificates, available in a variety of denominations
Quimby's Air Freshener, designed by Plastic Crimewave
Quimby's Coasters, featuring our classic logo designed by Chris Ware
Quimby's 30th Anniversary T-shirt, designed by Caroline Cash
Quimby's Logo Embroidered Patch
Quimby's Bong Mice Metallic Sticker, designed by Caroline Cash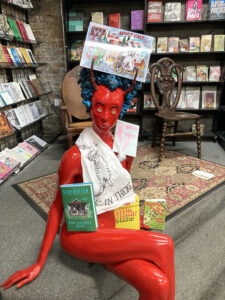 Liz, Manager and Zine Maven
Broke, Not Broken: Personal Finance for the Creative, Confused, Underpaid, and Overwhelmed by Anna Jo Beck
Gentrifier: A Memoir by Anne Elizabeth Moore (comes with a free bookplate signed by the author, while supplies last)
Someplace Special, edited by Aim Ren Beland and Cynthia E. Hanifin
Lydia Tomkiw: Poems, edited by Dan Shepelavy
Hang in There Kitten Tea Towel, designed and hand-printed by Heather Anacker
Dame Darcy Meat Cake Calendar 2022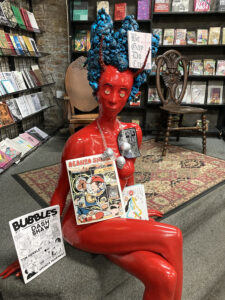 Caroline, Cartoonist in Residence
Heaven No Hell by Michael DeForge
Bubbles, An Independent Fanzine About Comics and Manga #11 (We've got issues #1-#10 in stock, too)
Be Gay Do Crime by Mary Nardini Gang
You Have Been Catcalled. What Do You Do? Patch by Jenn Woodall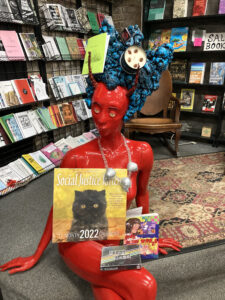 Cynthia (Zinethia), Zine Warrior
Qustomized Quimby's Zine Package $25 Version (also available in $69 and $100 versions)
Awesome Things #4 by Liz Mason (Awesome Things #1, #2, and #3 are, frankly, awesome, as well!)
Girl in the World by Caroline Cash (comes with a free sticker sheet designed by the artist, while supplies last)
Social Justice Kittens Calendar 2021 (available in-store only)
Zine Game Deck by Billy McCall
White City Devil Coffee & Coconut Candle (available in-store only, with a free Quimby's matchbook while supplies last)