Highlights this week include multiple screen-printed titles from Koyama Press, the new Paul Hornschemeier book, an art anthology of Art about William Shatner, a Zap exhibition show catalog, a folded print from Anders Nilsen, a DVD and a book about Chicago street art (from 2 different people) and more. Tonight at 7pm: Margaret Hicks discusses her book Chicago Comedy A Fairly Serious History.
ZINES & ZINE-RELATED BOOKS!
Roctober #49 $4.00
Ghost Pine – All Stories True by Jeff Miller (Invisible) $16.95 – Thirteen years Compiling the best of Jeff's long-running zine of thirteen years, from his youth in suburban Ottawa in the late 1990s, to travels across Canada and North America and his current home in Montreal.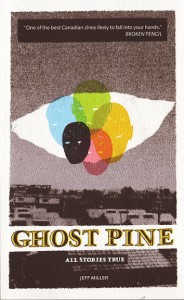 Taking the Lane vol 1 Sharing the Road with Boys and Taking the Lane vol 2 Revolutions Every Damn Day by Elly Blue $3.00 each separately
Homobody #6 Where Qweer Is the New Qool by Rio $2.00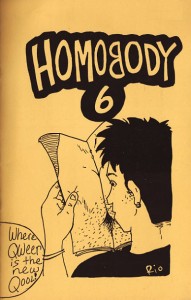 Lou Reeder/You Cant Put Your Arms Around a Memory Split Zine by Corina Fastwolf and Matt Monochrome $3.00 – Music-theme split zine with the funniest titles in the store. Open it up to the centerfold and- what have we here- OH MAN! ITS A HOMEMADE VIOLENT FEMMES CROSSWORD PUZZLE!!! What else could you possibly need to know about this? -EF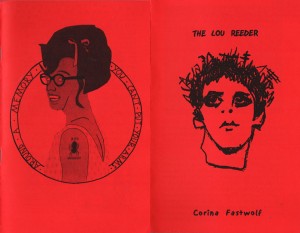 Menstruation Sensation – A Practical Guide to Navigation the World of 21st Century by Alyssa Beers $3.00
Sugar Needle #35 by Corina Fastwolf $2.00
She Must Be Having a Bad Day – The Cult of the Female Food Service Worker $2.00
Railroad Semantics #4 Fall 10 by Aaron Dactyl $6.00 – Thick zine of heavy trampin'.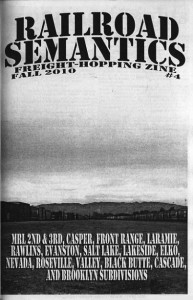 Simple History – Latin American Independence 1810 to 1824 by J. Gerlach $2.50
Sowing and Dawning #3 by Rick Visser $4.00
Gutter Slug #2 by Emily $3.50
Cyberpunk Apocalypse #3 The Man Hates Us $6.00
Patient Files #3 Confidential HAY $3.00
Educating For Freedom by Cindy Milstein $4.00
Asexy Life On Asexuality and Challenging Heteronormativity $1.50
Abolish Restaurants by Prole.info (PM Press) $5.95 – Yeah, fuck those people eating their food and other people serving them food. Fuck those guys. Ha ha. No really, this is a worker's critique of the food industry. And on a totally unrelated note, it has really good design layout, and is almost like an illustrated Fast Food Nation.
High and Outside by Adam Hartnett and Scott Rideout $4.00
In Light of What's Happening It Happened #1 Comic and Mixtape by Sean Cason $6.00
Without Words Without Kneeling – The First Six Issues by Tomas Moniz $6.00 – The first volume collection.


Without Words Without Kneeling #7 – A Serialized Zine Novella by Tomas Moniz $2.00
She Is Restless vol 1 Fracture by Rebbeca Mir $3.00
She Is Restless vol 2 Waves by Rebbeca Mir $4.00
Lover by Devan E Bennett $5.00
Sumerr Whatever #1 $1.00
Grey Supreme #1 by Mark Laliberte $13.00
Your Secretary #6 Lake Effect #1 Split by Jami Sailor $2.00
Terrarvm #1 by Michael Max McCleod $12.50
Eat Zine #1-#3 $6.00 each
Contemporary Dude Theory 2nd Edition by various $8.00 – Very sociologyish. (And interesting.) Perhaps consider this as a companion volume to N+1's "What Was the Hipster"?
Ospreys #16 Obscure Finale $10.00
Bizarrism #11 by Chris Mikul $6.00 – A low-fi somewhat Fortean zine devoted to weirdos through history. VERY interesting.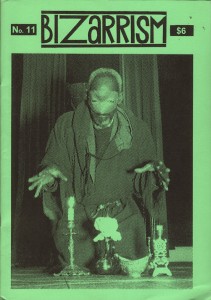 COMICS & MINI COMIX!
The Game by Anders Nilsen $9.00 – This double-sided poster by local comics superstar Anders Nilsen comes with trading cards, each package has a different one. This print is composed of three panels in an issue of Kramers Ergot, but this edition comes with a fourth page. We are one of the only places you can get this. And it conveniently comes folded and encased in plastic wrap so you you don't have to carry it home in a big tube.
Amazing things from Gabrielle Bell!: Diary Minneapolis California New York What The Manifestation ($40.00), LA Diary ($4.00)
Lose #3 by Michael DeForge (Koyama) $5.00 – Another issue from a title that often makes our top ten bestseller list. Come see for yourself why.
Noah Novella The Peoples History of Noah VanSciver, Selection of Autobiographical Comics $4.00
Not My Small Diary #16 You Are Here by Delaine $6.00 – Double volume anthology, always high quality mini strips. They go fast!
Monster Party by Chris Eliopoulos (Koyama) $5.00
Cat Rackham Loses It by Steve Wolfhard (Koyama) $5.00
Suicide Girls Comic #2 by various (IDW) $3.99 – Chicks with tattoos and piercings fighting crime. If you can't afford to subscribe to their website maybe you'll spend $3.99 on a comic about fictional crime fighting. And boobs.
Nobrow #5 $17.50
Comics Youth #1 by Blaise Larmee $2.00
Welcome to Nursing Hell #1 $4.00
Just So You Know #2 by Joey Alison Sayers $5.00
Middle School by Monica Gallagher $2.50
Silent Type 2 $5.00
Booty #23 $3.00
Poseur #5 by Nat Hoonsan $4.00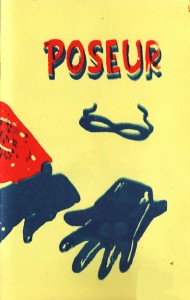 Dark Tomato #1 by Sakura Maku (Domino Books) $5.00 – Strange events in the life of one of New York's finest subway drivers, slips through a dream reality and hangs out in a teacup…Maku's vibrant, boney, wire-haired characters look like amazing teenage fan art for the Rolling Stones collaged with scraps from the best fabric store ever. They move through patterned space with a fluid float that builds language the from scratch both linguistically and graphically. The debut title from Austin English's new publishing project Domino Books, this comic is a real power. -EF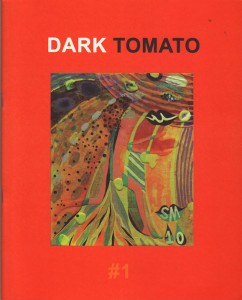 Francisco by Gina Wynbrandt $3.50
Vestiges Creator Showcase Series 1 by Patrick Godfrey $3.95
Corndog Creator Showcase Series 1 by Meg Gandy $4.95
Howl Before Sunset Creator Showcase Series 1 by Mariya Pantyukhina $2.95
Drip Drip Drip Creator Showcase Series 1 by Gandy Rawn $3.95
Booyah the Oblitorator Creator Showcase Series 1 by James Callahan $4.95
Viande Est Mauvaise Creator Showcase Series 1 by Tom Batten and Matt Deans $3.95
ART & DESIGN BOOKS!
Zap Masters of Psychedelic Art 1965-1974 ed. by Gary Panter $35.00 – Exhibition catalog from the Zap retrospective show at Andrew Edlin Gallery, curated by Gary Panter. This book features work from a variety of underground artists like R Crumb, S Clay Wilson, Victor Moscoso and more!
Chicago Street Art $15.00 Text by Joseph J Depre and photos by Oscar Arriola, Chris Diers, Thomas Fennell IV and Patrick Hershberger. A love letter of sorts to Chicago and its many street artists, photos published here so that when the art gets graffiti blasted they've been documented somewhere. With work by such artists as Tiptoe, Artillery, The Viking and more. Traverlers, fuck bringing home a snowglobe from the souvenir stand. Get this book instead.
The Shatner Show ed. by Janine Vangool and Glen Dresser (Uppercase) $20.00 – An anthology of art about Mr. Shatner. Yes, for real. Various artists.
Collection a Day – 365 Curated Collections by Lisa Congdon (Uppercase) $35.00 – Tiny collections of tiny items, arranged delicately, each day a new collection of quirky little ephemera. The cutest OCD thing ever. The book comes in beautiful tin box so you can keep the book in pristine condition while you go wipe off all your doorknobs.
In Search of Cold Places by Rebecca Mir $12.00
Constructive Abandonment by Michael Dumontier and Neil Farber (D&Q) $15.95
Wonderwear #5 Night Knight In Pig In a Wet Blanket Down Boy by Douglas Nelson $3.90
GRAPHIC NOVELS & TRADE PAPERBACKS!
Life With Mr Dangerous by Paul Hornschemeier (Villard) $22.00 – Local comics artist and friend of Quimby's! A hardcover beauty.
Root Rot (Koyama) $12.00
Centifolia Sketchbook Illustrations vol 1 and vol 2 by Stuart Immonen (Adhouse) $19.95 each separately
Even the Giants by Jesse Jacobs (Adhouse) $9.95
DV8 TPB Gods and Monsters by Brian Wood and Rebekah Isaacs (DC) $17.99
FICTION!
Weeding the Seed of Deceit by Rebekah Mercuri $17.95
Smythology by Jeremy Tarr and Katy Smail (Big Head) $25.99
DIY
Winds From Below Radical Community – Organizing to Make a Revolution Possible by The Team Colors Collective $6.00
Self-defense for Radicals – A to Z Guide For Subversive Struggle by Mickey Z and Richard Cole (PM Press) $4.95
Nontoxic Housecleaning by Raleigh Briggs $1.50
Rough DIY Zine On Developing B and W Film $2.00 – This is a handy-dandy guide/starter/reminder on basic balck and white film processing. Simple, fun and explained well. Although digital photo may be convenient and immediate, a pitch black room full of chemicals rarely disappoints. -EF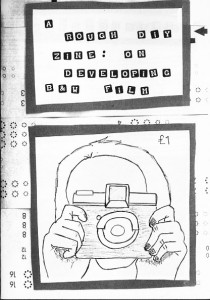 Play It Make It – A Tiny Book of DIY Games by Rio $1.00 – DIY Apples to Apples and more. Super good ideas.
So Raw its Downright Filthy a Raw Vegan Cookbook by Joshua Ploeg (Microcosm) $4.00 – Amazing new recipes from the author of In Search of Lost Taste. Delicious, and with flavors and food ideas you wouldn't expect.
LITERARY JOURNALS, CHAP BOOKS & POETRY!
Overtime Hour 19 The List bt TD Corum $2.00
Ghosts and Doppelgangers by Brad Liening $13.00
Reasons to Leave the Slaughter by Ben Clark (Write Bloody) $15.00
Left Having by Jesse Seldess $14.95
Hannah Weiner's Open House by Hannah Weiner $14.95
Literary Review vol 54 #3 Spr 11 $8.00
Eat The Wolf Poems by Xavier M. $.50
What Are They Doing in Heaven Today #1 $.25
MAGAZINES!
Bitch #51 $5.95
Uppercase #9 A Magazine For the Creative and Curious $18.00
Worn #11 Fashion Journal $6.00
Bust Jun Jul 11 $4.99
Z Magazine Jun 11 $4.95
MUSIC BOOKS OR BOOKS WRITTEN BY MUSIC PEOPLE!
Confessions of a Chicago Punk Bystander by Marie Kangor-Born (Chicago Punx Pix) $22.00 – Missed last night's release event here? Here's your chance to snap one up!
SEX & SEXY!
Empower Yr Sexy Self  – A Workbook by Cheyenne Neckmonster/The Wrench Collective $1.50 – A get-it-started zine workthrough about body image, sensuality, sex, gender and identity. Nice n' concise. -EF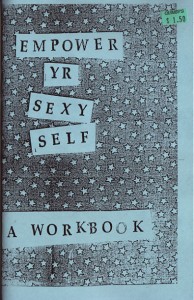 Adult Themes Rated XXX by Chantel G. $2.00
Attitude #205 Sum 11 $10.99
Inked Jun 11 $6.99
OTHER STUFF!
Matt Bergstrom's 3d View Master Reel and Zines! $10.00 each, from the American Ruins series, including: Brachs Candy Factory, Washburne Trade School and The Michael Reese Hospital. From the artist behind the Build Your Own Chicago (and New York) Cards.
Illustrated Guide to Cockroaches by Ekaterina Smirnova (MBP) $17.95
Comptons Cafeteria Riot Poster San Francisco 1966 $12.00 – Celebrate peoples history with this poster by Andre Perez.
Punk Rock Saved My Life sticker $1.00
Every Damn Day DVD A Sampling of Chicago Street Art and Graffiti $12.00