*Until COVID-19 status has been changed, we are post-poning this event until an undeclared later date. Stay tuned to quimbys.com for info about the rescheduling.*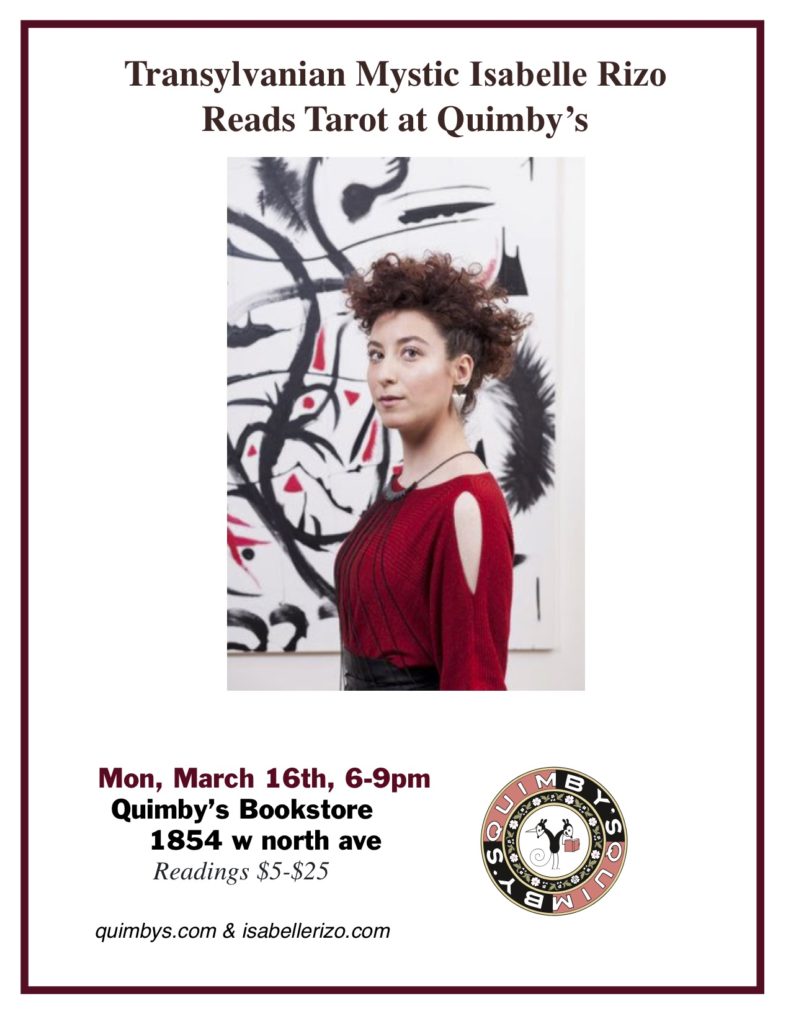 Last month's tarot readings went so well with Isabelle Rizo that we've invited her back for another night!
In this evening of exploring Tarot with Transylvanian Mystic, Hypnotist, and Artist Isabelle Rizo learn what the tarot cards will tell you. Having used tarot since 2014 as a way to ground herself on her travels she found the collective unconscious easily mirrored through her own experience.You can bring a simple question and we have a conversation with the cards, or bring something that you need specific guidance on. Isabelle's readings are inspired by her Romanian upbringing, using Eastern European folk stories, symbolism, and ethnographic influences to give nuanced readings and performances. 
"Isabelle witnesses and holds safe space wherever she goes." –Emily Stroia, Author of Into the Light
Isabelle has been featured in such places as: Atlas Obscura, Prague College, The Whoroscope Witch Podcast, and was hired by GOOP as a resident tarot reader. Way Cool Magazine. She is the resident tarot teacher at Inner Sense Healing Arts where she teaches every Wednesday night in Chicago. Her work and workshops have also been featured at Occult of the Bazaar, She Spoke International Art Exhibition, and Sideshow Gallery. She runs her hypnosis practice with a group of amazing diverse and queer therapists at Art of Balance in Chicago as well Head Facilitator of The Coven which is an online and offline group of artists, healers, and liminal space dwellers with international and local members. 
Readings $5 – $25
For more info visit isabellerizo.com
Monday, March 16th, 6-9pm