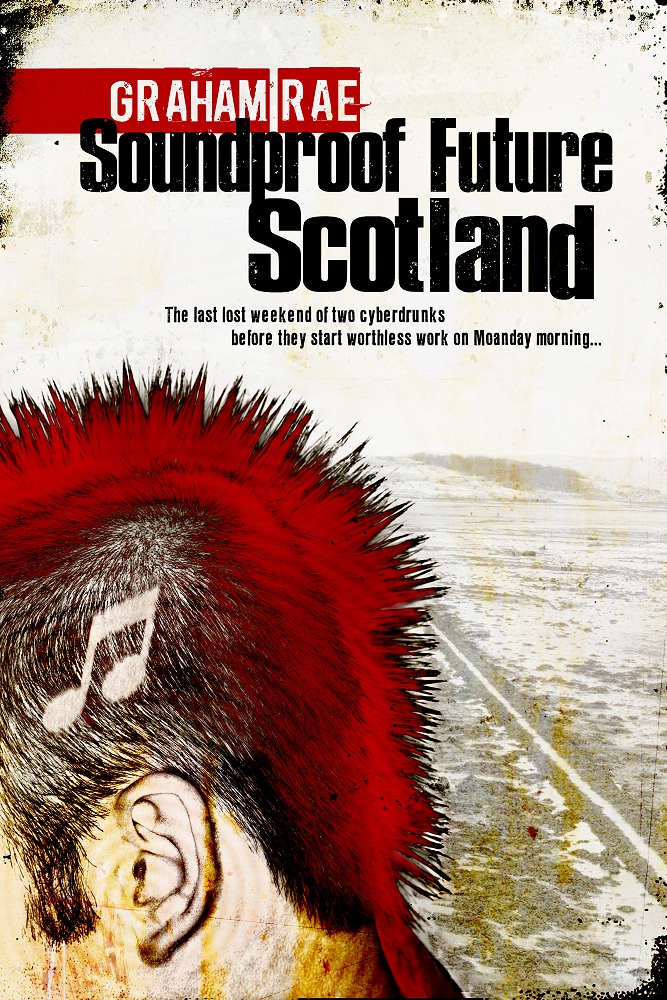 SOUNDPROOF FUTURE SCOTLAND is a linguistically deranged trip into a dead-end, techno-punk future that lies firmly within our sight.
Scotsman Graham Rae's new book Soundproof Future Scotland (Creation Books) is a sort-of futuristic meditation on his old home country. Welcome to the end of the known world. Set in the 22nd century in an independent Scotland, it details the lives and loves and hates of Johnny Certex and Ratsoup. These young cyberdrunk boyz spend their weekend boozing, band practice, drinking, digigames, hacktivism, skarboarding, chopping maul madness. The the book follows them as they drink and play digigames and ponder their small-town world (the center of Satellite Town, the rubbish dump where they live) before they start their crappy jobs as holographic refuse collectors. They plan to go to see their all-time fave band live, Empty Vessels, as the inescapable gravitational pull of Wavesound drags them closer to The Best Gig Ever.
Soundproof Future Scotland is more Charles Bukowski than William Gibson; a raw, lyrical, hilarious, thought-provoking trawl through the underbelly of a Scotland that may yet come to be.
This book is not in print yet, so Quimby's will have vouchers valid for digital download  that will be on sale at the event.
SOUNDPROOF FUTURE SCOTLAND has already drawn significant praise:
"New writers, like yourself, will always keep appearing, thank God, + shock + delight a new generation of readers." -JG Ballard
"If Henry Miller decided to rip off both William Gibson and William Burroughs, it might read like this gritty sexplosive novel set in the 22nd century." -Richard Kern
"Aside from creative heckling, the highest praise one could pay Scottish ex-pat Graham Rae on the occasion of his rip-roaring novel Soundproof Future Scotland is to say that the writing crackles with the wit, (unintentional) wisdom, and sheer, unadulterated energy of great rock 'n' roll. Irvine Welsh, move over, and Lester Bangs, I think you'd be proud." -Jim DeRogatis
"Graham Rae makes heterosex sound quite appealing. Which is of course the test of any great fiction writer." -Mark Simpson
Graham Rae's work has been featured in Realitystudio.org, Filmthreat.com, American Cinematographer, Cinefantastique, and 3ammagazine.com. His work has also appeared in the Deep Red Horror Handbook, and the anthology Please: Fiction Inspired by The Smiths. He has also appeared on BBC Radio Scotland as a film critic.
Fri, Feb 17th, 7pm

For more info: www.creationbooks.com