Monthly Archive for June, 2020
Page 2 of 2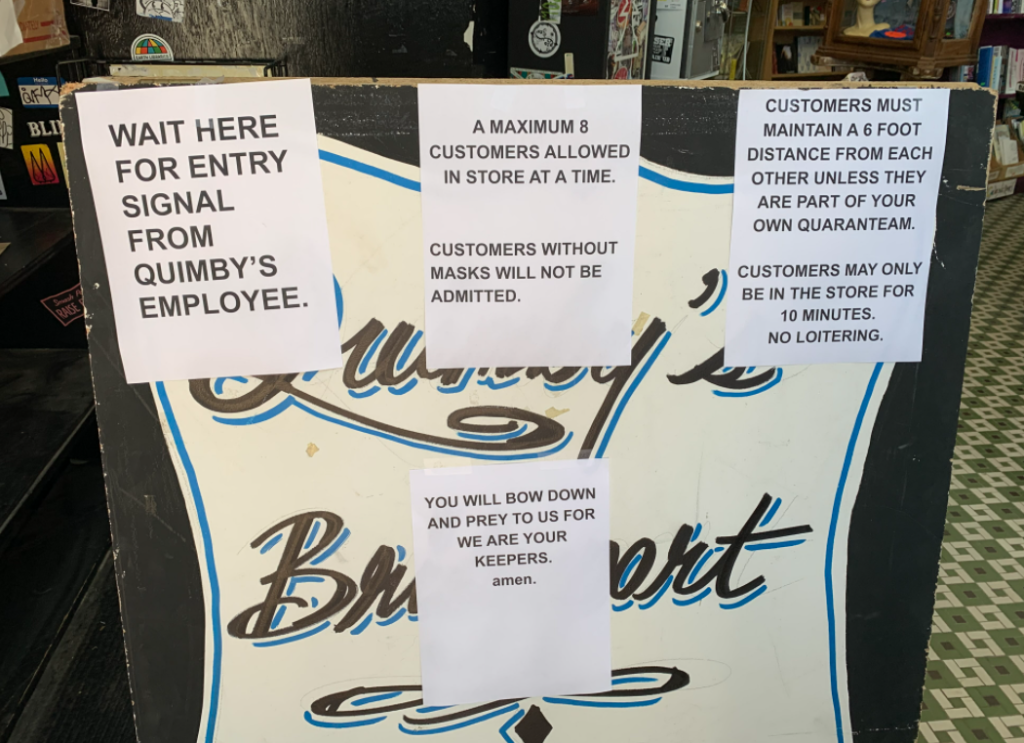 That's right! We're excited to announce that we are going to be open on Thursday at noon! For real this time. We're nervous and cautious, like a little fawn leaving the nest for the first time. (That made no sense. We're hyperventilating behind these masks in Fort Quimby, hunkered down.) We will be open five days a week Thursday through Monday 12 to 6 & closed on Tuesdays and Wednesdays for the time being. Eight people can come in at once and you must be wearing a mask. We look forward to seeing you!
Beyond Heaven: Chicago House Party Flyers volume II 1981-1992 by Brandon Johnson and Mario "Liv It Up" Luna (Almighty & Insane Books) $20
I Know You Rider: A Memoir by Leslie Stein (Drawn and Quarterly) $24.95
Strange Tapes #6 by Scott R. Miller $5
Vintage Hand Lettering: Create Beautiful Fonts with Old Time Flourish by Lisa Quine (Page Street) $21.99
Nori by Rumi Hara (Drawn and Quarterly) $24.95
Swamp by Yoshiharu Tsuge (Drawn and Quarterly) $24.95
Sweet Time and Other Stories by Weng Pixin (Drawn and Quarterly) $24.95
The Paris Review #233 summer $20
GenderFail Reader vol 2 by Noah LeBien and Be Oakley (GenderFail) $18
Escapist Artist #61 May 2020 by Jolie Ruin (Riot Grrrl Press) $2
Slutcake #8 Feb 20 by Jolie Ruin (Riot Grrrl Press) $2
Skurt Cobain #1 A Zine About the 90s April 2020 by Jolie Ruin (Riot Grrrl Press) $2
Trumpet This #1 by Mark Otto and Walid Atshe $4
Pothead: My Life as a Marijuana Addict in the Age of Legal Weed by Neal Pollack $18.95
Smut Peddler Presents: Silver by Andrea Purcell (Iron Circus) $30
Soviet Signs and Street Relics by Jason Guilbeau (Fuel) $34.95
zines Klon Waldrip about VHS culture, various titles and prices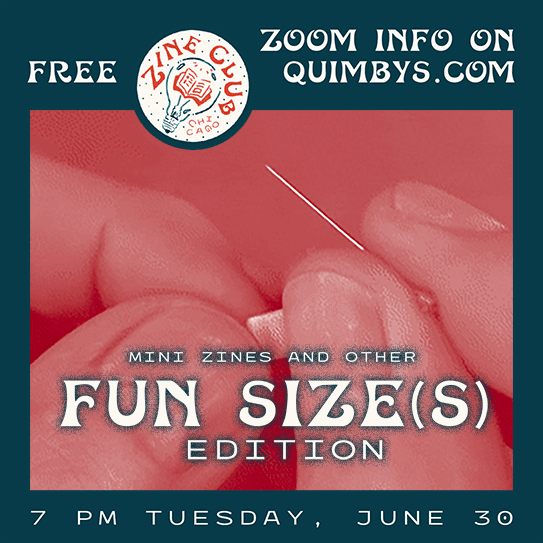 When many folks think of zines, they conjure up the classic image of sheets of copy paper folded in half and stapled down the center. But there are so many more ways to fold, cut, assemble, and bind a zine! This month at Zine Club Chicago Online: Fun Size(s) Edition, we'll be discussing self-published works that come in non-standard sizes and shapes, from mini zines and accordion-style booklets to one-of-a-kind configurations. Grab your favorite titles, BYOS(nacks), and join us on Zoom for a fun conversation!
** Zoom info ** We want to make sure that our online Zine Club events are a safe space, so we won't be releasing the Zoom link and password publicly. If you'd like to attend, please email zineclubchicago@gmail.com to RSVP by 5 p.m. Tuesday, June 30. We'll email you the Zoom link and password one hour before the event begins.
Zine newbies and longtime enthusiasts alike are always welcome at Zine Club Chicago, the city's only book club-style event for people who read zines. This free monthly series is produced by Chicago Zine Fest/Midwest Perzine Fest organizer Cynthia Hanifin and hosted by Quimby's Bookstore. Anna Jo Beck designs our monthly flyers and created our logo.
More info:
pssst hey want a jpg o' this? here ya go!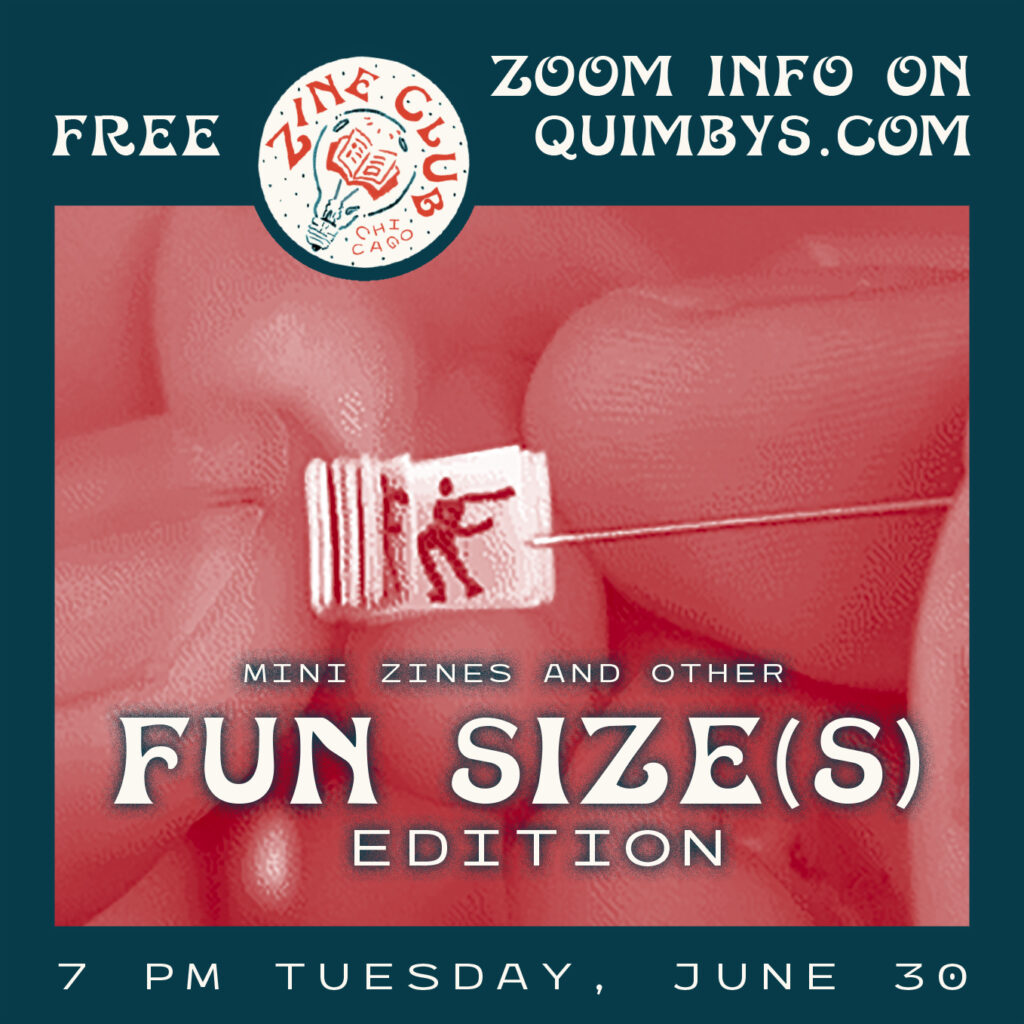 Quimby's is concerned about the safety of our customers, employees and neighbors. Therefore we are not going to open Wed, June 3rd as previously announced. We ARE going to open but we don't know when.
We stand with the black lives in our communities. Stay safe, keep your voices heard. Black Lives Matter.