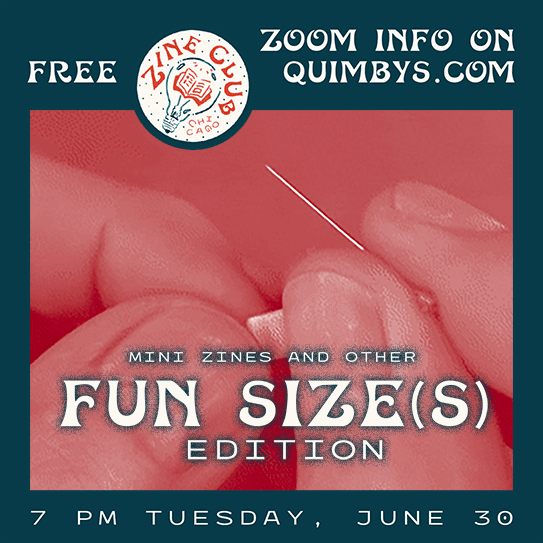 When many folks think of zines, they conjure up the classic image of sheets of copy paper folded in half and stapled down the center. But there are so many more ways to fold, cut, assemble, and bind a zine! This month at Zine Club Chicago Online: Fun Size(s) Edition, we'll be discussing self-published works that come in non-standard sizes and shapes, from mini zines and accordion-style booklets to one-of-a-kind configurations. Grab your favorite titles, BYOS(nacks), and join us on Zoom for a fun conversation!
** Zoom info ** We want to make sure that our online Zine Club events are a safe space, so we won't be releasing the Zoom link and password publicly. If you'd like to attend, please email zineclubchicago@gmail.com to RSVP by 5 p.m. Tuesday, June 30. We'll email you the Zoom link and password one hour before the event begins.
Zine newbies and longtime enthusiasts alike are always welcome at Zine Club Chicago, the city's only book club-style event for people who read zines. This free monthly series is produced by Chicago Zine Fest/Midwest Perzine Fest organizer Cynthia Hanifin and hosted by Quimby's Bookstore. Anna Jo Beck designs our monthly flyers and created our logo.
More info:
pssst hey want a jpg o' this? here ya go!