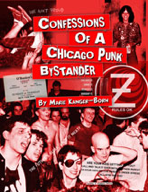 1. Confessions of a Chicago Punk by Marie Kanger-Born (Chicago Punx Pix Productions) $22.00 – What? You couldn't make it to this event last week? We've still got a few copies left of this book that compiles stuff from the author's zine, pictures, recollections and more. Hard to find this one in lotsa other places!
2. Lose #3 by Michael Deforge (Koyama) $5.00
3. The Game by Anders Nilsen $9.00 – Double-sided poster with trading cards, and originally appeared as 3 pages in an issue of Kramers Ergot. This has that plus a fourth page!
4. Diamond Comics #6 by Jason Levian (Floating World) $4.00 – New full color issue of a tip top newsprint 'thology. Big, big pages from Paul Pope, Farel Dalrymple, Lane Milburn, Lala Albert, Jim Rugg, Zack Soto, Dash Shaw, Stanley Lieber, Sam Hiti, Bendik Kaltenborn and a 4-page sunshine vampire story by Jonny Negron that really sold me on the whole thing. -EF
5. Congress of the Animals by Jim Woodring (Fantagraphics) $19.99
6. Paying For It: A Comic Strip Memoir About Being a John by Chester Brown (D&Q) $24.95
7. Under the Radar #36 $5.99
8. Life With Mr Dangerous by Paul Hornschemeier (Villard) $22.00
9. Bitch #51 $5.95
10. Burn Collector #15 by Al Burian (Microcosm) $3.00 – Al Burian takes on his new home town, Berlin with a little help from a Chicago All-Star team of Anne Elizabeth "Unmarketable" Moore and Liam "Secret Beach" Warfield.