1. Soup and Bread Cookbook: Building Community One Pot at a Time $20.95 – Thanks to everybody that came out for the event for this wonderful Soup and Bread Cookbook, compiled by Martha Bayne from the Hideout's weekly winter soup nights of the same name.
2. Kramers Ergot #8 ed. by Sammy Harkham and Dan Nadel (Picturebox) $32.95 – This latest Kramer's anthology feels a little bit like cocaine and a reptile tank. The contemporary comics contributions are bookended by Robert Beatty's retro-digital airbrush wizardry and bisected by higloss cgi still lives by Takeshi Murata. Then there's a mouthwash Preface by Ian Svenonius' space cowboy essay "Notes On Camp, Part 2". Followed by some great cartoonists paring it down and playing it cinematic and cool – CF's Hunger-ish scenario, Harkham's Kubrick's cube, Ben Jones gives us a long yarn in a dental floss line, Frank Santoro and Dash Shaw do a foggy bit about sexual predator entrapment hued in Cold Heat pervert-purples. Johnny Ryan delivers a space carnage ramble, Chris Cilla does some smut with David Heatly flavor overtones. Tim Hensley does Svenonius' essay one better in a single panel National Lampoon sort of gag. Despite a icy hands-off feel to much of book there's still a pulpy heart beating here-Gabrielle Bell nails down something sinister in pastel California colors. Leon Sadler is at the best I've ever seen him here – grungy characters in a feral bizarro smurfville. I may be biased, but I'm especially partial to the converging and diverging paralell multiverses of Anya Davidson's brutal "Barbarian Bitch" which I think acts as a great counterweight to the book's closer, a 40-page reprint of Penthouse's "Wicked Wanda" that's a (yes) campy  combo like if you remade "The Mouse That Roared" with the plotline of Hothead Paisan. -EF
3. Monocle vol 5 #50 Feb 12 $10.00
4. Adbusters Mar Apr 12 #100 vol 20 #2 $8.95
5. Juxtapoz #134 Mar 12 $5.99
6. Dazed & Confused vol 3 #6 Feb 12 $9.99
7. Mono Kultur #30 Win 11 12 Chris Ware: A Sense of Thereness $15.00 – Well, yes…..Surprising, compelling interview zine import with Mr. Ware.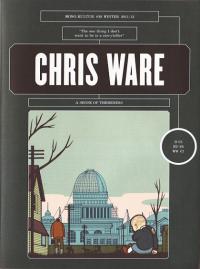 8. Raw Deal #13 – Formerly "Loitering Is Good", "Raw Deal" picks up in the West Oakland trainyards, an ode to California's sun-drenched post-industrial shitscape. Partially about acclaimating to a job as a rookie brakeman for the Southern Pacific Rail, RD#13 incoroporates plenty of curmudgeonly appreciation for the yards' old-timers and lots of salty anectdotes of train history. With a palpable sense of love-hate for West Coast wastelands, the segway gets made to the obsessive neccessity of punk botany. Like a beligerent Johnny Bad Appleseed, the heart of this issue is an account of cultivating rare trees, seed smuggling, survival and botanical accountability, renegade urban improvement, and the deep feeling of connection once you set your sights on an ecosystem as the big picture. Written with a ton of passion and a little swagger, it's a little similar to Erick "Iggy Scam" Lyle's personal-is-political-is-punk writing, totally badass and hungry to get at the core of it. Best two bucks yer going to spend all day.  -EF


9. Bikenomics How Bicycling Will Save the Economy if We Let It by Elly Blue $5.50
10. Field Guide to the Aliens of Star Trek by Joshua Chapman $1.00 – I mean, why stop with Season One, right? -EF