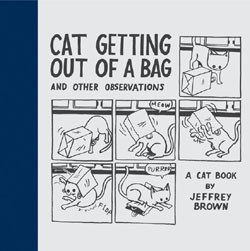 What a banner week for us at Quimby's tonight is the crazy Beasts book release/signing party. There are new issues of Cinema Sewer, Dirty Found & Zine World, PLUS Jeff Brown has a new book and comic that just came in, and shit its been kinda sunny outside. So you defiantly should roll by. The thaw is in effect!!!!! Come say hi this week and don't forget Lauren Weinstein on Thursday the 15th, that should be great!
New Stuff to Hit Our Shelves on the Week ending 3/9/07
New Mags and Zines:
Cinema Sewer #20 $4.00
Dirty Found #3 $10.00 Porn for everyone!
Zine World #24 Wow another issues and you though zines were dead!
Bitch #35 $5.95
Bizarre #121 $8.75 with free Ultra Vixens 2007 mini booklet!
Fortean Times #220 $11.25
Mojo Apr 07 $9.50 Wow nice comp CD selected by Iggy Pop with this one
Print vol 60 #2 $12.99
Artfroum Mar 07 $10.00
Mass Appeal #44 $4.99
Frieze #105 Mar 07 $8.50
Tattoos For Men #67 $5.98
Dot Dot Dot #12 $16.95
Watch the Closing Doors #38 $2.50
Rusted Train Makeovers #1 $5.00 Train Graff Explosion
Feathertale Review #1 $10
New New Comics and Minis and Graphic Novels:
Feeble Attempts by Jeffrey Brown $5.00 Comp of Jeff stuff you might have missed
Cat Getting Out of a Bag by Jeffrey Brown $12.95 Its cute, nuff said
You Don't Get there From Here #2 by Carrie McNinch
The Living and the Dead by Jason $9.95
Seeing Things SC by Jim Woodring $16.95
Essex County Vol 1 by Jeff Lemire $9.95 Tales from the farm
Castle Waiting 2.5 $3.95
Brand New Books:
Lunatic at Large by J. Storer Cloiston $18 New Collins Library Title
WACK $59.95 Art and the Feminist Revolution, great resource and primer on the topic!
Brief History of the Future by Oona Strathern $15.95
Dork Whore by Iris Bahr $13.95
Horror-the definitive guide to The Ring, etc $14.95
Amputees Guide to Sex by Jillian Weise $14.95 Poems people, Poems.
Babylon's Burning by Clinton Heylin $25.00 From Punk to Grunge
Victory Over the Sun by Jo Jackson $12.00 Nice book from Kavi Gupta Gallery
1000 Journals Project $22.95
Inside North Korea $35.00 Photos from the North Korea.
HR Giger Taschen 25 Edition $12.99 Get your freak on cheap
Hellraiser Homemaker #1 $25.00 Gonzo Domestic Guide with apron and spoon!
Erotica and Porn and Sex Culture and Dirty Comics
Dirty Found #3 $10.00 Way dirtier than the previous issues!!!
Sleazy Slice #1 $6.00 Bougie of Cinema Sewer edits this comp of comixxxs
New Erotic Photography $49.99 Nice compendium of current dirty photographers!
Rear Entry #15 $3.95
CDS DVDs Gifts and Accessories for hip lifestyles
James Kochalka Superstar Spread Your Evil Wings and Fly CD $17.99
666 Eve $10.00 Privates nailed to a cross, bloody girl burlesque and more
True Crime Warped Minds Vo1. 1 DVD $10.00 All kinds of scary stuff!
Pack of six Satanic buttons $6.00 Levay, Pentagrams and more
Notable Restocks: Old but New Again
AG Super Erotic All Issues in Print!!! Get your manga porn on!!!!!