Tiny Splendor Press zines!: A To Z of Uncommon Phobias by Sanaa Kahn $3.50, Flora and Flora: A Collaborative Zine by Sanaa Khan & Kenneth Srivijittakar $7.00, Aliens Vs Space Cowgirl by Tesday Bassen & Penelope Gazin $7.00, Ugly Girl Gang by Tuesday Bassen $7.00
Zines
We'll Never Have Paris #12 You Got What You Wanted Now Leave by Andria Alehi, Dave Cole and Will Crain $5.00
Remedy Quarterly #17 Taste $12.00 – Stories of food recipes for feeling good.
Bike There: A Little Picture Book Guide About How to Get Around Town on Your Bicycle by Bikeyface (Microcosm) $10.00
Tough Love $5.00
Keith Ledger #1 by Dan Beaudet & friends $5.00 – Not just about Mr. Ledger. Possible zine names! Jokes about Danzig! Other goofyness!
Erykah Badu's Afros Spawn and Other Tales by Haunted Vawmitt $5.00 – Illustrated stream-of-consciousness poetics from our friends in the Pacific Northwest. We're treated to lines like "Nuns do skate tricks outside the blocked entrance of  a cave in hopes of opening it" and imagery to the effect of Erykah Badu's hair generating kittens or luring her parents into a pit with Hardee's and eating their remains. And then there's the art. Sort of line drawings, sort of almost wood block collage but then not really wood block collage. Is it poetry? Are they comics? What's in that Portland water? Who knows. -LM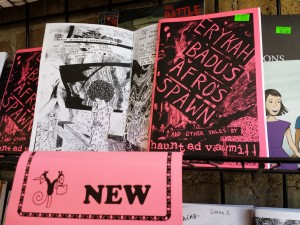 Book Zoo: 156 Publishers Marks by Josh MacPhee (Pound the Pavement) $12.00 – A zoo of publisher logos!
Ship To Shore $10.00
Planet Waves Win 15 by Billy James Joyce $2.00
Serio #3 Social Justice Zine Based In Chicago by Luz Magdaleno & Alvaro Zayala $3.00
Kool Man: The Amazing Story of Robert Dupree, The King of Oral Love by Sean Tejaratchi & Robert Dupree $9.00 – True life tales of dealing with Robert DuPress, the publisher of Subliminal Tattoos and Rude. In the 90s he pissed off enough people to warrant a zine about it. Artists and zinesters from Sean from Crap Hound to R. Crumb. have had weirdo dealings with him, and here it is, laid out for all to see.
Comics & Minis
Mini Kus #30 Logbook by Terhi Ekebom $5.00 – A strange smoky darkness is enveloping the bodies of a family living in an isolated light house. Strange white bladders full of magical pearls might be the only hope to save the family.  But is it too late? Has the darkness already consumed them? A haunting story with haunting drawings.-NB
Mini Kus #31 It's Tuesday by Amanda Vahamaki $5.00 – A snapshot of a small town in southern Finland.  It's Tuesday, and there are free apples on the side of the road. There are bags of clothing being dropped off at a flea market. Parents are car pooling their children. Pay attention to every detail, they are all so important and completely mundane at the same time! -NB
Mini Kus #32 R.A.T. by Lala Albert $5.00 – Beware the Remote Administration Tool! You may have downloaded it, and someone may be watching you RIGHT NOW!!!!!!!!!! The R.A.T. picks a new victim, a blonde woman who becomes obsessed with the idea of watching others as well.  Voyeur gonna wanna pick this comic by Lala Albert up! -NB
S #20 Baltic Comics Magazine $12.00
Tell Now the Tale of the Argus Mushroom by Neil Brideau $4.00 – A one-shot peripheral adventure in Brideau's The Plot series.
Repile Museum #4 by Cody Pickrodt $4.00
Battle Of the Blood Moon #1 Apr 15 by Holly Hunt and Rajendra Ramkallawan $3.99
Tahoe Trail #1 by Tommy Bishop $3.00
Graphic Novels & Trade Paperbacks
Baddawi by Leila Abdelrazaq $20.00
Violent Girls by Richard Sala (Fantagraphics) $35.00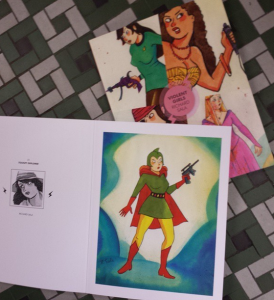 Crossed: Badlands vol 12 TPB by David Lapham and Francisco Manna (Avatar) $24.99
Milt Gross' New York – A Lost Graphic Novel by Milt Gross, Jim Steranko & Craig Yoe $24.99
Miracleman Book 3 Olympus Prem by "Original Writer" (ahem NO MENTIONING THE ALANWAY OOREMAY cough cough), illustrated by John Totleben $39.99
Art & Design Books
I Know You're Out There Somewhere by Ian Johnson (Park Life) $29.95
Doppelgangers by Alex Pardee (Gingko Press) $24.95
Fiction
On the Way by Cyn Vargas (Curbside Splendor) $14.95
Kids Books
Adventures In Cartooning Jr. series: Sleepless Knight by James Sturm & friends (First Second) $14.99
Outer Limits & Mayhem
The Divine Spark: Psychedelics, Consciousness and the Birth of Civilization by Graham Hancock (Disinfo) $18.95
Elvis Is Alive the Complete Conspiracy by Xaviant Haze (Adventures Unlimited Press) $19.95
Paradigm Busters: Beyond Science, Lost History, Ancient Wisdom by J. Douglas Kenyon (Atlantis Rising Magazine) $16.95
Alien Invasion Owners' Resistance Manual: Know your enemy (all extraterrestrial lifeforms) – The Complete Guide…by Sean T. Page (Haynes Publishing UK) $27.95
The Secret Space Age: Secret Space Programs, Breakaway Civilizations, Nazi UFOs, SDI and Alternative Three by Olav Phillips (Adventures Unlimited) $19.95
Death on Mars: The Discovery of a Planetary Nuclear Massacre by John E. Brandenburg PhD
The Truth Agenda: Making Sense of Unexplained Mysteries, Global Cover-Ups & Visions for a New Era by Andy Thomas (Adventures Unlimited Pres) $19.95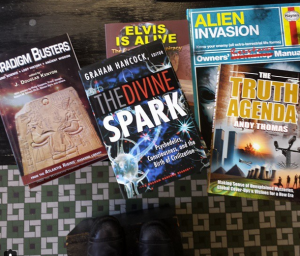 Food'n'Drugs
Imbibe!: From Absinthe Cocktail to Whiskey Smash, a Salute in Stories and Drinks to "Professor" Jerry Thomas, Pioneer of the American Bar Featuring the Original Formulae by David Wondrich $26.50
The Field Guide To Drinking In America: A Traveler's Handbook To State Liqour Laws by Niki Ganong (Adventures Unlimited Press) $19.99
Paradigm Busters Beyond Science Lost History Ancient Wisdom
Movie & Music Books
There Goes Gravity: A Life In Rock and Roll by Lisa Robinson $16.00 – Now in soft cover.
Torment Saint: The Life of Elliott Smith by William Todd Schultz $18.00 – Now in soft cover.
John Hughes: A Life in Film: The Genius Behind Ferris Bueller, The Breakfast Club, Home Alone, and more by Kirk Honeycutt (Race Point Publishing) $40.00
Funky Bollywood: The Wild World of 1970s Indian Action Cinema: A Selective Guide by Todd Stadtman (Fab PresS) $24.95
Humor
William Shakespeare's The Phantom of Menace: Star Wars Part the First by Ian Doescher (Quirk) $14.95
Magazines
Juxtapoz #172 May 15 $6.99 – With a Chris Ware interview (and Chris Ware cover).
The Pitchfork Review #5 Win 15 $19.96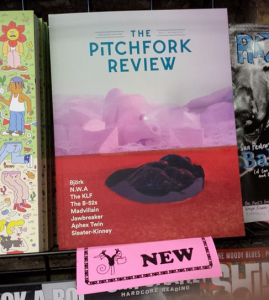 Uppercase #25 A Magazine for the Creative and Curious $18.00
2600 the Hacker Quarterly vol 32 #1 Spr 15 $6.95
Girls and Corpses #9 Spr 15 $8.95
High Times Jun 15 $5.99
Wax Poetics #61 $11.99
Diabolique #23  Mar Apr May 15 $9.98
Videoscope #94 Spr 15 $5.95
Atlantis Rising #111 $6.95
Printmaking Today vol 24 #1 Spr 15 $12.00
Elephant #22 Spr 15 $19.99
Famous Monsters of Filmland #279 $9.99
Video Watchdog #178 $8.95
Dissent Spr 15 $10.00
Rethinking Schools vol 29 #3 Spr 15 $5.95
The Naturist Holidays World Site Directory 2015 $15.00
RFD #161 Spr 15 Rewilding $9.95
Von Gutenberg #9 $9.95
Skin and Ink Jun 15 #157 $8.99
Lit Journals & Poetry
Dark Sparkler by Amber Tamblyn $17.99
Confluence by Sandra Marchetti $14.00
Midwestern Gothic #17 Spr 15 $12.00
N+1 #22 Spr 15 $14.95
Normal School vol 8 #1 $7.00
Fjords vol 3 #1 2015 $10.00