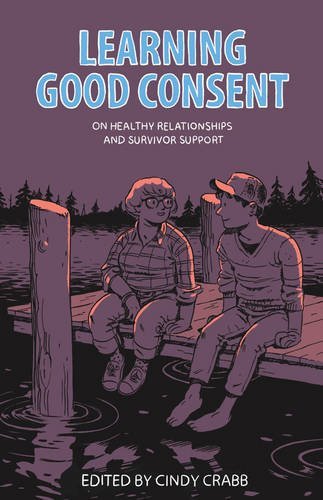 Learning Good Consent: On Healthy Relationships and Survivor Support by Cindy Crabb (AK Press) $13.95 – Used to be a zine, now it's a book! This collection is an indispensable guide to both preventing sexual violence and helping its survivors to heal.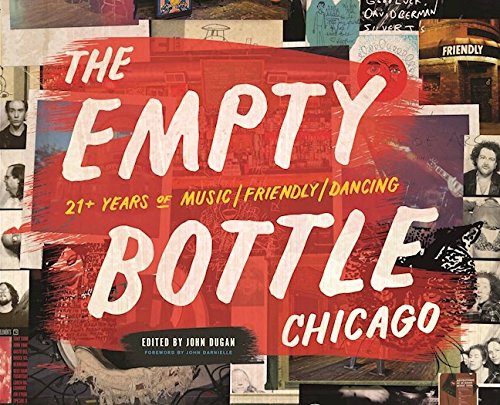 The Empty Bottle Chicago: 21+ Years of Music / Friendly / Dancing by John E. Dugan (Curbside Splendor) $34.95 – Featuring a foreword by John Darnielle of The Mountain Goats and first hand interviews with members of The Flaming Lips, Interpol, Low, OK Go, Vandermark Five, Girl Talk, The Rapture, Red Red Meat, The Sea and Cake, and more, as well as rarely-seen, full-color photographs and reproductions of original silkscreen gig posters and more.
*ZINES*
zines by by Corinne Halbert:
Honey by Corinne Halbert $5.00
Hate Baby #5 $8.00
Printsploitation by Scott R. Miller $3.00
Dreams in Cryogenic Fugue by Chris Johnson $10.00
various issues of Penises Are Confusing by by Polly and Amanda $2.50 each
Free Ass Mag #2 Free Association Magazine Utopia No Mans Land $15.00
Irrational Neographic #1 2014 by Connor Shea $10.00
zines by Adam Wiesner $3.00 each:
Spy Agent issues #1 and #2
Future Trash #2 by Adam Wiesner
Kayfabe Is Fake a WWE Fanzine $3.00
*COMICS & MINIS*
King Cat #76 Comix and Stories by John Porcellino (Spit & a Half) $5.00
SpaceWorld by Brett Manning $5.00
Donut Dreams by Eric Bartholomew $2.00 – First comics from zinester of Junk Drawer fame.
Total Fuck Up by Johnny Sampson $7.00 – A sympathetic portrait of an unsympathetic character surrounded by other unsympathetic characters, taking place at the County Fair.
Doin Mah Thang How My Cat Died and Other Stories by Gil Rhodes $5.00
Absurdly Yours #1 $2.00
comics by Tate Walker:
Waiting Room $5.00
Channel $7.00
Extract $6.00
zines by Laura Lannes
Bad Boyfriends $10.00
Basil Plant $5.00
Hotel Rompo by Talya Modlin (Perfectly Acceptable Press) $20.00
Sirens Calling by John T. Trigonis & Lauren Clemente $3.99
comics by by Sam Szabo:
Naked Lady #2 $7.00
List of Very Scary Things $3.00
Madam Geneva by Tom O'Brien $3.00
Sun Bakery #2 by Corey Lewis $5.99
Comics by Alisha Davidson:
Quiet Way $5.00
Tiny Bums $5.00
Pluo $8.00
Nothing Doing #1 by Connor Shea $5.00
Draw Blood by Ron Hotz $15.00
Fae Archaic #4 A Real Good Pal O Mine $5.00
Coin Op vol 6 The Last Great Time by Maria & Peter Hoey $19.95
Morphis by Marta Chudolinska $5.00
Cat Food by Amy Peltz $5.00
New Comics #7 by Patrick Kyle $8.00
Green Machine #0 by Amber S. and Jon K $5.00
Hand of Misery #1 a Cahmix Book by Peter Faecke $8.00
Shquirat #1-#3 by Kyle J Osborne $4.00 each
Banchan #2 In Two Pages 7 East Korean Recipes by Robin ha $5.00
*GRAPHIC NOVELS*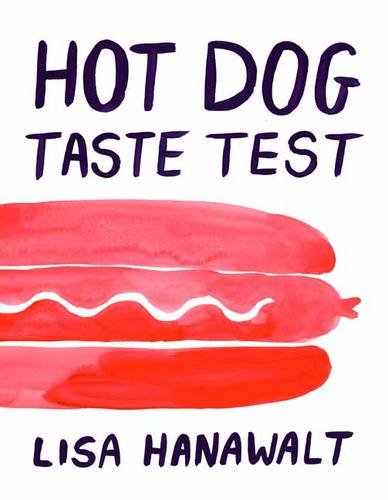 Hot Dog Taste Test by Lisa Hanawalt (D&Q) $22.95 – Pop culture, relationships, and the animal in all of us!
Ulcera by Puiupo and Adonis Pantazopoulos $8.99
Our Lady of Birth Control: A Cartoonist's Encounter with Margaret Sanger by Sabrina Jones (Soft Skull Press) $19.95 – Jones's autobiographical sections of Our Lady of Birth Control show her journey into activist art in response to the anti-feminist backlash of the Reagan era. From street theater and protest graphics to alternative comics, her path similarly follows in Margaret's footsteps, encountering versions of the same adversaries.
Compass South by Hope Larson $17.99 – Twin twelve-year-olds in 1860 NYC go on an epic quest to find their missing father.
Elf Cat in Love by James Kochalka (Retrofit Comics / Big Planet Comics) $15.00
SEX CRIMINALS TPB vol 3 Three the Hard Way by Matt Fraction, Chip Zdarsky & friends $14.99
Fight Club 2 by Chuck Palahniuk & friends (Dark Horse) $29.99
How to Talk to Girls at Parties by Neil Gaiman, Fabio Moon, Gabriel Ba & more $17.99
Wits End by Allison Bannister $15.00
*OUTER LIMITS*
Under Spiritual Siege: How Ghosts and Demons Affect Us and How to Combat Them by William Stillman (Schiffer) $14.99
*FICTION*
Familiar vol 3 Honeysuckle and Pain by Mark Z. Danielewski $25.95
A Cure for Suicide: A Novel by Jesse Ball $16.00 – Now in soft cover.
Hang Ups and Hangovers by Kyle Milligan $14.99
In the Shadow of Frankenstein: Tales of the Modern Prometheus ed. by Stephen Jones (Pegasus Press) $27.95 – Here are collected together for the first time twenty-four electrifying tales of cursed creation that are guaranteed to spark your interest?with classics from the pulp magazines by Robert Bloch and Manly Wade Wellman, modern masterpieces from Ramsey Campbell, Dennis Etchison, Karl Edward Wagner, David J. Schow, and R. Chetwynd-Hayes, and new contributions from Graham Masterson, Basil Copper, John Brunner, Guy N. Smith, Kim Newman, Paul J. McAuley, Roberta Lannes, Michael Marshall Smith, Daniel Fox, Adrian Cole, Nancy Kilpatrick, Brian Mooney and Lisa Morton.
Badfish by Sue Rovens $12.00
The Seed Collectors: A Novel by Scarlett Thomas (Soft Skull Press) $26.00 – Great Aunt Oleander is dead. To each of her nearest and dearest she has left a seed pod. The seed pods might be deadly, but then again they might also contain the secret of enlightenment.
*FILM, TV & MUSIC BOOKS*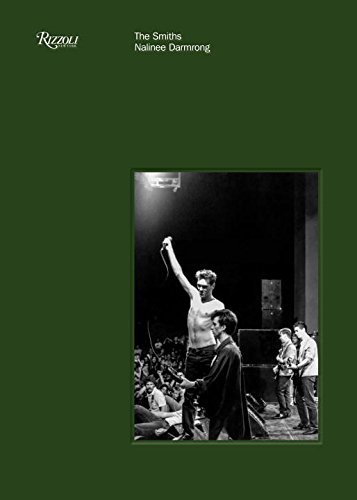 The Smiths by Nalinee Darmrong and Andy Bell $45.00 – A photo book of every sulking teenager's favorite band. Photographer Nalinee Darmrong traveled with and captured the band during its peak years. ALso included: ephemera including original set lists, backstage passes, tickets, and handcrafted promo materials; personal effects such as letters and clothing, and other items.
Stone Male Requiem for the Living Picture by Joe Carducci $29.95
Thatcher Stole My Trousers by Alexei Sayle $26.00 – Americans know him as the landlord on The Young Ones and but Brits know him as a lefty-leaning alternative comic.
How Music Got Free: A Story of Obsession and Invention by Stephen Witt $16.00
*ESSAYS*
How to Ruin Everything: Essays by George Watsky $16.00 – Essays from the absurd (how Watsky became an international ivory smuggler) to the comical (his middle-school rap battle dominance) to the revelatory (his experiences with epilepsy) and more.
The Happiness Industry: How the Government and Big Business Sold Us Well-Being by William Davies (Verso Press) $16.95 – Political economist William Davies shows that the science of happiness is less a science than an extension of hyper-capitalism.
Left of the Left: My Memories of Sam Dolgoff by Anatole Dolgoff (AK Press) $22.00 – Memories of the house painting IWW anarchist rail rider who also translated Mikhail Bakunin's writings in English.
I'm Just a Person by Tig Notaro $26.99
Hustling Hitler: The Jewish Vaudevillian Who Fooled the Führer by Walter Shapiro $28.00
Modern Romance by Aziz Ansari $17.00 – If school were fun! Comedian Ansari collaborated with a sociologist to find how romance happens in our contemporary technology-laden civilization. Now in soft cover.
Empire of Imagination: Gary Gygax and the Birth of Dungeons & Dragons by Michael Witwer $17.00
Last Night, a Superhero Saved My Life: Neil Gaiman!! Jodi Picoult!! Brad Meltzer!! . . . and an All-Star Roster on the Caped Crusaders That Changed Their Lives by Liesa Mignogna $25.99 – Authors share their most hilarious and most heart wrenching experiences with their chosen defender to explain why superheroes matter, what they tell us about who we are, and what they mean for our future.
*MAGAZINES*
High Times Best of #81 16 Top Strains on Earth $6.99
Kilter #11 2016 $5.00
Atlantis Rising #118 Why Is the Martian Sky Blue $6.95
Inked #76 $6.99
Elephant #27 I'm With the Brand $19.99
Cabinet #59 The North $12.00
Little White Lies #65 $12.99
Wire #388 June 16 $9.99
Victory Journal #11 $16.00
Skeptic vol 21 #2 $6.95
Lapham's Quarterly vol 9 #3 Luck $17.00
Dear Dave Magazine #22 $15.00
Man About Town #18 Spr Sum 16 $19.99
Flaunt #147 The Good Times Issue Spr 16 $15.95
Brownbook #56 Snow An Urban Guide to the Middle East $14.99
*LIT JOURNALS*
Chicago Review Sum Fall 2016 Ed Roberson, Chicago Modernists $15.00
Brick #97 Sum 16 $16.00
*SCIENCE!*
Grunt: The Curious Science of Humans at War by Mary Roach $26.95
*KIDS BOOKS*
My Dad Used to Be So Cool by Keith Negley (Nobrow Press) $17.95
*FOOD & DIY*
A Super Upsetting Cookbook about Sandwiches by Tyler Kord $22.99 – A neurotic chef muses on sandwich philosophy, love, self-loathing, pay phones, getting drunk in the shower, Tom Cruise, food ethics, and what it's like having the names of two different women tattooed on your body. With recipes! And illustrations by William Wegman.
Everybody Is Not Made For This by Crysta Wicks $15.00
A Curious History of Vegetables: Aphrodisiacal and Healing Properties, Folk Tales, Garden Tips, and Recipes by Wolf D. St $22.95
*OTHER STUFF*
Social Justice Kittens Postcards by Sean Tejaratchi (LiartownUSA) $1.50 – Made by the artist behind Crap Hound!