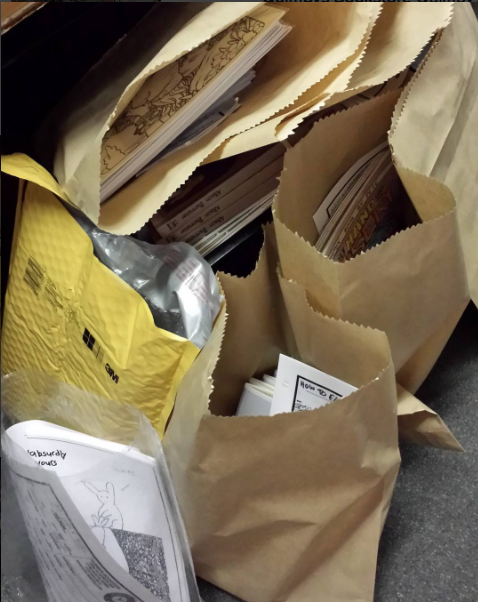 So much new stuff to check in, consigned by so many talented artists and zinesters, many of which are in town for CAKE, going on today and tomorrow. This stuff comes in faster then we can get it out onto the floor!
*ZINES*
Masks of the Batman: An Occult History of the Dark Knight vol 1 Bulls, Bats, Owls and Skulls by Ernest J. Ramon $2.00
zines from Jessie McMains:
Reckless Chants #22 Remember Who You Are $5.00
Major Arcana of the Punk Rock Tarot $3.00 – The Zinester as the Hermit, Rollins as the Chariot (Get In the Van, duh!), the Punk House as the Tower, and so many very clever more, all written by somebody who clearly knows their tarot card shit. This zine is a great opporunity to take to heart the words of The Emperor card's punk rock warlord, Joe Strummer, "Anger can be your power." So sayeth we all. -LM
Queenie by Everette Moore $3.00
Sweet Relief by Janelle Bendycki $9.00
Relief #1 $5.00
KerBloom #120 May June 16 by Artnoose $2.00
Hey Lady #4 Leonor Fini by Regina Schilling & friends $8.00
The Zinester's Guide to Portland: A Low/No Budget Guide to The Rose City (People's Guide) by Shawn Granton (Microcosm) $7.95
*COMICS & MINIS*
Mouth to Mouth by Megan Diddie $10.00
Swamp Mythos issues #1 & #2 by James Stanton $6.00 each
Epoxy #4 Full Comic by John Pham $14.00
Epoxy Cartoon Magazine by John Pham $30.00
High Dive by Jon Marchione $4.00
Secret Voice #3 by Zack Soto $8.00
Blane Throttle by Ben Duncan $12.00
Island #8 by Brandon Graham and friends $7.99
Taddle Creek #37 $5.95
Ball Means by Ben Duncan (Occasional Head Bunts) $22.00
Shostakovich Allegro Non Troppo by Hannah Dykstra $5.00
*GRAPHIC NOVELS*
Threadbare: Clothes, Sex, and Trafficking by Anne Elizabeth Moore and The Ladydrawers (Microcosm) $13.95 – Draws the connections between the international sex and garment trades and human trafficking in a beautifully illustrated comics series.
Manor Threat: Snakepit Comics 2013-2015 by Ben Snakepit (Microcosm) $14.95
Linework #6 Spr 16 $18.00 – Local comics anthology.
Teaching Comics vol 1 by Alex Nall $20.00
Bird in A Cage by Rebecca Roher (Conundrum) $15.00
Poppy and the Lost Lagoon by Matt Kindt and Brian Hurtt $14.99
No Mercy vol 2 by by Alex de Campi and Jenn Manley Lee $14.99
Otto Binder: The Life and Work of a Comic Book and Science Fiction Visionary by Bill Schelly $19.95 – The chronicle of the life of the man who wrote for Supergirl, Captain Marvel, Superman, many of the first "Bizarro" storylines for DC Comics, as well as the first sentient robot in lit.
Ghosts We Know by Sean Karemaker (Conundrum Press) $20.00
Almost Completely Baxter: New and Selected Blurtings by Glen Baxter (New York Review Comics) $22.95
*ART & DESIGN BOOKS*
DAZEWORLD: The Artwork of Chris Daze Ellis $34.99 – 30 year career retrospective, 250 photos of NY subway graff artist.
Classic Flash 3: Japanese Style by Jeromey McCulloch and Justin Sellers $34.99
Emigre Fonts: Type Specimens 1986?2016 by Rudy Vanderlans (Gingko Press) $35.00
Shit: The Big Brother Book by Sean Cliver and Dave Carnie (Gingko Press) $29.95 – A collection of covers and spreads from the notorious skateboard publication.
Stik $30.00 – First collected volume of work by outsider artist Stik, who first came to notoriety as an underground street artist who painted life-size stick figures during the night around London's East End.
*MUSIC & FILM BOOKS*
Anger is an Energy: My Life John Lydon $18.99 – Now in soft cover.
The Good, the Tough & the Deadly: Action Movies & Stars 1960s-Present by David J. Moore $45.00 – In-depth movie reviews that cover every action star who's crossed over from the world of martial arts, sports, professional wrestling, and stunt work. Beautiful images, exclusive interviews, and a thorough action star index. Reviews from folks like Zack Carlson, Vern, Mike McBeardo McPadden & more!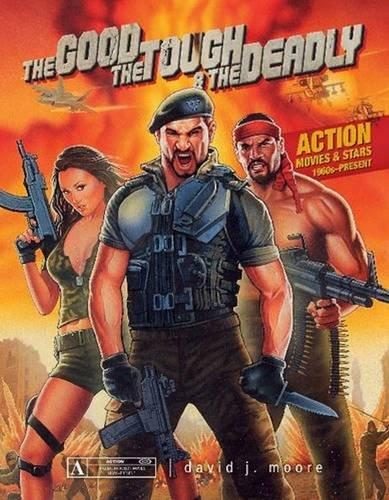 Copendium: An Expedition into the Rock 'n' Roll Underworld by Julian Cope $29.95 – Ex-Teardrop Explodes musician's 10 years of album reviews and themed track samplers he wrote for his own website, on such varied genres as Krautrock, motorik and post-punk, stoner and doom metal, occasionally even jazz, spoken word and hair metal.
Beyond the Beyond: Music From the Films of David Lynch, ed. by Edited by J.C. Gabel & Jessica Hundley (Hat & Beard Press//David Lynch Foundation) $45.00 – Explores the use of music and sound in Lynch's films, as well as his own original music, and draws on the director's personal archives of photographs and ephemera from Eraserhead onward. This volume also features interviews with more than a dozen popular contemporary musicians who performed at the Ace Hotel's April 2015 benefit for the David Lynch Foundation, including The Flaming Lips, Duran Duran, Moby, Sky Ferreira, Lykke Li, Karen O, Donovan, Angelo Badalamenti, Jim James, Chrysta Bell, Tennis, Twin Peaks and Zola Jesus. Comes with a companion CD featuring a live recording of the Ace Hotel concert.
Wake Up You!: The Rise and Fall of Nigerian Rock 1972-1977 – Volume 2 by Eothen Alapatt and Uchenna Ikonne (Now-Again) $24.95
Goodnight and Good Riddance: How Thirty-Five Years of John Peel Helped to Shape Modern Britain by David Cavanagh $25.00
Grunge Seattle (Revised Edition) by Justin Henderson $14.95
The Blue Monday Diaries: In the Studio with New Order by Michael Butterworth (Plexus) $19.95
NOFX: The Hepatitis Bathtub and Other Stories by NOFX and Jeff Alulis (Da Capo) $22.99
*MAYHEM & OUTER LIMITS*
Greetings From Utopia Park: Surviving a Transcendent Childhood by Claire Hoffman $25.99
Railroad Semantics: Train Hopping Across Montana, Wyoming, Utah, Nevada, California, and Oregon by Aaron Dactyl (Microcosm) $7.95
Black Opium: Ecstasy of the Forbidden by Claude Farrere and illustrated by Alexander King (Ronin) $17.95 – Reissue of And/Or Press' 1974 edition of "Fumee d'Opium" which chronicles every aspect of an opium smoker's life in lurid detail.
Real Visitors, Voices from Beyond, and Parallel Dimensions by Brad & Sherry Steiger $19.95
*FICTION*
Three Moments of an Explosion: Stories by by China Miéville $16.00 – Twenty-eight stories!
The Soho Press Book of '80s Short Fiction by Dale Peck $17.95 – Includes work from Dennis Cooper, Eileen Myles, Lynne Tillman, Gary Indiana, Sam D'Allesandro & more.
Making of a Small Town Beauty King by Savy Leiser $10.00
Golden Years: An Iranian-American Beat Novel by Ali Eskandarian $15.95
Movie Stars Stories by Jack Pendarvis (Dzanc) $15.95
Before the Feast by Sasa Stanisic (Tin House) $15.95 – Old stories, myths, and fairy tales are wandering about the streets with the people. They come together in a novel about a long night, a mosaic of village life, in which the long-established and newcomers, the dead and the living, craftsmen, pensioners, and noble robbers in football shirts bump into each other. They all want to bring something to a close, in this night before the feast.
*DIY*
Urban Revolutions: A Woman's Guide to Two-Wheeled Transportation by Emilie Bahr (Microcosm) $14.95
Feminist Activity Book by Gemma Correll (Seal Press) $12.00
*ESSAYS*
But What If We're Wrong?: Thinking About the Present As If It Were the Past by Chuck Klosterman $26.00 – Through interviews with folks like George Saunders, David Byrne, Neil deGrasse Tyson, Brian Greene, Junot Díaz, and Richard Linklater, among others, Klosterman asks such questions as: How certain are we about our understanding of gravity? How certain are we about our understanding of time? What will be the defining memory of rock music, five hundred years from today? How seriously should we view the content of our dreams? How seriously should we view the content of television?
View from the Cheap Seats by Neil Gaiman $26.99
All Tomorrows Parties by Rob Spillman $25.00 – Essays from the editor of Tin House.
*POLITICS & REVOLUTION*
A Short History of the U.S. Working Class: From Colonial Times to the Twenty-First Century (Revolutionary Studies) by Paul Le Blanc (Haymarket Books) $17.00
Brazil's Dance with the Devil (Updated Olympics Edition): The World Cup, the Olympics, and the Struggle for Democracy by Dave Zirin (Haymarket) $17.95
Who Do You Serve, Who Do You Protect?: Police Violence and Resistance in the United States by Maya Schenwar and Truthout (Haymarket) $18.00
*HUMOR*
A Field Guide to Awkward Silences by Alexandra Petri $15.00 – She auditioned for America's Next Top Model. She lost Jeopardy! by answering "Who is that dude?" One time, she let some cult members baptize her, just to be polite. Alexandra Petri is a connoisseur of the kind of awkwardness most people spend lifetimes avoiding. If John Hodgman and Amy Sedaris had a baby. . .they would never let Petri babysit it.
*MAGAZINES*
Bitch #71 Sum 16 $6.95
The Great Discontent #4 Leon Bridges $25.00
Kinfolk vol 20 The Travel Issue $18.00
Gather Journal #9 Sum 16 The 1970s $19.99
Shots #132 $7.25
The Pitchfork Review #9 Spr 16 The Jazz Issue $19.96
Cherry Bombe #7 $20.00
*POETRY*
New York, 1960 by Barry Gifford (Curbside Splendor) $16.95
*SEXXXY*
Randy 2010-2013 $39.95 – Collects issues #1-#4.
Whipping Girl: A Transsexual Woman on Sexism and the Scapegoating of Femininity by Julia Serano (Seal Press) $20.00
The Ultimate Guide to Solo Sex by Jenny Block (Cleis) $16.95