Hey Revenge of Print fans! Sara Drake will be here doing comics and independent publishing workshops from 1:45 to 4:45 today! Click here for more info. 1:45 comics making demo, 3:00 self-publishing demo, 4:45 comics drawing workshop. Come on over! The water's fine!
Today's pick:
Empty the Sun: A Novel by Joseph Mattson with Soundtrack by Six Organs of Admittance (Ben Chasny and Steve Ruecker) (Barnacle) $18.00 – Book with CD. Joseph Mattson writes like a guitar player with nineteen fingers — everywhere at once, stinging, dark and beautiful. Empty the Sun will take you to some strange places, but the trip is amazing. Mattson has written a truly inventive and vivid novel. -Jerry Stahl, author of Permanent Midnight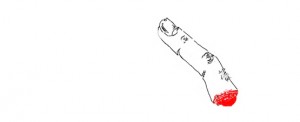 ZINES & ZINE-RELATED BOOKS!
Destroy All Monsters Magazine $30.00 – It was a zine! No, a band! A zine, a band! Both?! Tomato, tomahto, let's call it an art collective and be done with the debate. Shake?
Bathing Salts by Keith G. Herzik $5.00 – Crazy screenprinting master Herzik leaves us another artifact from his lab.
South Side Chicago Anti Racist Action #2 May Day Edition $2.00
Amazing Women #3 by Devan Elyse Bennett $1.50
You Made Devotion A Virtue #1 An Epic Tale of Phil Spector Modern Day Bluebeard – American Nightmare is His Wet Dream by Devan Elyse Bennett $2.00
Everything Good and Beautiful by Bucket Siler and Frey Anya $5.00
God Save the Zine #5 and #6 by Harrison Rosenberg $3.00
COMICS & MINI COMIX!
You Dont Get There From Here #19 Carrie McNinch $2.00
So Nervous #1 by Corinne Mucha and Heather Radke $3.00 – Heather writes material about anxiety which then inspires Corinne to do related comics. A fascinating collaboration!
Shirtlifter #4 by Steve Macisaac and friends (Drawn Out) $12.95
Suicide Girls Comic #3 $3.99 – Chicks with tattoos and big boobies save the world!
Kids Comics Anthology ed. by Jose Luis Olivares $8.00 – Featuring such folks as Nate Beaty, David Libens, Alex Kim and more.
Sock  #1 Adult Stories and Imagery ed. by Conor Stechshulte $8.00 – Featuring such folks as CF, Sam Gaskin and more.
Mindful Eating #1 by Drew Damron $2.00 – Drawn during the month of April 2010.
Powdered Milk #5 by Keiler Roberts $2.50
SF #1 by Ryan Cecil Smith
M. Sauter's Guide to Douchebaggery #3 by M. Sauter (Sex and Weather Comics) $3.00 – Each issue a consistent seller here. What is that saying?
Vicki Stowe Brewmaster by M. Sauter (Sex and Weather Comics) $3.00
Comics by Kevin Ulrich ($1.00 each) Boot #1: Bunnies Rocks Unicorns, Boot #2: Starring Ted the Unicorn and Boot #3: With Exclusive Centerfold Comic
GRAPHIC NOVELS & TRADE PAPERBACKS!
Meatfist and Gronk Collected Fud and Bud Burgy $5.00
Continuity Guy Chrono Chaos by Klonowski and Burgy $5.00
Miss Fury: Sensational Sundays 1944-1949: The First Female Superhero Created and Drawn by a Woman Cartoonist by Tarpe Mills (IDW) $49.99
Chester 5000 XYV by Jess Fink (Top Shelf) $14.95
Art of Doug Sneyd: Collection of Playboy Cartoons BY Doug Sneyd (Dark Horse) $39.99 – With a forward by Hugh Hefner.
ART & DESIGN BOOKS!
Back In the Days Remix 10th Anniversary Edition by Jamel Shabazz (PowerHouse) $35.00 – Reprint of this amazing photo collection of B-boys and girls.
Power to the Imagination Artists Posters and Politics by Jurgen Doring (U of Chicago) $29.95
I Should Be In Charge by Bob and Roberta Smith (Black Dog) $49.95
Medium Religion Faith Geopolitics Art ed. by Boris Groys  and Peter Weidel $46.00 – Art that questions religion, machines that "analyze" the bible. A hefty, er, tomb.
Red Maze by Stanley Donwood $59.95 – Follows the red maze of curated ephemera. Like "The Shining," but um, not a hedge maze. With art. In a red maze.
Paul Madonna Album 01 Paul Madonna $24.95 – Comics artist Paul Madonna came in on the sly to sign a few copies of his books while he was in town, and he brought an awesome oversized show catalog of sorts, featuring, among other things, the finger monster toys we sell here too.
Chicano Graffiti and Murals The Neighborhood Art of Peter Quezada by Sojin Kim $30.00
DIY!
Apocalypse Cakes Recipes For the End by Shannon O'Malley and Keith Wilson (Running Press) $14.00
Mental Health Cookbook Creating Connection With Foods and Herbs (Needles and Pens) by H Finn Cunningham $7.00
FICTION!
Hundred Brothers by Donald Antrim $15.00
Ladies Man by Richard Price (Picador) $15.00
Lightning by Jean Echenoz (New Press) $19.95
Stories ed. by Neil Gaiman (Harper) $16.99 – Experimental fiction from the likes of Peter Straub and Chuck Pahlahnuik ed. by Mr. Sandman Neverwhere.
Star Island by Carl Hiaasen (Grand Central) $14.99
Vacant Lot by Oliver Rohe (Counterpoint) $18.00
LITERARY JOURNALS, CHAP BOOKS & POETRY!
Through My Eyes: The Way I See Things and the Things I Saw by Eva Pilch $25.00
Always Messing With Them Boys Poems Jessica Helen Lopez $10.00
They Dont Make Memories Like That Anymore by Katrina K. Guarascio $10.00
MAGAZINES!
Handshake #1 $8.00 – New Chicago-based mag, debut issue. Interviews with blue collar folks and places you might proudly recognize. We look forward to more issues!
Shots #112 sum 11 $ $6.50
Shock Cinema #40
Wax Poetics #47 $9.99
Fader #74 Jun Jul 11 $5.99
Tattoo Society #28
CHILDRENS BOOKS!
Of Lamb by Matthea Harvey and Amy Jean Porter (McSweeneys) $22.00
MUSIC BOOKS OR BOOKS WRITTEN BY MUSIC PEOPLE!
Metalion: The Slayer Mag Diaries by Jon Kristiansen and Tara G. Warrior (Bazillion) $39.95 – Don't miss Jon and Tara here at Quimby's on July 8th, 7pm. The pair will recount some of the hilarious and the tragic episodes contained in the book, and discuss a dedication to self-publishing spawned from the darkest excesses of metal.
Visual Vitriol: The Street Art and Subcultures of The Punk and Hardcore Generation (UPM) $35.00 – Pretty awesome.
POLITICS & REVOLUTION!
Mayor Culpa: 1989-2011 Gone But Not Forgiven – The Unofficial Farewell Tribute to Mayor Richard M. Daley As Told Through His Long-Lost Campaign Memorabilia by Mark Weinberg $12.95 – Collection of Daley administration ephemera, hilarious yet telling satire Onion-style. The cover graphics of Daley looking like Mr. Burns is worth the cover price alone. From an art standpoint, the design of the book and the graphics are top notch. Small print run, independently published, and home-grown of course, here in the city with big shoulders. A must!
The People's History of Poverty In America by Stephen Pimpare (New Press) $21.95
SEX & SEXY!
SPS #8 Sad People Sex by Heather Benjamin $3.00 – Oh don't cry, sad little orifice dripping with goo. Your time will cum.
OP Original Plumbing #7 Trans Male Quarterly Green Issue by Amos Mac and Rocco Kayiatos  $8.00
Hot Jocks Gay Erotic Stories by Richard Labonte (Cleis) $14.95
Brief Encounters 69 Hot Gay Shorts by Shane Allison (Cleis) $15.95
Angels Misfits by Gary Cook $32.95 – Photos in the vein of Suicidegirls but done desktop publishing style.
Crazy weird porny 3D stuff that comes with 3D glasses, in various prices: Larry Ferguson photography, 3D and Naughty A Sensual Collection of Pin Up Photography In Amazing 3D, Bottoms Up A Cocktail of Risque Recipes and Vintage Vixens, Vavoom #1 Fast Girls, Shh Presents Special Editions ($10.00 each) Hanna Hilton, Shh Presents Courtney Taylor, Kelley Jean
Doktor Mentor #1 and #2 $9.95 each – The booth across from us at C2E2 had the Nawdy Nurse, The Jail Babe Surgeon and other sexy names. This is something they publish. From the same consignor as the 3D stuff above. Also we have a DVD of these shenanagins for $20.00
Candie Land #2 $9.95
OTHER STUFF!
Embrace A Pregnancy Journal by Nikki McClure (Sasquatch) $16.95
Tree of Life Postcard Print by Mark Ryden $5.00 – WHAT?! Five BUCKS FOR A MARK RYDEN PRINT? Better get your paws on this soon before it flies outta here.
Onsmith/Paul Nudd Letterpress For Black Eye #1 Signing $15.00 – This was made exclusively for signings for the dark comics humor anthology Black Eye that was here last night, by sontributors Onsmith and Nudd, letterpress printed by local printer Rohner.
More Moleskine planners are here. Going into 2012 now!