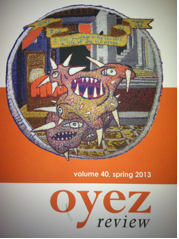 Thanks to everybody who came out tonight for the Oyez Review party, to celebrate the new issue, #40 Spring 2013. Of course we still have a few left if you missed the event. Come get your copy now!
Zines
St Owls Bay Wet Swords by Simon Hanselmann (Floating World Comics) $5.00 – Hanselmann's team of bitchy fuckups possesses such a well-unbalanced chemistry of neurosis, aggression and nonchalance you just can't turn away. Camp drugs and night terriers…I'd expect no less from a trip with these clowns. -EF
How Do I Look Show Catalogue $15.00
Problem Solution #1 by Bianca Barragan $5.00
Shards of Glass In Your Eye issues 7-9 by Kari Tervo $3.00 each
No Condoms, No Piece, Why Condoms Should Be Mandatory In Pornography by Harmonica $1.00 – Harmonica argues the rubberclad case for condoms in porn, pro bono and pro boner. -EF
Momentary Interaction by Gregg Evans $10.00 – Cruisin' for a…..
Lil Cat Bianca $10.00
Bookstores and Baseball 5th Inning $4.00
Alley Connoisseur #1 by Sam and Raf $2.00
Awesome zines from the 2013 Chicago Zine Fest artist Laura Berger ($10.00 each): Seeing Clearly #1, Identifying Friends, Feel Better Now
Pox Corpuscorpus #4 by Paul Nudd with tonso crazy artists like Onsmith, Grant Reynolds and more. $12.00
Georgi and the Haunted Minivan Episode 3 My Month in Texas Daily Comic Issue by Georgi $1.00 – Georgi does daily comics about orbiting around Houston, van living and eating well. Don't mess with it. -EF
Comics & Comix
New Jobs by Dash Shaw (Uncivilized Books) $5.00
Laskimooses #10 Perustusten Pystyttaminen by Herra Matti Hagelbergin  $7.00
Adventures in Ham Fisted Haberdashery #2 by Nick Soracco et al. $4.00
Listen Part 1 $2.50
Quit Yer Blubberin, A Lil Erwin Minature Adventure by Erwin Ledford $2.00
Lost in Time Travel, Surrounded By Evil #1 by Hannah G. Thompson $5.00 – And issue #2 for $10.00
Lou #12  by Melissa Mendes (Oily Comics) $1.00
Noise #1  by Billy Burkert (Oily Comics) $1.00
Young Dumb and Full of Cum #1 The Autobiography by Nick Drnaso (Oily Comics) $1.00
Buddies #1 Oily Comics Whippets by Anna Haifisch (Oily Comics) $1.00
Tiger Man #1 by Yost Winslow and Grant Rae (Oily Comics) $1.00
Heyday Comics #5 Waking Days Will Never Die For Ones Who Live In Sleep by Daniel Elisii $3.00
Unlucky Hunter #13 SAIC Spr 13 Underground Comix Anthology by Paul Nudd, Marlene Konig, Liz Avery and more $7.00
Mystery: A Stream of Consciousness Historical Mystery Memoir (various issues) by Seamus O. Hames $2.00 each
Beach Tumble issues #1 of 2 by Jon Drawdoer $2.00
Graphic Novels & Trade Paperbacks
Letting It Go by Miriam Katin (D&Q) $24.95
Case of Charles Dexter Ward by HP Lovecraft and Inj Culbard (Self-Made Hero) $19.95
Punk Rock Jesus TPB by Sean Murphy $16.99
Work Burger (Stripburger) $20.00
Mind MGMT HC vol 1 The Manager by Matt Kindt (Dark Horse) $19.99 – Collects issues #0 through #6.
Passion of Gengoroh Tagame, Master of Gay Erotic Manga by Anne Ishii, Chip Kidd, and Graham Kolbeins (Picturebox) $29.95
So Long Silver Screen by Blutch (Picturebox) $22.95
Darwin – A Graphic Biography by Eugene Byrne and Simon Gurr (Smithsonian) $9.95
Art & Design
Cosey Complex by Maria Fusco and Richard Birkett (Koenig) $44.95
Blood 2003 Earl McGrath Gallery Exhibition Book 2nd Ed by Mark Ryden (Last Gasp) $19.95
Giant Eternal by Mike Giant (Gingko) $39.95
Juxtapoz New Contemporary (Gingko) $29.95
Draw Your Own Alphabets Thirty Fonts to Scribble Sketch and Make Your Own by Tony Seddon $19.95
Flip the Script: A Guidebook for Aspiring Vandals and Typographers by Christian P. Acker (Upper Playground) $35.00
Swissted: Vintage Rock Posters Remixed and Reimagined by Mike Joyce $40.00 – Includes 200 ready to frame posters!
Mayhem, Miscreants, Memoirs, Music & Misc
Who Was Dracula? Bram Stoker's Trail of Blood by Jim Steinmeyer $26.95
Ordinary Acrobat: The Journey Into the Wonderous World of the Circus Past and Present by Duncan Wall $26.95
Wired Up: Glam, Proto Punk and Bubblegum: European Picture Sleeves 1970-1976 by Jeremy Thompson and Mary Blount (Wired Up Media) $39.95
Wild: From Lost To Found On The Pacific Crest Trail by Cheryl Strayed $15.95 – Now in soft cover.
Gulp by Mark Roach $26.95 – Popular science writer tackles what happens in our body when we eat. Fecal transplant anyone?
My Autobiography by Charlie Chaplin $20.00
Bike Snob Abroad: Strange Customs, Incredible Fiets Quest for Cycling Paradise by Bike Snob NYC and Eben Weiss $16.95
DIY
Cannabis Cupcakes: 35 Mini Marijuana Cakes to Bake and Decorate by Chris Stone and Carol Ann $13.99
Growing Medical Marijuana Securely and Legally by Dave DeWitt $19.99
Politics & Revolution
Anarchist FAQ vol 2 by Iain McKay (AK Press) $25.00
Democracy Project: A History a Crisis a Movement by D. Graeber $26.00
Fiction
Train to Pokipse BY Rami Shamire $15.00
Interestings by Meg Wolitzer $27.95
Driving Alone by Kevin Helmick $10.00
1Q84 Single Volume soft-cover edition by Haruki Murakami $16.95
Keeping Bedlam at Bay in the Prague Cafe by M. Henderson Ellis (New Europe) $14.95
Magazines
Tom Tom Magazine #13 $6.00 – Magazine For Female Drummers. The Metal Issue.
Juxtapoz #148 May 13 $5.99
Hi-Fructose #27 $6.95
King Brown #8 $28.00
Best of Skunk vol 7 $7.99
IdN vol 20 #1 $19.95
IDN Extra 08 Typo Graphic Posters $25.00
Dwell May 13 $5.99
True Crime Mar 13 $8.99
High Times Jun 13 $5.99
Gothic and Lolita Bible #45 $35.00
2600 Hacker Quarterly vol 30 #1 $6.25
Flaunt Spr 13/Flaunt: Plutocracy Issue Fourteenth Anniversary $10.95 each
State vol 3 Social Olfactory/State vol 4 Dubai $14.00 each
Little Joe: Queers and Cinema Clubhouse Reader $13.00
Mojo #233 Apr 13 $9.99
Monocle vol 7 #62 Apr 13 $12.00
Dissent Spr 13 $10.00
Poetry, Lit Mags, Lit Journals, Chap Books
The Baffler #22 $12.00
McSweeneys #43 Fiction from South Sudan $27.00
N Plus 1 #16 Spr 13 $13.95
Pank #8 $10.00
Coffin Factory #5 $9.00
Midwestern Gothic #9
Racket Games Basketball Camp Centerpiece Sultans Golden Cake Book $5.00
Other Stuff
Crazy weird wrapping paper from Pepin Press. Must see it to believe it!
Advanced Dick Cancer Stage V Drawing Print and Hand of God #512 Drawing Print by Sloat and Greenstalk $1.00 each