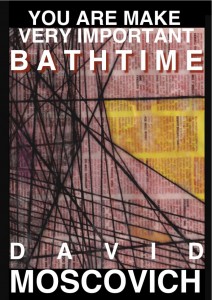 David Moscovich's new book, You Are Make Very Important Bathtime (JEF Books Publishing), is about an expatriate in a foreign land and his failure to navigate the awkward seas of extreme culture clash. Set in Southern Japan, it is a celebration of the beauty of misunderstanding and the inadvertent poetry of bad grammar.
"A wild and enlivening collection of stories that capture the comedy, chaos and uncertainty of living as an alien in a place just beyond one's understanding. Moscovich is a daring writer, and this book, both preposterous and beautiful, is an unusual demonstration of talent."
-Michael Thomsen, author of Levitate The Primate

David Moscovich writes flash fiction and performs his texts both live and on the radio, fragmenting, ricocheting, and refurnishing language until it meets its own devolution. He lives with chronic insomnia in New York City and runs Louffa Press, a micro-press dedicated to printing innovative fiction.
Also reading: novelist Eckhard Gerdes read from his first published book of poetry, 23 Skidoo! 23 Form-Fitting Poems (Finishing Line Press) and from his short novella The Sylvia Plath Cookbook (published by Sugar Glider Press in Queensland, Australia).  Eckhard Gerdes is the author of 14 published novels, including My Landlady the Lobotomist and Hugh Moore.  He lives in Geneva, Illinois, and is the publisher of the Journal of Experimental Fiction and JEF Books.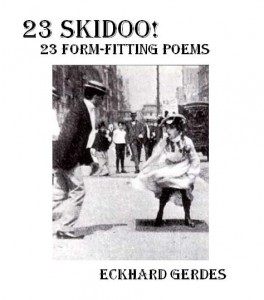 For more info:
egerdes(at)experimentalfiction(dot)com
Friday, September 13, 7pm – Free Event
Light refreshments will be served