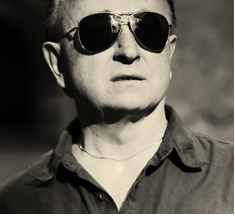 In Ukrainian-American novelist Yuriy Tarnawsky's new trilogy The Placebo Effect (JEF Books), the themes of alienation, abandonment, and fear of death, developed in Like Blood in Water and elaborated in The Future of Giraffes, respectively the first and second book of The Placebo Effect Trilogy, are picked up in the third book, View of Delft, and are given a new treatment.
Yuriy Tarnawsky has authored more than two dozen books of poetry, fiction, drama, essays, and translations.  He is one of the founding members of the New York Group, a Ukrainian émigré avant-garde group of writers, and cofounder and co-editor of the journal Novi Poeziyi (New Poetry; 1959–1972). He writes fiction, poetry, plays, translations, and criticism in both Ukrainian and English. His works have been translated into French, German, Hebrew, Polish, Portuguese, Romanian, and Russian. An engineer and linguist by training, he has worked as a computer scientist at IBM Corporation and professor of Ukrainian literature and culture at Columbia University. He writes in Ukrainian and English and resides in the New York City area. His other English-language books include the books of fiction Meningitis, Three Blondes and Death, Like Blood in Water (all FC2), and Short Tails (JEF Books), as well as the play Not Medea (JEF).
Tarnawsky takes risks most writers wouldn't dream of.  Just when you think you're on familiar ground, the earth begins to shake.  His writing rocks! —Derek Pell
Novelist and poet Eckhard Gerdes will also be  reading from some of his recent work.
Fri, May 16th, 7 pm – Free Event
For more info: egerdes(at)experimentalfiction(dot)com
To find this event on Facebook: https://www.facebook.com/events/262105330638172/