Home / Store / Quimby's Schwag / Quimby's Gift Certificates $5.00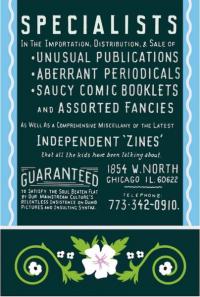 Quimby's Gift Certificates $5.00
Published by Quimby's Books
paper "object" manifesting as store credit in specified amount
$5.00
What better way to show someone your love and appreciation than to give someone the gift of Quimby's Bookstore! We'll send the recipient an e-mail or letter that tells them they have the dough to spend. This is for the Quimby's in Chicago, that is (NOT Quimby's NYC). Combine with other Quimby's gift certificate quantities here to get the amount you want!
If the recipient of the gift certificate is local, we'll tell them that we can hold the gift certificate here at the store for them for pick up. If the recipient is NOT local but has money to spend for future mail order from quimbys.com, we will let them know how to use the gift certificate on our website.
When ordering a gift certificate,
please be sure to include this information in the "Order Notes"
when putting your credit card in at Checkout:
1.
Who do we make the gift certificate out TO and who is it FROM?
2.
Any notes you want us to include with the gift certificate to them?
3.
What is the recipient's e-mail address and snail mail address?
4.
Will this person be shopping at the store or our website?
*Ignore the postage charges on your total if you're only ordering gift certificates! We will NOT charge shipping if that's all you're ordering. Our website is set up to charge flat rates depending on the dollar value of your order, but we process mail orders and credit card purchases by hand. Hence, those shipping charges will not appear on your credit card. We know it's sort of weird. Forgive us!
---
More by Quimby's Bookstore