Home / Store / Gifts / Wine Ghost Vinyl Figure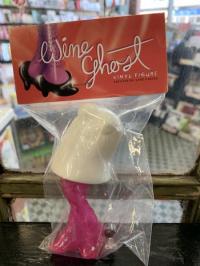 Wine Ghost Vinyl Figure
by Sage Coffey
4" figure, soft vinyl in two parts, top half glows in the dark, detachable bottom hot pink transparent vinyl w/ sporadic glitter, comes with label
$30.50
Wine Ghost is DRAMA, FASHION, AND POTENTIALLY IN YOUR LIVING ROOM if you get the figure.
The figurine will be 4 inches soft vinyl in two parts, her top half is glow in the dark and the bottom hot pink transparent vinyl with sporadic glitter. The bottom half is detachable for future interchangeable legs.
These figures are in a limited edition run of 150 and comes with a tiny resin wine glass accessory!
*NOTE: ILLINOIS RESIDENTS WILL BE CHARGED SALES TAX WHICH WILL ADD 10.25% SALES TAX. Also figure does not come with valentine box. It dos come with a cute label though.
---
More by Sage Coffey