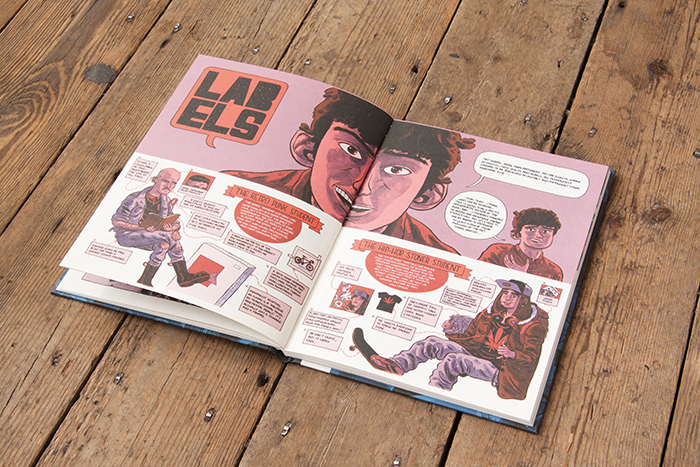 Art Schooled by Jamie Coe (Nobrow) $22.95 – Daniel Stope is a small-town guy who dreams of becoming an artist. His enrollment at art school and consequent move to the city opens up a world of exciting possibiles. Unsurprisingly, Daniel struggles with his newfound independence – the difficulties of dating and making new friends in the big smoke. Jamie Coe delivers his first full length graphic novel; an observational narrative on his own experience at art school. Coe critiques the extremes of his environment whilst  painting a funny and a colourful portrait of a pivotal time in a young artists' life. Art Schooled is an incisive and warm graphic novel that  is resolutely contemporary.
Zines
Serial Killers Unite #17 $3.00
Eyesore vol 5 by $3.00
Maximum Tremolo #1 & #2 $2.00 each
Cab Calloway's Hepsters Dictionary $1.00
Bizarrism #13 by Chris Mikul $8.00
Comics & Minis
Moth Invasion by Carolyn Picard (Green Lantern Press) $2.00
(Psychopathetic Freakazoid Presents) Beb and Peanut in Caught by Will Wisniewski $2.00
Cold Crew Halloween Special 2014 by Patrick Dean $7.95
Graphic Novels & Trade Paperbacks
Zombre #3 by Ansis Purins $20.00
Speculative Relationships: A Science Fiction Romance Comics Anthology by Tyrell Cannon and friends $15.00
Fiction
Peripheral by William Gibson $28.95
Young Woman In a Garden by Delia Sherman (Small Beer Press) $16.00
Humor
Tween Hobo: Off the Rails by Alena Smith and Kate Harmer $17.99
The Dead Wrestler Elegies by W. Todd Kaneko (Curbside Splendor) $14.95
Essays
Men Explain Things To Me by Rebecca Solnit (Haymarket) $15.95 – For only a few bucks more than the previous soft cover, you get this nice hardcover updated edition with two new essays.
Magazines
Artdesk #3 $10.00
Super Market #4 Artist Run Art Magazine $14.00
Skeptical Inquirer vol 38 #6 Nov Dec 14 $4.95
True Crime Oct 14 $8.99
Another Man #19 Fall Win 14 $14.99
Mass Appeal #55 $9.99
Jocks And Nerds Fall 14 $18.99
Maximumrocknroll #378 Nov 14 $4.99
Gay and Lesbian Review Nov Dec 14 $5.95
In These Times Nov 14 $3.50
Harpers Magazine Nov 14 $6.99
Lit Mags & Journals
Normal School vol 7 #2 $7.00
Story #1 1A 1B $8.00
Prelude #1 $14.95
Catamaran Literary Reader vol 2 #3 Sum 14 $10.00
Make #15 Fall 14 Misfits $12.00 – Pieces that that illuminate the misfit: the unconventionally lovable; the lonely prick; the light-hearted rebel; and the refused.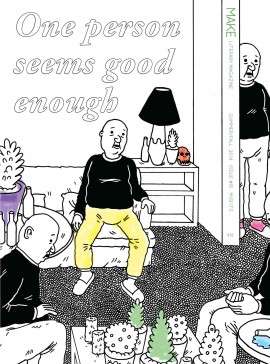 Kids Books
Behold the Dinosaurs and Numerous Non Dinosaurian Contemporaries by Dustin Harbin (Nobrow) $24.95