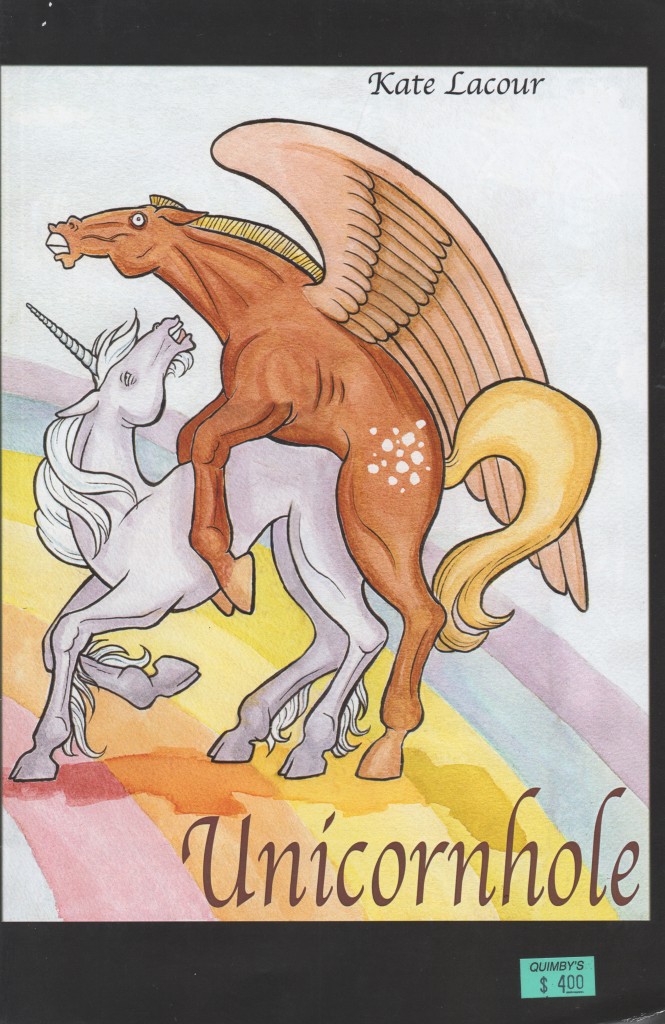 Unicornhole by Kate Lacour $4.00 – Yes, it's exactly what you think. That is, if you think of unicorn horns are sexy.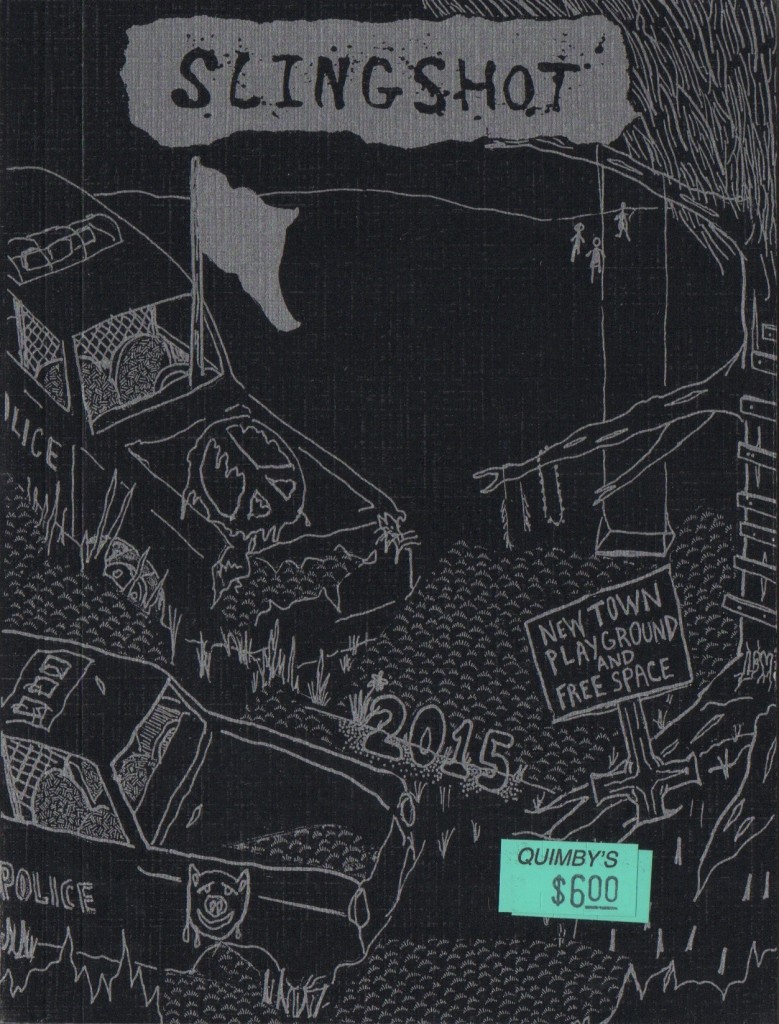 SLINGSHOTS ARE HERE! 2015 Organizers from the Slingshot Collective in Berkeley, CA are here. Variety of colors, radical history notes for every day, infoshop/radical contact list, suggested radical reading lists, address book/phone number section for all your anarchist friends and even some blank pages for notes.  Pocket size is $6.00, and the large is $12.00.
Large 2015 Slingshot Organizers just rolled in!!!!
Zines
Hundred Million Goons $10.00
Last Night at the Casino #9 Sep 14 $3.00
Racing Form 2015 Aldertrack, Chicagos Aldermanic Election Authority Since 2007 by Michael Kenna and John Coughlin $7.00
Comics & Minis
I'm Working on It by Alex Dahm $2.00
Masterplasty by James Harvey (Vertigo) $5.99
Chieftains Issue #1 Chapter 1 Follow the Ore by Daniel Bernard and Danielle Storey $5.99
Mystery Repeats by Jen Rickert $3.00
Press Pot Brew: Proper Procedure for the Uninitiated by Chris Sabatini $4.00
Graphic Novels & Trade Paperbacks
Loverboys by Gilbert Hernandez (Dark Horse) $19.99
Power of Tank Girl $24.99
Happy Stories About Well Adjusted People by Joe Ollmann (Conundrum) $20.00
Black Hand Comics  by Wes Craig $19.99
Fables Deluxe Edition Book 9 HC by Bill Willingham & Friends $29.99
The Man Who Laughs, A Graphic Novel by Victor Hugo, David Hine & Mark Stafford (Self-Made Hero) $19.95 – The inspiration for the Joker!
The Warren Commission Report: A Graphic Investigation TPB by Dan Mishkin & Friends $17.95
Art & Design
Watch Channel 38 Every Night Until Jesus Comes by Ralph Coon $20.00
Toilet Paper Dec 1944 $19.00
Outer Limits
The Book of Immortality: The Science Belief and Magic Behind Living Forever by Adam Leith Gollner $16.00
Marijuana For Everybody: The Definitive Guide to Getting High Feeling Good and Having Fun by Elise McDonough $16.95
The Steampunk Users Manual: An Illustrated Practical and WHimsical Guide to Creating Retro-Futurist Dreams by Jeff VanderMeer $24.95
The Art of Gothic: Music, Fashion, Art, Culture by Natasha Scharf $35.00
Essays
Empathy Exams: Essays by Leslie  Jamison (Graywolf) $15.00
Humor
Daily Dishonesty: The Beautiful Little Lies We Tell Ourselves Every Day by Lauren Hom $12.95
Film
Werner Herzog: A Guide For the Perplexed, Conversations with Paul Cronin $40.00
Fiction
Consumed $26.00
Sex & Sexy
Wings of Angels vol 2 A Tribute to the Art of WWII Pinup and Aviation by Malak (Schiffer) $39.99
Magazines
Creative Nonfiction #53 Fall 14 Mistakes $10.00
Tom Tom Magazine #19 In The Studio $6.00
New Asterisk Sep Oct 14 $7.99
Hi-Fructose #33 $7.99
Bizarre #219 Oct 14 $10.50
Fantastic Man #20 Fall Win 14 $14.99
Gentlewoman #10 Fall Win 14 $14.99
Bust Oct Nov 14 vol 89 $5.99
Hypebeast #8 Perspective Issue $12.00
Brown Rice Magazine Fall Win 14 $6.00
Monster Children #44 $11.99
Diabolique #22 Sep Oct 14 $9.98
Cinema Scope #60 $5.95
Cinema Retro vol 10 #30 $11.99
Maximumrocknroll #377 Oct 14 $4.99
Shindig #42 $12.99
Mojo #2251 Oct 14 $9.99
Monocle vol 8 #77 Oct 14 $12.00
AdBusters Nov Dec 14 $12.95
Dissent Fall 14 $10.00
Tattoo Energy #91 $10.99
TSQ vol 1 #1 #3 Aug 14 Transgender Studies Quarterly $12.00
Inked Nov 14 #65 $6.99
Lit Mags & Chap Books
Woman A Timeless Object by Sara Macias and Kim Holland $7.00
Tweeds #2 $15.00
Monday Night #13 $7.00
Kids Stuff
Fortunately the Milk by Neil Gaiman $5.99