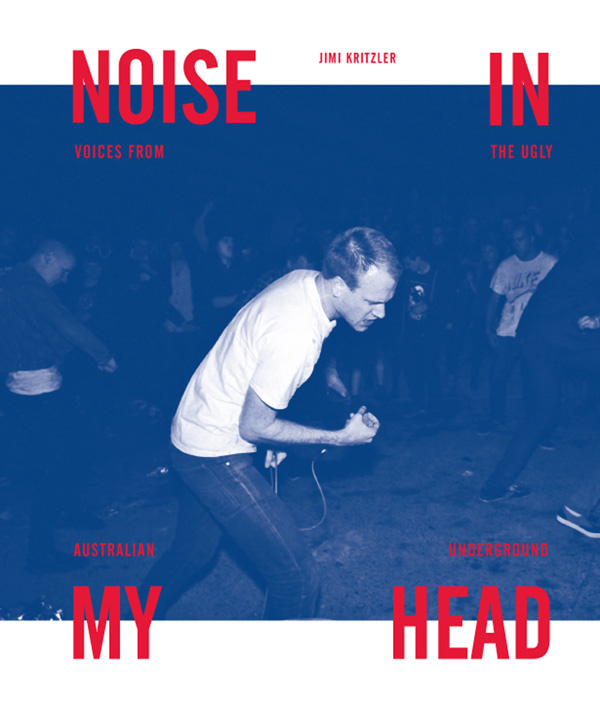 Noise in My Head: Voices from the Ugly Australian Underground by Jimi Kritzler (Hozac Books) $55.95 – The Ugly Australian Underground documents the music, songwriting, aesthetics and struggles of fifty of Australia's most innovative and significant bands and artists currently at the creative peak of their careers. The book is complimented by previously unpublished photographs of all bands interviewed. The Australian underground scene in the last five years has been heralded not only in Australia but also in Europe, and particularly in America. Known as the 'Australian Invasion,' many of the bands interviewed in this book have received a great deal of hype and press in America, with many of the bands signing to American record labels. Bands featured in the book, such as The Drones, Eddy Current Suppression Ring, Royal Headache, Uv Race, Circle Pit, HTRK, Lost Animal, Oren Ambarchi, Total Control, Witch Hats, Deaf Wish, Blank Realm, New War, Holy Balm, Fabulous Diamonds, The Garbage and The Flowers, Straight Arrows, xNoBBQx, Naked on the Vague, Kitchen's Floor and My Disco are all on American record labels, and have toured America at least once. Eddy Current Suppression Ring even lent their song 'Memory Lane' to an American telecommunications company advertisement, which was played repeatedly during the Super Bowl. While that may indicate the influence of the band in America at the more mainstream end of the spectrum, at the other end, Eddy Current Suppression Ring are a culturally significant and revered underground band, who play to thousands of people at any given show.
Zines & Zine-Related Books
Winners and Losers by Nayef Nebhan $2.00
Quickening #1 by Heidi Burrowes $3.00
My Genderqueer World #1 Ghost Boi Issue by Laramie Moser $5.00
Found Magazine: The Early Years by Davy Rothbart & Friends $14.99 – Collects the first four issues.
Queer Zines #2 by AA Bronson & Philip Aarons (Printed Matter) $25.00
Non Stop Poetry: The Zines of Mark Gonzales by Philip Aarons & Emma Reeves (Printed Matter) $29.95
Victory by Violet Forest $12.00
Judas Goat Quarterly #63 Fall 14 $1.50
In Dimly Lit Spaces $6.00
Put a Egg On It #9 Fall Win 14 $7.00
Escapist Artist #20 Fixer Eraser #0 Split Zine by Jonas & friends! $2.00
Piltdownlad #10 Behind the Wheel a Lyft Drivers Log Part One by Kelly Dessaint and Irina Dessaint $5.00
Subterranean #8 Level 6XZ03188V by Rodger Binyone $20.00
Messages From Your Friends Upon the Announcement of Your Breakup by Amy Burek $1.00
Imaginary Lovers by Briana Hernandez $2.00
James Franco in the Middle by Matthew Scott Gualco $10.00
Street vols 1 & 2 by Alexander Mouton $8.00 each
How Far Close Could Go From Your Hand To Be by Sergej Vutuc $10.00
Cosmic Kid Production $6.00
Slaps Illustrated Sum 14 $20.00 – graf zine.
Srviv  by Jonas and friends $2.00
zines from Billy!!!: Proof I Exist #18 Oct 14, When Two Dicks Touch, Roll Call #1 Oct 14 Albuquerque Graffiti
Former Tumbler by Vincent Fritz $2.50
Blackwax Boulevard  #2 by Dmitri Jackson $5.00
Comics & Minis
City of Whiskey and Fire  by Noah Van Scriver and Daniel Landes $4.99
Contact Codez by Jen Rickert $1.00
Dope Mouthfeel #6 by Steve Schaberg $4.00
Goat Fucker #4 $6.66
Cretin #1 David & Reginald Soileau $5.00
DOA The Death of Carl Alfalfa Switzer by Ted Intorcio (Tinto Press) $5.00
American Nature Presents by Greg & Fake $4.99
Number 2 by Box Brown $6.00
Debbies Inferno by Anne Emond $6.00
Fungus the Unbearable Rot of Being by James Kochalka $12.00
Issues of So Buttons by Jonathan Baylis and friends!
comics from Kevin Hooyman: Conditions on the Ground #11, Freakers #1 and #2
Bablien: A Collection Of Alien Babe Artwork by Brett Manning & Friends $8.00
issues of Trap House by Javier Suarez $7.00
Graphic Novels & Trade Paperbacks
Wolverine Old Man Logan by Mark Millar & friends $29.99
In Real Life by Jen Wang & Cory Doctorow $17.99
Adventure Time: The Art of OOO by Chris McDonnell & Guillermo Del Toro $35
Betrayed Confidence Revisited- Edward  Gorey Postcards! $24.95
Action Philosophers: The Tenth Anniversary Uberedition by Fred Van Lente $29.99
Motherless Oven by Rob Davis $19.95
Loiterers by Simon Bosse $18.00
Art Books
The Who, the What, and the When: 65 Artists Illustrate the Secret Sidekicks of History by Jenny Volvovski and Julia Rothman $24.95
Flash Temporary Tattoos by James Jean $14.95
Music & Film Books
So This is Permanence: Lyrics and Notebooks by Ian & Deborah Curtis and Jon Savage $40
Special Deluxe a Memoir Of Life and Cars by Neil Young $32.00
Season Of the Witch: How the Occult Saved Rock and Roll by Peter Bebergal $27.95
Orange Is the New Black Presents: The Cookbook $24.95
Bad Asses
Scars & Stripes: The Culture of Modern Roller Derby by Andréanna Seymore and Tim Travaglini $34.99
How I Spent My Permanent Vacation: Another Drunkards Illustrated Guide to New York City Bars by Glenn Werning $16.00
Essays
Little Failure: A Memoir by Gary Shteyngart $16.00
Fiction
Ocean At the End Of the Lane by Neil Gaiman $14.99 – Now in soft cover.
Magazines
Fool #5 Food Insanity Brilliance and Love $18.00 – This issue: religion!
Juxtapoz #166 Nov 14 $5.99
2600 the Hacker Quarterly vol 31 #3 Fall 14 $6.95
Atlantis Rising #108 $5.95
Neural #48 $7.99
Gothic Beauty #45 $7.99
Rolla Coaster #13 Fall 14 $8.50
Rock a Rolla #51 Aug Sep 14 $9.95
Fuel #17 Magazine $16.99
Graze #6 $10.00
Hip Mama #56 $5.95
Dazed and Confused vol 4 Win 14 $10.99
Frankie #61 $14.95
Makeshift #10 Field Guide to Hidden Creativity Power Up Issue $15.00
Little White Lies #55 Maps to The Stars $12.99
Camera Obscura #86 Feminism Culture and Media Studies $12.00
Delayed Gratification #15 $20.00
Jacobin Fall 14 #15 #16 $12.95
Skin and Ink Dec 14 #154 $6.99
Fader #94 Oct Nov 14 $5.99
Chap Books & Lit Journals
Expatlitjournal #2 Sum 14 $7.00
Black on Black vol 1 Rough Cuts and Queer Smut by The Lady Ani Ta Butch $1.00
Local Interest
The Neo-Futurists: Body $25.00 – Comprised of essays, interviews, play-text, photographs, illustrations, lists, and collage, the book is a body of work birthed in collaboration with current Neo-Futurists, Neo Alums, and special guests (including interviews with cartoonist and writer Ivan Brunetti and Chicago dancemaker Julia Rhoads of Lucky Plush Productions). Exquisite corpse-style.
Great Chicago Fire of 1871 Postcard Book from the collection of the Chicago Histroy Museum $9.95
White City Postcard Book: Chicago's World Columbian Exposition of 1893 from the collection of the Chicago Histroy Museum $10.95
Kids Stuff
Charley Harper books!: Whats In The Woods/Whats in the Coral Reef
Other Stuff
Justseeds/Eberhardt Press Organizers!
Fancy new wrapping paper!!