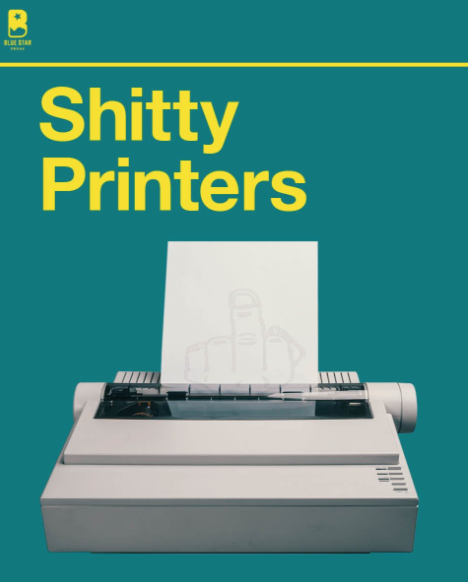 Shitty Printers by JP Garrigues and Bo Fahs (Blue Star Press) $13.99 – From the first consumer inkjet to more modern monstrosities, Shitty Printers breaks down the worst offenders of our home offices. Featuring popular and exasperating home staples such as the HP Thinkjet 2225A, the Lexmark Z22, the long forgotten Canon BJC-85, and many more.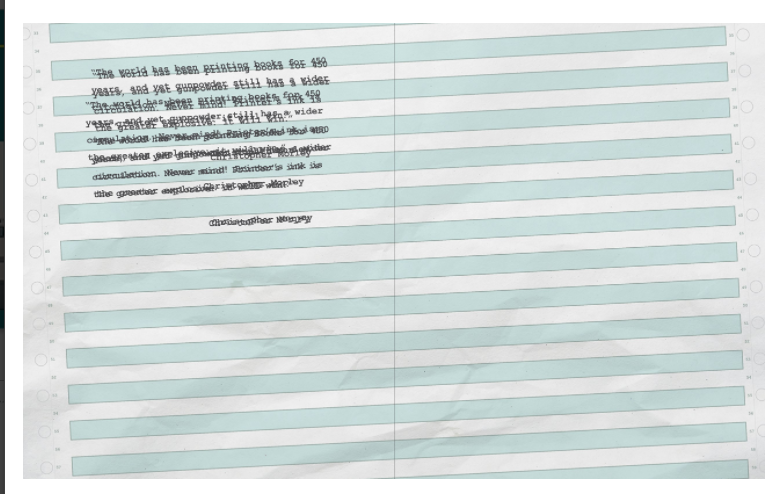 Dot matrix printout in the house.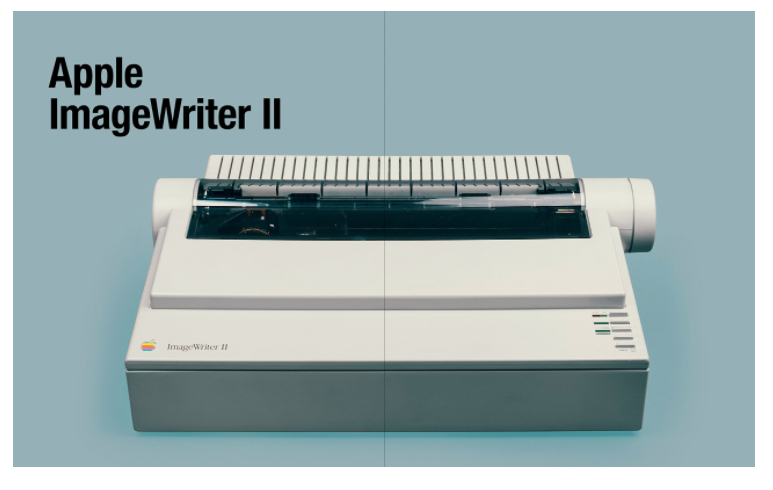 Print yr zines out on this, word.
Zines
Butch Nor Femme #12 $2
KerBloom #130 by Artnoose $2
Razorblades and Aspirin #3 by M. Thorn $8
Face Value 2012 Understanding and Combating Face-ism by Alice W. $2
Smudge vol 2 #2 by Clay Hickson $5 – Tan & Loose's monthly newspaper offering articles, interviews, comics, and advice from a range of unique thinkers and creators, in the spirit of the underground and alternative presses of the 60's and 70's.
Comics & Minis
Treasure Island #3 by Connor Willumsen (Breakdown Press) $12.50
comics by Melissa Dettloff:
Hot Dog Confessional $5 – A zine that answers some of life's important questions: do hot dogs like email? can a hot dog be a priest? what are hot dogs made of?
Dogs and Stools $3 – A zine featuring dogs and stools…but what kind of stools? Read to find out. This zine is a "one sheet book" and folds out to a poster printed on the back. This zine is a "one sheet book" and folds out to a poster printed on the back.
Arms Must Be Akimbo $15 – Delightful hand screen printed mini-comic about arm posture. This little comic made me laugh and smile with excellent line work, eye popping color and hilarious quips. ~CH
How to Achieve Sheer Dreamy Happiness: A Guide For Better Living $5
Hades #1 by Tim Tyler $10
New Wave Comics Presents #1-#3 by David Soileau $1.50 each
Fifty Flip Experiment #22 by Dan Hill $5
Graphic Novels
Out of Nothing by David Blandy & Daniel Lopcke (Nobrow) $22.99
Tim'rous Beastie: An Anthology of Small Adventures In a Big and Dangerous World by Amanda Lafrenais (Iron Circus) $30 – Proof that we're not headed for destruction in 75 graphs from a cognitive scientist.
Good News Bible: The Complete Deadline Strips of Shaky Kane (Breakdown Press) $34.99
Picnoleptic Inertia by Tsemberlidis (Breakdown Press) $19.99
Total Jazz by Blutch (Fantagraphics) $19.99
Lovecraft: The Myth of Cthulhu by Esteban Maroto $19.99 – Illustrated in haunting black and white over 30 years ago, these comics are re-presented in a new edition, adapting three of H.P. Lovecraft's most famous stories involving the Cthulhu Mythos.
Vacation by Blexbolex (Enchaned Lion) $24.95 – Adventures in bringing an elephant home by this French artist.
Politics & Revolution
Post-Truth by Lee McIntyre (The MIT Press Essential Knowledge series) $15.95
Bikequity: Money, Class, and Bicycling by Elly Blue (Elly Blue Publishing) $9.95 – The contributors to this book?in the Taking the Lane series?tackle present a thoughtful, multiperspective take on the sociopolitical effects of bicycling.
Fiction
Thirty-Seven: A Novel by Peter Stenson (Dzanc) $26.95 – Fight Club meets Heaven's Gate in this story of an 18 year old that escapes a death cult and is encouraged to restart it by his enigmatic boss.
Music & Film Books
Psychiatric Tissue: The History of the Iconic Noise Rock Band Arab on Radar by Jeff Schneider $18
It Came From the Video Aisle!: Inside Charles Band's Full Moon Entertainment Studio by David Jay & friends (Schiffer) $34.99 – From Puppetmaster to Trancers and beyond, Full Moon transformed the VHS experience for fans worldwide. Featuring rare artwork, behind-the-scenes photos, and over 50 exclusive interviews with the cast and crew who helped to create the legendary B-movie studio!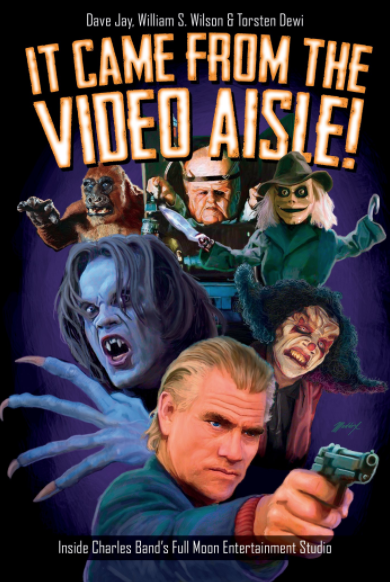 The Ultimate Guide to Strange Cinema by Michael Vaughn (Schiffer) $34.99 – Organized by genre, including comedy, horror, action, drama, fantasy, and sci-fi, this title offers 300 reviews of genre films from all over the world, 160 photos, and exclusive interviews and quotes from the people behind some of the most offbeat films ever made.
Art & Design
Eye See You: The Art of Oliver Hibert by Angelo Madrigale and Oliver Hibert (Schiffer) $34.99 – First monograph of this neo-psychedelic artist who has been featured in places like Juxtapoz & Hi-Fructose, and who has done many a poster and album cover for artists like the Flaming Lips. Over 200+ images of things like paintings, sculpture, drawings, tarot deck recreation and more!
Modern Gothic: The Photographic Art of Jamie Mahon by Jamie Mahon (Schiffer) $34.99 – Whether it's the ethereal otherworldliness of his Gothic heroines and villainesses, the provocative postures of his fetish performers, or the adrenalin-charged action of his fantasy characters, each image leaps from its page to shock and awe you.
Robotic Existentialism: The Art of Eric Joyner (Dark Horse) $29.99 – Pastries mixed with vintage toys! A juxtaposition of joy.
Screenprinting: The Ultimate Studio Guide from Sketchbook to Squeegee by Print Club London (Princeton Architectural Press) $40
Essays
TL;DR: The Best of Odd Things Considered by Anita Dalton (Nine-Banded Books) $29 – Dalton reads the type of weirdo books we sell and has been writing conversationally thoughtful counter-criticism for years, with insightful discussions of serial killer memoirs, outsider manifestos, and conspiracy theories (among many other outré subjects). Don't miss this!
Sexxxy Stuff
Starfucker, various issues $12
Mags
AdBusters #136 $14.95
Smith Journal #25 $17.99
Frankie #81 $19.95
Purple Fashion vol 3 #29 $30
Poetry & Chap Books
Chap Books from M. Wright: Boy Named Jane $10 & Dear Dementia $7
Other Stuff
New Field Notes:
Field Notes for Left Handed Folks! $9.95
Signature 2Pack, Plain or Ruled, cream/yellow or muted green cover, 4¼"× 6½" $15.00 each