Tonight is going to be great! We're having an event with Zak Sally (Sammy the Mouse), Dale "Tooth" Flattum and John Porcellino (King-Cat Comics). It starts at 7pm. Click here for more info.


Anyway, New Stuff This Week!
The Art of Daniel Clowes: Modern Cartoonist by Alvin Buenaventura (Abrams) $40.00 – Don't miss Dan Clowes and Alvin Buenaventura signing this book here on May 17th!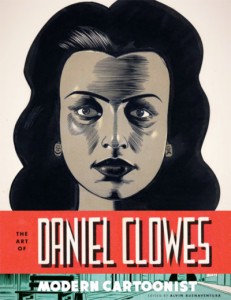 Zines & Zine-Related Books
Roctober #50 $5.00 – Don't miss the release event for this zine (this year makes its 20th anniversary!) here on March 30th.
Enchante – Short Stories by Dan Gleason $2.00
Strictly 228 the Old New York Zine $12.00
My Aim Is True #5 Pieces #6.5 by Carrie $2.00
Hawklog Green Pamphlet by Leon Sadler et al. (Picturebox) $5.00
Zine World: A Readers Guide to the Underground #30.5 $1.50 – Supplement between #30 and #31 of this popular zine review resource.
Going All City a Coloring Book by Cat Action $15.00
Snot Rocket City #1 by Margot, Taylor, Cory & Jeff $2.00
Eat Zine #4 by Jazz Robinson & Dan Varenka $6.50
Dirty Hands #2 by David Alvarado $4.00
19 Keep Hoping Machine Running #3 $5.00
Dear Shane I Tried to Kill Myself by Jazz $5.00
Kathleen by Ben Austin et al. $2.00
Comics & Comix
Comics by Juliacks: Invisible Forces Nakymattomia Voimia $15.00, Swell Part One Openfaced Sandwich $10.00
Birthday Boy Comics #1 Harbringers of Fun by Eric Scheidt & Matthew Koerber $6.00
Broken Hearts Comic by Kathryn Keister $2.00
Backed Up Comics – Notes Lists Comics Observations by Ryan Ehresman $5.00
Backed Up Comics – Portraits of Mohamed Illustrations 2009-2012 $4.00
Travel Drawings 2010 by T. Grabil $3.00
Comics by Alex Schubert: Blobby Boys #1 July $7.00, Dudes: Kansas City Mo $3.00
Comics by Jackie Barry: This is The Sea $5.00, In His Time: A Quick Visual Biography of Ernie Hemingway $20.00, Lesbian Sex $5.00, Dogs I've Loved $5.00
Graphic Novels & Trade Paperbacks
Dolls Weekly and the Crawlee Things by Rory Hayes (Picturebox) $30.00
Simon Collection 2001-2011 by Tyrell Cannon $22.00
The Sincerest Form of Parody: Best 1950s Mad Inspired Satirical Comics by Jay Lynch, John Benson (Fantagraphics) $24.99
Gonzo: A Graphic Biography of Hunter S. Thompson by Will Bingley et al. (Abrams) $17.95
Ichiro by Ryan Inzana (Houghton) $19.99
Astonishing X-Men: Ultimate Collection vol 2 by Joss Whedon et al. (Marvel) $29.99
Art & Design
Garbage Pail Kids by The Topps Company Inc. (Abrams) $19.95 – This exciting follow up to Wacky Packages includes spectacular artwork and over-the-top satire, featuring inspired collaborations between avant-garde cartoonists and humorists including Art Spiegelman (who wrote the intro), Mark Newgarden, John Pound, Tom Bunk, and Jay Lynch. All 206 rare and hard-to-find images from Series 1 through 5 are collected in an innovative package, along with a special set of four limited-edition, previously unreleased bonus stickers.
Fiction
Heretic by Miguel Conner $9.99
Mayhem, Miscreants, Memoirs & Misc
DIY Magic by Anthony Alvarado (Floating World) $13.95
Black Wings of Cthulhu: Twenty One Tales of Lovecraftian Horror by ST Joshi (Titan) $14.95
Seeking Truth While Sifting Through: A Global Practice by HermanSJr. $7.99
Voices of Gnosticism by Miguel Conner $17.95
Music Books
The One: The Life and Music of James Brown by RJ Smith (Gotham) $27.50
Megadeth: Another Time A Different Place by Bill Hale (PowerHouse) $19.95
Magazines
Girls and Corpses #6 Spr 12 $8.95
Dapper Dan #5 Spr Sum 12 $10.99
Chicago IRL #3 Spr 12 $11.00
Razorcake #67 $4.00
Everything we list on our blog is available at our brick and mortar store. But not everything we sell at the brick and mortar store is available from our webstore. Click here to see what is new in our webstore!