Quimby's welcomes Zak Sally, Dale Flattum and John Porcellino!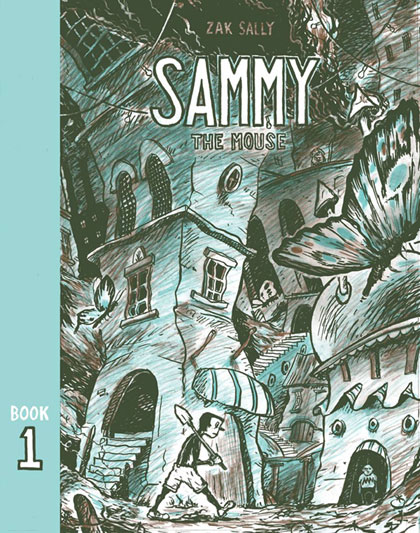 Sammy the Mouse: Volume 1 by Zak Sally (Colors throughout, 104 Pages) is the first collection of sammy the mouse comics, all in a beautifully bound, handmade package. This collection is the first three issues of Eisner Award Nominee Zak Sally's comic Sammy the Mouse (previously serialized as part the international Ignatz line of comics published simultaneously by Fantagraphics Books in the United States and Coconino Press in Italy). For this collection, Sally printed each copy on his own AB Dick 9810 offset press and is releasing it under his La Mano publishing house. Sally is personally responsible for every step in the bookmaking process; from conception to execution to reproduction to delivery, making each hand-signed copy the product of one artist's unique vision. Volume 1 introduces us to Sammy, his friends and frienemies, and a fantastical town that's as elegantly drawn and viscerally alive as the characters themselves. Sammy is tugged and pulled about town against his own volition in this first part in the series; from a bar in the shape of a baby to the top of a giant staircase to a picnic on the beach with a mustachioed female stranger. Some characters are seemingly controlled by an unseen voice from above, others by the constant need to get drunk. Throughout the book, Sally offers glimpses of the epic tale ahead between the drinking, arguing, and vomiting. Meticulously drawn and printed using a sophisticated two-color process, Sammy the Mouse: Volume 1 is an extremely funny, weird and intense introduction to what will be a truly unique series.
PRAISE FOR SAMMY THE MOUSE
"A grimy, metaphysical malaise drips from every line of Sally's lush yet unwholesome artwork, especially when he's plundering the iconography of innocence and youth in the service of disorienting discomfort… A-" – The Onion AV Club
"And then there's Zak Sally's Sammy The Mouse which for me has been a revelation…" – Tom Spurgeon, The Comics Reporter
"Nothing else I've seen in thirty years of self- enforced sobriety has made me want a drink more than Sammy the Mouse. Zak Sally grabs you by the eyes and drags you headlong into a vision of earnest struggle and serial revelation. It feels real. Hell, it is real." –Jim Woodring
"Sally is producing a real sharp, evocative and haunting work that manages to send a deli- cious chill up my spine upon reading it." – Chris Mautner, Robot 6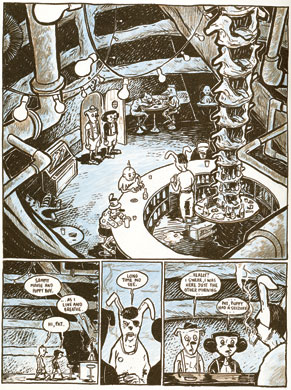 Zak Sally is an Eisner-nominated cartoonist whose work has appeared all over the place. He owns and operates La Mano, an award-winning "micro-publishing" house who has published work by John Porcellino, William Schaff, Nate Denver, Jason Miles, and Kim Deitch. He spent 12 years in the band Low.
——————-
Dale Flattum creates posters, art forgeries, and other screen printed propaganda under the alias TOOTH. His book TOOTH: The Graphic Art of Dale Flattum showcases 25 years of his graphic art. It includes 250 page volume mixes posters, illustrations & propaganda into a semi autobiographical history, as told through a Xerox machine. *It also includes a CD of music pulled from the author's shady nine year musical past in the bands Steel Pole Bath Tub, Milk Cult, The Nein, and Agent Nova. (The CD also includes the unreleased Novex second album.)
"When I was 16 years old," Dale explains, "I tore a weird looking poster off of a telephone pole near my house. It was crudely assembled, cheaply produced, and probably the greatest thing I'd ever seen. Later when I started to play music, the poster for the show became almost as important as the show itself. It was proof that something had happened. It was subversive propaganda. It was fun. It was addicting. And what did you need to do it? Scissors? Glue? A Xerox machine? An 8.5 x 11 piece of paper turned out to be a very powerful thing. The possibilities were endless."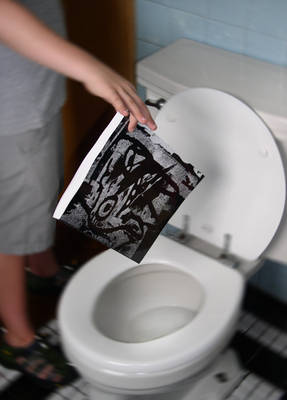 "TOOTH makes needles out of haystacks." Dirk Fowler
"Blunt, in your face, yet abstract at the same time. Much of this book feels sticky to me for some reason. I'm glad Dale has kept this up and sharpened his art tongs over the years." -Jello Biafra
"TOOTH's exquisite work looks so effortless. He can do in a moment what I have to STRUGGLE to do. I'm jealous!" -Art Chantry
"Awesome!!!" -Wayne Coyne
——————-
John Porcellino has been writing, drawing, and publishing minicomics, comics, and graphic novels for over twenty-five years. His celebrated self-published series King-Cat Comics, begun in 1989, has inspired a generation of cartoonists. Diary of a Mosquito Abatement Man, a collection of King-Cat stories about Porcellino's experiences as a pest control worker, won an Ignatz Award in 2005, and Perfect Example, first published in 2000, chronicles his struggles with depression as a teenager. King-Cat Classix and Map of My Heart, published in 2007/2009, offer a comprehensive overview of the zine's first sixty-one issues, while Thoreau at Walden (2008) is a poetic expression of the great philosopher's experience and ideals. According to cartoonist Chris Ware, "John Porcellino's comics distill, in just a few lines and words, the feeling of simply being alive."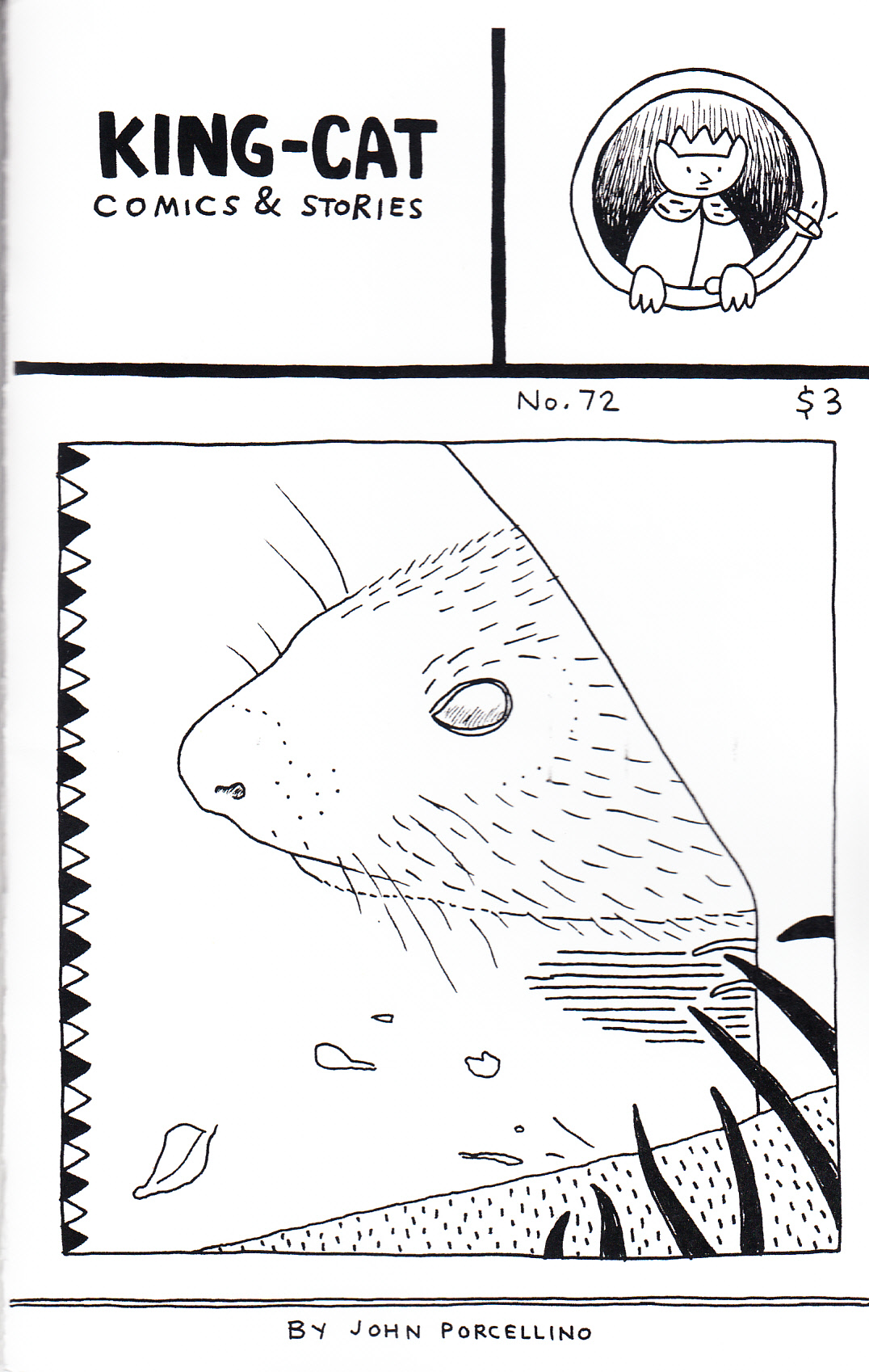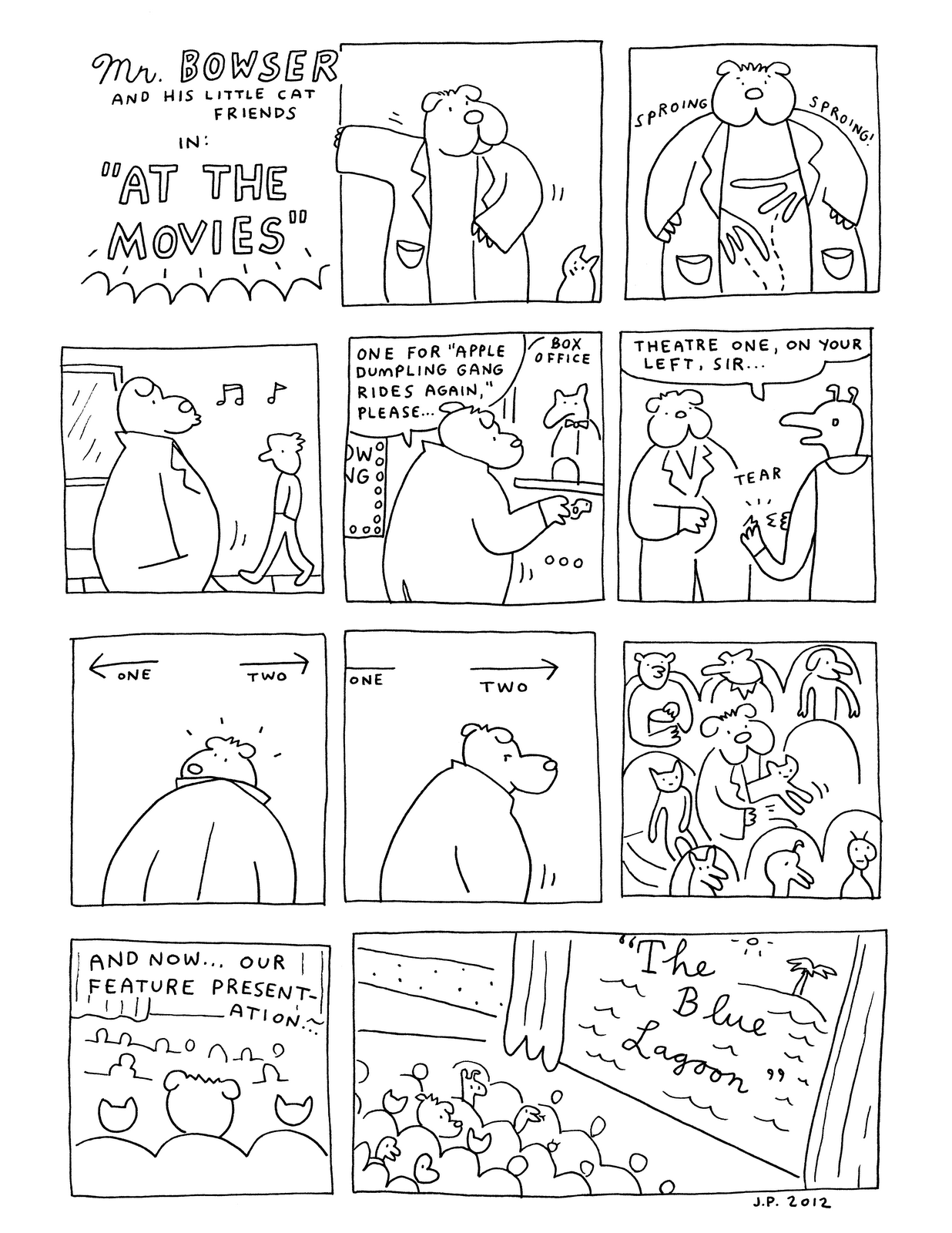 Event Details:
Where and When: Here at Quimby's, 3/23, 7pm, free
Who & What new title they're celebrating:
Zak Sally Sammy the Mouse vol 1
Dale "TOOTH" Flattum TOOTH: The Graphic Art of Dale Flattum
John Porcellino "King-Cat Comics #72"