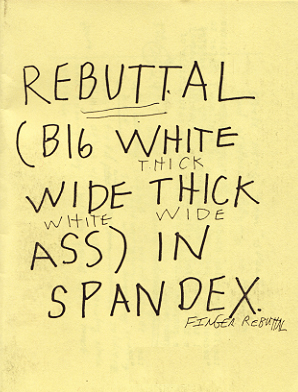 Rebuttal In Spandex by Morgan Brainchild and David Diarrhea $2.00 – Reports from harms way, long form word play, cuneiform apartment plans and an automatic thought registry. A little treat from Brainchild and Diarrhea. -EF
Zines
Zines by Lynne: With an E #3 Looking For a Job, Butch Nor Femme #7 $1.50 each
Fire Dogs #1 A SPOC Publication (Self-Publisheres of Chicago) $3.00 – Inspired by a book at the Read/Write Library here in Chicago, about the extremely specific topic of Firedogs at different fire stations around Chicago. With contributions from by Nicki Yowell, Grant Reynolds, Eric Bartholomew, Liz Mason Paul Durica and Meghan McGrath $3.00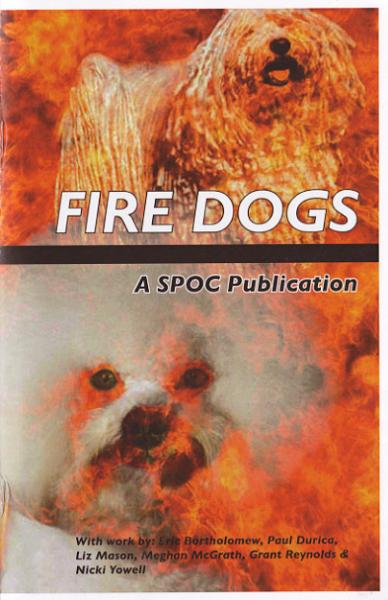 Zines from the Trans Oral History Zine Distro including: various issues of Bound to Struggle, Gendrfailz #1 and #2, Vanguard Revisited Fab 11, various prices
Cheer the Eff Up #3 by Jonas $3.00
Fibonacci in Biology by Adrian M. Pijoan $4.00
Never Ain't Nuthin' by Benjamin Boyd Austin $1.00 – Cool stuff Benjamin's never done.
Comics & Comix
Tucker Toon #1 by Dustooned $5.00
Comics by Frederick Noland: Infallible vol 1, Teats on a Boar, Black Sheep #1 and #2 $4.00 each
Jerrys Journal by Neil Fitzpatrick $5.00
Buck #1 of 1 by Drawdoer Jones
Comics by Leda Zewacki: Smoke Signals, My Escape from a Sea Monster Based on a True Story, $3.50 each
S #11 Baltic Comics Magazine $11.00
Comics by Adrian Manuel Pijoan Don't Fear the King Story of Surface to Volume Ratio Size and Shape of Animals, Mexican, various prices
Space Basket #1 by Jonathan Petersen (Domino Books) $5.00
Graphic Novels & Trade Paperbacks
Tell Me More $10.00
Taxes the Tea Party and Those Revolting Rebels a History in Comics of the American Revolution by Stan Mack $14.99
Eyes of the Cat by Moebius and Jodorowsky $34.95
Game For Swallows to Die to Leave to Return by Zeina Abirached $9.95
Scott Pilgrim vol 1 Color Edition: Scott Pilgrim's Precious Little Life by Bryan Lee O'Malley et al. $24.95
RASL TPB vol 4 Lost Journals of Nikola Tesla by Jeff Smith $19.95
Art & Design
Yield to Temptation by Todd James (Picturebox) $20.00
Art of Molly Crabapple vol 2 Devil in the Details by Molly Crabapple $12.99
Fiction
Diving Belles by Lucy Wood $14.95
Dead Do Not Improve  by Jay Caspian $25.00
Giving up the Ghost: Story about Friendship 80s Rock Lost Scrap of Paper What It Means to be Haunted by Eric Nuzum $15.00
Mayhem, Miscreants, Memoirs & Misc
Pyraminds and the Pentagon: The Government's Top Secret Pursuit of Mystical Relics, Ancient Astronauts and Lost Civilizations by Nick Redfern $15.99
This Book Is From the Future: A Journey Through Portals, Relativity, Worm Holes and Other Adventures In Time Travel by Marie D. Jones and Lassy Flaxman $15.99
Lords of the Left Hand Path: Forbidden Practices and Spiritual Heresies From the Cult of Set to the Church of Satan by Stephen E Flowers, PhD. $24.95
Psycho USA Famous American Killers You Never Heard Of by Harold Schechter $20.00
Imagining the World into Existence: An Ancient Egyptian Manual of Consciousness by Normandi Ellis  $18.00
Truth by Nina Yau $15.00
DIY
Color Me Drunk: A Drinking and Drawing Activity Book: Get Arty While You Party $12.99
Politics & Revolution
Territories In Resistance: A Cartography of Latin American Social Movements by Paul Zibechi (AK) $19.95
Literary Journals, Poetry & Chap Books
Specimen Magazine #2 $6.00
Moonseed by Schrreiner $3.00
Sex & Sexy
S and M Feminist by Clarise Thom $20.00
Confessions of a Pickup Artist Chaser by Clarise Thom $20.00
The things listed in this list are at our brick and mortar store at 1854 W. North Ave. Occassionally we make some of it available for mail order on our website, but we curate what we put up there. To see which new items are on our website, see quimbys.com/store and mail order them for prompt home delivery.