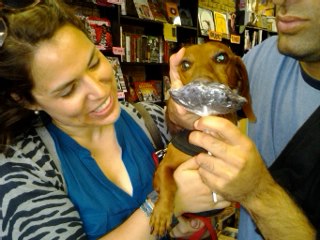 Michael the sausage dog took his owners Becky and Ali to Quimby's and posed with our Cola Flavored Mustache Lollipop. Hot diggity dog!
1. My Friend Dahmer by Derf Backderf (Abrams ComicArts)  $17.95 – Thanks to everybody who came to see Derf here this past Thursday.
2. The Baffler #20 $10.00 –  In this summer issue, decomposing cities that tremble with vibrancy, art museums where cash-and-carry aesthetics is the rule, journalists on the endless education of the president, and imperial foundations and their pet broadcasters on public radio. Where else can you learn why Ira Glass's This American Life is so damn annoying, or take in the lame, postideological pantomiming of Jon Stewart and Stephen Colbert, or admire the performance art of Harvard fraud Adam Wheeler and laugh at the Ivy mothership's efforts to smite the pretender down?
3. James Joyce by E. Choy $5.00 – Adaptations of James Joyce classics by Philidelphia-based Ed Choy! Includes Araby, an excerpt from A Portrait of the Artist as a Young Man, and an assortment of others. Interior pages feature alternating 1-color spreads in purple and Riso-Federal Blue.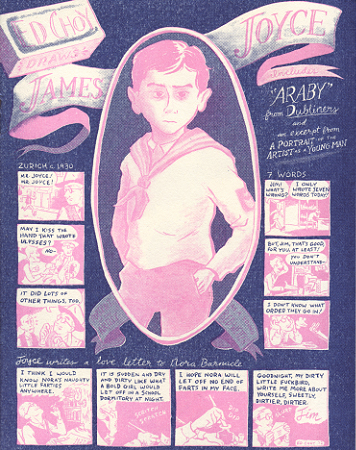 4. Sweetmeats #1 by Edie Fake $2.00 – This is the story I did for Max Morris' awesome anthology Vacuum Horror last winter, reprinted as a little mini so I have something to offer when folks wanna trade zines. -EF
5. Tales of Woodsman Pete With Full Particulars by Lilli Carré (Top Shelf) $7.00
6. Maximumrocknroll #351 Aug 12 $4.00
7. Razorcake #69 $4.00
8. Duel Citizenship by Jen Twigg $2.00 – D.C./Maryland versus Chicago, but in a lovin' kinda way. Twigg talks about what it means to feel like you live in a city and what's great about places.-EF
9. Office Girl by Joe Meno $15.95 – Umbrellas of Cherbourg 1999?
10. Gaylord Phoenix by Edie Fake (Secret Acres) $17.95 –  All-Gaylord-All-Phoenix-All-In-One, Dr. Bronner's Style.