*ZINES*
Srviv #3 by Jonas Cannon $3.00
Reclaiming Resilience by Veronika Boundless $6.00
Bad Anime vol 8 Why the Board is Very Wrong Issue by Vanessa Barros Andrade $6.00
Records #1 by Ian McDuffie $2.00
Garbage People #1 $2.00
*COMICS & MINIS*
MENS FEELINGS #2 by Ted May (Revival House Press) $5.00 – A delicate, yet satirical examination of the male psyche set against the modern cultural landscape.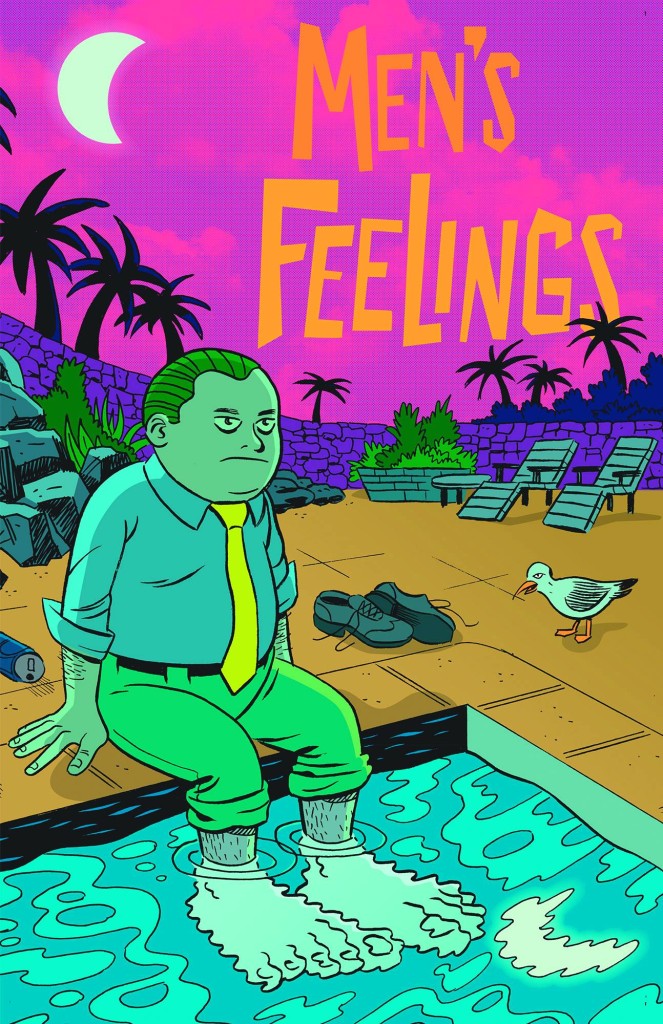 Troll by Martin Flink $4.95
comics by B. Lehmann:
Garbage Quest $5.00
How Baseball Works $4.00
Through the Forest #1 by Jon Marchione $6.00
Snail Comix #2 presents Leaf Rider $4.00
Comics by Laura Grothaus: $3.00 each
Some Tips for Dealing with Ghosts
Some Tips for Revenge
Sleep Walkers Atlas
*GRAPHIC NOVELS & TRADE PAPERBACKS*
Trashed: An Ode to the Crap Job of All Crap Jobs by Derf Backderf (Abrams) $18.95 – Trashed follows the raucous escapades of three 20-something friends as they clean the streets of pile after pile of stinking garbage, while battling annoying small-town bureaucrats, bizarre townfolk, sweltering summer heat, and frigid winter storms.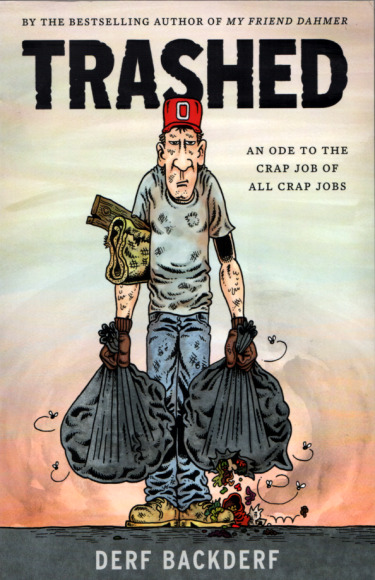 The Sandman: Overture Deluxe Edition by Neil Gaiman, illustrated by JH Williams III (Vertigo) $24.99 – 25 years later, we get The Sandman origin story from Neil Gaiman's acclaimed series. From the birth of a galaxy to the moment that Morpheus is captured, THE SANDMAN: OVERTURE will feature cameo appearances by fan-favorite characters such as The Corinthian, Merv Pumpkinhead and, of course, the Dream King's siblings: Death, Desire, Despair, Delirium, Destruction and Destiny.
New Construction: Two More Stories by Sam Alden (Uncivilized Books) $17.95 – A collection of two new stories from cartoonist and Adventure Time contributor Sam Alden. In "Household," a brother and sister deal with divergent memories of their father and grow closer than ever. In "Backyard," vegans and anarchists share a house, small dramas and bizarre transformations (featuring a new, never before published ending).
Mouse Guard Legends of the Guard vol 3 by David Peterson & friends $19.99
Crossed Badlands vol 14 by Kieron Gillen & friends (Avatar) $19.99 – Collects issues #75 – 80.
Red Rosa: A Graphic Biography of Rosa Luxemburg by Kate Evans and Paul Buhle (Verso) $16.95
Lafcadio Hearn's "The Faceless Ghost" and Other Macabre Tales from Japan by Sean Michael Wilson (Shambala) $16.95
Klaxon by Si Spencer and Dix (SelfMadeHero) $19.99
Hysteria Graphic Freud by by Richard Appignanesi and Oscar Zarate (SelfMadeHero) $24.95 – An account of Sigmund Freud's early work that led to the foundation of psychoanalysis.
Filmish: A Graphic Journey Through Film by Edward Ross (SelfMadeHero) $24.95
One Year Wiser: 365 Illustrated Meditations (SelfMadeHero) $19.95
*ART & DESIGN BOOKS*
Visual Impact: Creative Dissent in the 21st Century by Liz McQuiston (Phaidon) $39.95 – An accessible and richly illustrated exploration of how art and design have driven major social and political change in the 21st century.
JR: Can Art Change the World? by JR, Nato Thompson & Joseph Remnant (Phaidon) $59.95 – The first major and in-depth retrospective monograph on JR, the enigmatic and anonymous Parisian photographer/street artist/activist behind some of the world's most provocative large-scale public photography projects. Features a survey essay by Nato Thompson, Chief Curator of Creative Time, New York.
Bread and A Dog by Natsuko Kuwahara (Phiadon) $14.95 – A dog poses in photos under a table with different kinds of bread. And there's recipes!! WOOF.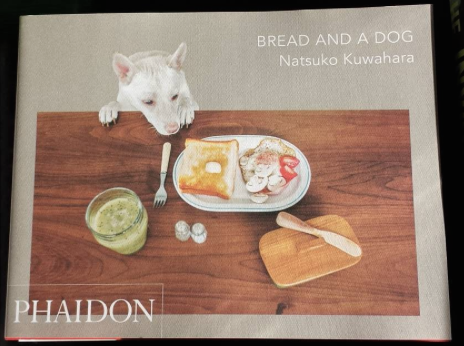 Fantastic Man: Men of Great Style and Substance by Jop van Bennekom & Gert Jonkers (Phaidon) $49.95
*FICTION*
Ugly Girls by Lindsay Hunter $14.00 – Now in soft cover!
Pickle Index: A Novel by Eli Horowitz $15.00
*MUSIC BOOKS*
Chapter And Verse (New Order, Joy Division And Me) by Bernard Sumner $27.99 – Memoir from a founding member of Joy Division, and later as the front man of New Order.
The Art of Asking Or How I Learned To Stop Worrying and Let People Help by Amanda Palmer $15.99 – Now in soft cover.
I'll Never Write My Memoirs by Grace Jones $26.99
Rap Tees: A Collection of Hip-Hop T-Shirts 1980-1999 by DJ Ross One (PowerHouse) $35.00 – Includes rare shirts from a wide selection of the who's-who of the business including: Public Enemy, Boogie Down Productions, Beastie Boys, Eric B and Rakim, Wu Tang Clan, Jay Z, Nas, EMPD, and many, many more.
*ESSAYS*
Best American Nonrequired Reading 2015 ed. by Adam Johnson & 826 National $14.95 – Includes work from LESLEY NNEKA ARIMAH, DANIEL ALARCÓN, BOX BROWN, REBECCA CURTIS, VICTOR LODATO, CLAUDIA RANKINE, PAUL SALOPEK, PAUL TOUGH, WELLS TOWER & more.
I Can Give You Anything But Love by Gary Indiana $25.95
House of My Own: Stories from My Life by Sandra Cisneros $28.95
Bohemians, Bootleggers, Flappers, and Swells: The Best of Early Vanity Fair by Graydon Carter and David Friend $18.00
Unspeakable and Other Subjects of Discussion by Meghan Daum $16.00
*MAYHEM*
My Adventures with Your Money: George Graham Rice and the Golden Age of the Con Artist by T.D. Thornton $28.99
It Ended Badly: Thirteen of the Worst Breakups in History by Jennifer Wright $21.00 – A history of heartbreak-replete with beheadings, uprisings, creepy sex dolls, and celebrity gossip-and its disastrously bad consequences throughout time.
*DIY & HOW TO BOOKSnZINES*
Preserving: Conserving, Salting, Smoking, Pickling by Ginette Mathiot, edited by Clotilde Dusoulier (Phaidon) $29.95 – Classic French preserving techniques updated for a modern audience. Preserve fruit, vegetables, meat and fish with a beautifully illustrated guide.
Making A Silk Cocoon Art Journal #1 A How To Zine by Katie Cisek $5.00
Love in the Age of Ecological Apocalypse: Cultivating the Relationships We Need to Thrive (Sacred Activism) by Carolyn Baker (North Atlantic Books) $16.95
*FOODnDRUGS*
Tacopedia by Deborah Holtz, Juan Carlos Mena, and René Redzepi (Phaidon) $29.95 – 100 recipes accompanied by interviews, street and food photography, illustrations, graphics, and maps!
Sexy Sacred Shrooms by John W. Allen (Ronin Publishing) $20.00
Whiskey Distilled: A Populist Guide to the Water of Life by Heather Greene $17.00
Great Moments in Chocolate History, with 20 Classic Recipes From Around The World by Howard Yana Shapiro (National Geographic) $19.95
*SCIENCE!*
Voices from Chernobyl: The Oral History of a Nuclear Disaster by Svetlana Alexievich $16.00
The Invention of Nature: Alexander von Humboldt's New World by Andrea Wulf $30.00
*PHOTO BOOKS*
Low Life by Jim Vail (Bland Publishing) $25.00
*POLITICS & REVOLUTION*
Letters of Joe Hill: Centenary Edition by Joe Hill, ed. by Philip S. Foner & Alexis Buss (Haymarket) $11.95 – "Joe Hill's influence is everywhere. Without Joe Hill, there's no Woody Guthrie, no Dylan, no Springsteen, no Clash, no Public Enemy, no Minor Threat, no System of a Down, no Rage Against the Machine."—Tom Morello, from the foreword. Radical songwriter and organizer Joe Hill was murdered by the capitalist state in 1915, but his songs continue to inspire working-class activists and musicians. In this collection of letters, readers are provided a window into the political reflections and personal struggles behind Hill's legend.
*MAGAZINES*
The Baffler #29 $12.00
Juxtapoz #179 Dec 15 $6.99
Cabinet #57 Spr 15 Catastrophe $12.00
Wax Poetics #63 $11.99
*CHAP BOOKS & LIT JOURNALS*
Psycho Holosuite #1 $5.00
East and West and Two Apple Boxes by Gabriel Johnson $5.00
*KIDS BOOKS*
My Wild Family by Laurent Moreau $17.99
Benny and the Lost Roar by Karen White, illustrated by Eddie Fieg $15.00