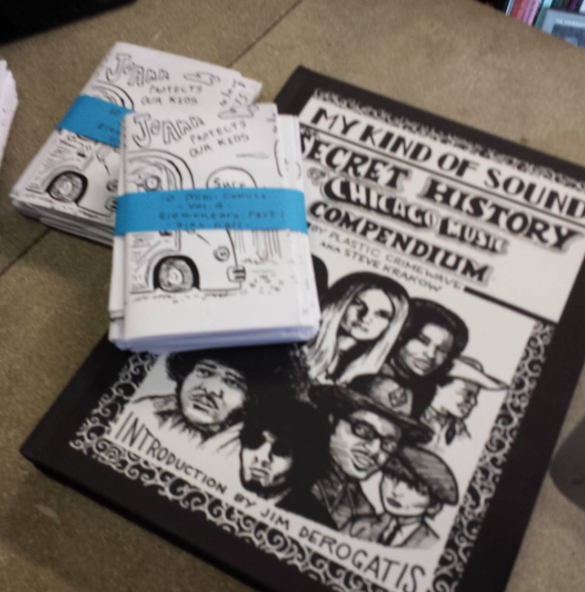 Ten Minicomics vol 4 by Alex Nall $5.00
My Kind of Sound: The Secret History of Chicago Music by Steve Krakow (Curbside Splendor) $24.95
*ZINES*
Punk Rock Glee Club #1 by Liz Mason $2.00 – Zine about an a capella punk band Blue Ribbon Glee Club that does covers of bands like Fugazi and the Buzzcocks. But it's also a meditation on creativity, group artistic collaboration and performing.
Her Pichers, The Life and Work of Gert Van Houten by Drew Damron $5.00
Reggae Sauce: A Cabin Time Pokey Creek Cookbook by Nick Stockton $8.00
Free Ass Mag #1 Free Association Magazine Utopia by Amanda Wills $10.00
Close Encounters by Hannah K. Lee $15.00
Zines from Dinosaur Press by Claire Siepser:
Lies We Tell Ourselves $6.00
Lies Our Parents Told Us Or $6.00
Lies We Told Our Parents Or $6.00
Make Your Own Permanent Record $9.00
Choices $15.00
Pill Magazine #1 $5.00 – Thoughtful zine about abortion, what to expect when you're not expecting.
Sound Bites #3 Sounds of Home by Bethany $3.00
Live Mag #12 $10.00
KerBloom #117 Nov Dec 15 by Artnoose $2.00
Party Animals, Mike Freiheit Presents $4.00 – A drawing zine from this mini-comics artist.
*COMICS & MINIS*
Life's Too Short, Trubble Club Presents $5.00
Revenger #6 $8.00
Meow de Vivre by Penina Gal $5.00
Comics by Matt Reints, $2.00-$3.00 each:
Dusty-isms: A Collection of Short Comics
Against the American Dream: Another Collection of Short Comics
Inertia
Xerox Candy Bar XCB Anime Issue #27 $3.00
Somewhere Over the Rainbow by oorn $5.00
Sporgo #1 $4.00
Prometheus Eternal by Grant Morrison & Farel Dalrymple (Locust Moon Press) $5.99
*GRAHIC NOVELS & TRADE PAPERBACKS*
Test Tube by Carlos Gonzalos (Floating World Comics) $14.95
Strange Sports Stories: Get Your Head in the Game by Paul Pop, CM Punk & Gilbert Hernandez (Vertigo) $14.99
Batman: The Doom That Came to Gotham by Mike Mignola & friends (DC) $16.99
Hot Jazz with Max Zillion and Alto Ego by Hunt Emerson $18.95
*ART & DESIGN BOOKS*
Platforms: Ten years of Chances Dances, ed. by Aay Preston Myint $35.00
Juxtapoz: Wild (Gingko Press) $29.95
Skullture: Skulls in Contemporary Visual Culture (Gingko Press) $39.95
Stay Melty Buff Monster (Gingko Press) $29.95
Store Front II A History Preserved, The Disappearing Face of New York (Gingko Press) $65.00
Fifty Art Nouveau Works of Art You Should Know by Susie Hodge (Prestel) $19.95
*FICTION*
Loitering: New and Collected Essays $15.95
*ESSAYS*
Book of My Lives by Aleksander Hemon $16.00
*POLITICS & REVOLTION BOOKS*
Living Anarchism, Jose Peirats and the Spanish Anarcho Syndincalist Movement by Christ Ealham $20.00
*MUSIC BOOKS*
Confessions Of A Heretic: The Sacred And The Profane by Adam Nergal Darski, with Mark Eglinton (Jawbone Press) $19.95 – Forthright and erudite memoir of the front man and driving force behind the Polish heavy-metal group Behemoth, currently at the top of their game following the release of their 2014 US Top 40 album The Satanist.
*MAGAZINES*
Wire #382 Dec 15 $9.99
Shots #130 $7.25
Profane #1 $23.95 – French art mag.
Sabor #1 Arbiter of All Things Gastronomic $29.95
True Crime Winter Special Dec 15 $12.99 – Happy Holidays From Quimby's!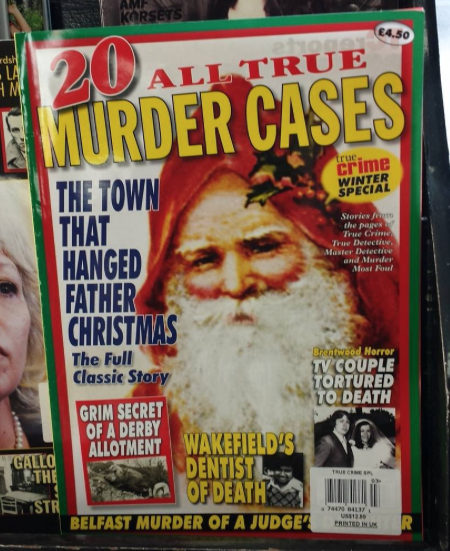 Fat 2015 $14.99 – Finnish art, featuring Nastja Sade Ronkko. Annual issue for 2015, the Nordic Issue.
Drift vol 3 Havana $24.00 – Popular coffee magazine, each issue focuses around a different city.
Modern Farmer #10 Winter 15/16 $7.99
*CHAP BOOKS*
What Communion Has, The Light with Darkness by ZL Melton (Godhead Publishing) $6.00
Otherwise Jesus by Blake Wallin $7.00
*OTHER STUFF*
Moleskine Folio Sketchbook X-Large $29.95
Fun Gift Wrap! Different kidns! $6.95 per roll
Nudie Ladies 2016 Heaven Sent Heaven is for Real by Flannery Cashill $3.00