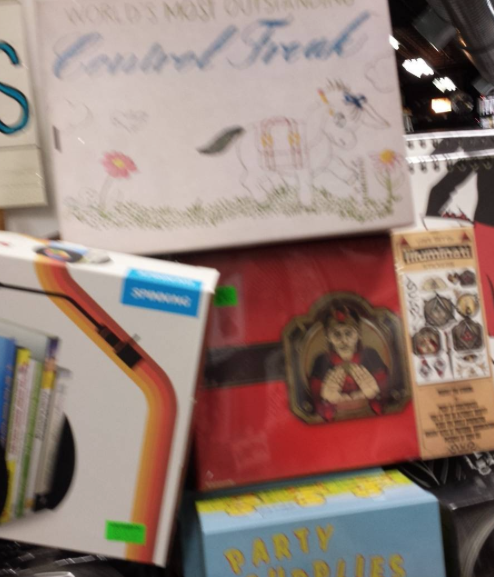 HAPPY BOXING DAY! Yes, we have boxes.
*ZINES*
Zines from the blog ourlittlesomething.tmblr.com & Self-Publishers of Chicago:
Terrific Trees of the USA by Victoria Harley, Katrina Eresman, Erin Dreis $7.00
Sea by Victoria Harley & Katrina Eresman $3.00
Price Gun Warriors by by Victoria Harley, Ed Blair, Jeff Phillips, Oats Redding, Liz Mason & more $3.00
Last Night at the Casino #10 Dec 15 $3.00
Serio #6 Social Justice Zine Based In Chicago $5.00
Arid #1 A Zine about Sobriety and the Interior by E. Marie $2.00
Rock Paper Scissors Photography by Chris Horner $5.00
Whipless by Robert Rusch $20.00
Wayward Ducklings vol 1 $1.00
Are You Aware of How You're Feeling Now $3.00
Tat Squad #3 $10.00
*COMICS & MINIS*
Do Not Disturb My Waking Dream #4 by Laura Park (Uncivilized Books) $5.00 – Laura Park is back, blessin' us & stressin' us with her famed linework and strained lifework. It's a style as Chicago as Al's Beef, and every bit as well-rendered. Grab one before they fade back into the mystic. ~GS
Smoke Signal #23 $5.00 – Derf Backderf cover, work by Al Columbia inside!
As You Were #4 a Punk Comix Anthology (Silver Sprocket Bicycle Club) $10.00
Structures 46-56 by Kevin Huizenga (Uncivilized Books) $5.00 – The fifth volume in the Structures series. Kevin Huizenga presents a number of otherworldly structural narratives. Complete with interactive audio / motion cues! 2-color Risograph cover.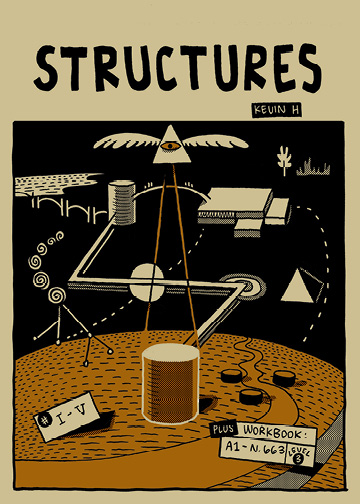 Speakeasy: A Rachel Topka Toon by Rachel Topka (Uncivilized Books) $5.00 – A love story…of sorts, between a chubby homunculous and a centaur. Comic by the Uncivilized Books intern!
Those Goddamn Fuckers by Alec Berry and Andrew White (Uncivilized Books) $4.00
Ice Heist by Madeline McGrane (Uncivilized Books) $5.00
The Social Discipline Reader by Ian Sundahl (DOMINO) $5.00 – Collects best of material from Social Discipline #1-8, and would be at home as a obscure men's magazine insert or as contemporary naturalistic storytelling/pseudo-autobiography. 40 newsprint pages, b&w, 8×10.5″.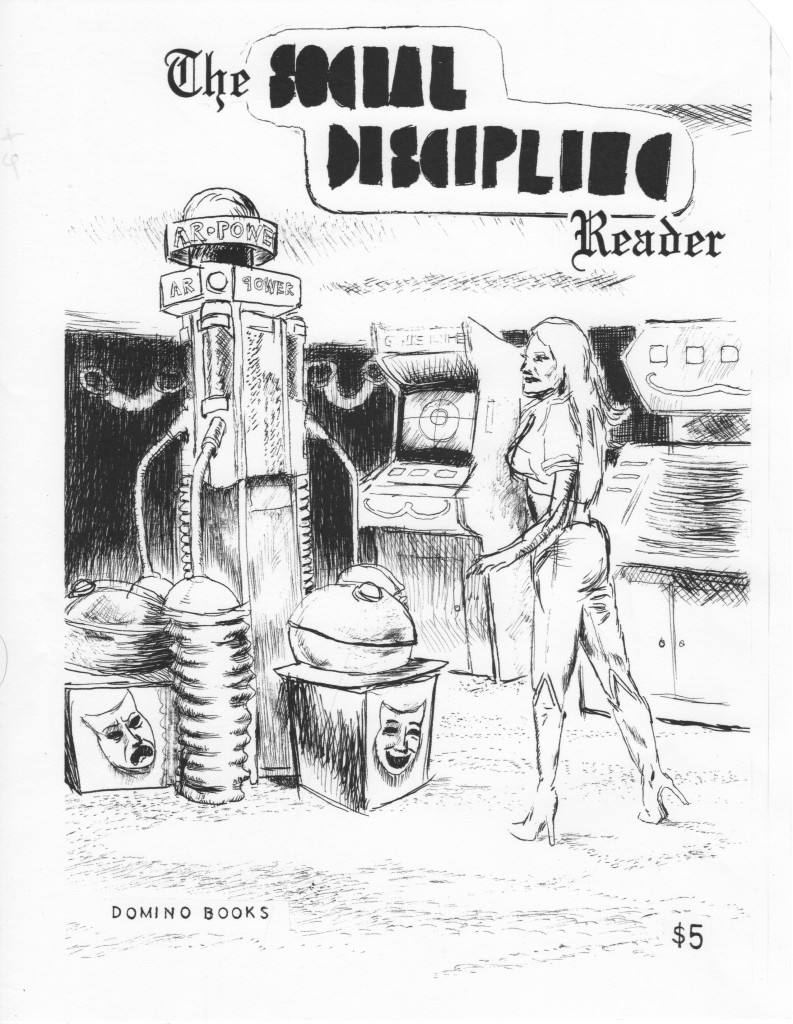 Lapis Lazuli Labyrinth by Yumi Sakugawa (Sparkplug) $5.00 – A minicomic sharing the importance of remembering small details, no matter how seemingly useless.
A Wretch Like Me: Sad/Black/Ugly/Queer by Ebin Lee (Sparkplug) $6.00 – Portland artist describes the book as "A Wretch Like Me is my visual journal of Depression/Anxiety/ and Body Dysphoria." Book #5 in the Sparkplug Minis Series.
Incubation – Charles Burns' Sketchbook $9.95
Fight Club 2 #8 by Chuck Palahniuk and friends $3.99
Rotten Roots #1 by Paul Axel & Renee Majkut $6.00
Cats and Witches by Charles Brubaker $3.00
*GRAPHIC NOVELS & TRADE PAPERBACKS*
COPRA TPB ROUND THREE vol 3 by Michael Fiffe (BERGEN STREET PRESS) $19.95
Adventure Time Presents Marceline Gone Adrift by Meredith Gran and Carey Pietsch $19.99
Ronald Searle's America (Fantagraphics) $85.00
SCALPED HC BOOK 3 DELUXE EDITION by Jason Aaron & friends $29.99
Gahan Wilson's Out There: The Science-Fiction and Fantasy Cartoons of Writing of Gahan Wilson (Fantagraphics) $29.99
Comics by Yewon Kwon:
All of My Body Half Spilled Across the Floor $12.00
There Is Fire and the Gnashing of Teeth $20.00
*ART & DESIGN BOOKS*
Forms of Rockin': Graffiti Letters and Popular Culture by Anssi Arte (Dokument Press) $29.95
The Photographer's Playbook: 307 Assignments and Ideas by Jason Fulford and Gregory Halpern (Aperture) $24.95 – Playful collection of assignments, ideas, stories, advice for better shooting and editing, creative ways to start new projects, games, activities, insight & anecdotes from many of the world's most talented photographers. Plus, a Polaroid alphabet by Mike Slack, which divides each chapter, and a handy subject guide.
*OUTER LIMITS*
Hearsay: Artists Reveal Urban Legends by Lauren Haisch & Wendy Sherman $19.95
The Ark of God: The Incredible Power of the Ark of the Covenant by David Hatcher Childress (Adventures Unlimited) $22.00
Robot Zombies: Transhumanism and the Robot Revolution by Xaviant Haze & Estrella Eguino (Adventures Unlimited) $16.95
The Law of Chaos: The Multiverse of Michael Moorcock by Jeff Gardiner (Headpress) $19.95
*HUMOR & TRIVIA*
Cat Versus Human by Yasmine Surovec $12.99 – From the design-y and snarky catvshuman.com.
100 Essential Things You Didn't Know You Didn't Know About Math and the Arts by John D. Barrow $16.95
Unprepared To Die: America's Greatest Murder Ballads And The True Crime Stories That Inspired Them by Paul Slade (Soundcheck Books) $21.95
*SEXXXY*
Meat #19 $20.00
Badlands Unlimited New Lovers 1: How to Train Your Virgin by Wednesday Black $12.95 – The queen of a mythical realm realizes that her king now prefers the bodies of inexperienced human virgins to her own. His insatiable appetite threatens the kingdom and everything the queen holds dear. She plots to seduce and deflower the two humans the king favors, but her plans backfire in spectacular fashion. What will become of her marriage? Her kingdom? Her virgins?
*MAGAZINES*
Vive Le Rock #31 The Clash, Jello Biafra $10.99
Mojo #266 Jan 16 Bowie Now $10.99
True Crime Dec 15 $9.99
Sneaker Freaker #34 $12.95
She Shreds #9 $8.00
Noble Rot #9 $18.50
Hobo Magazine #18 Lea Seydoux $20.00
Archer #5 16 The Australian Journal of Sexual Diversity $14.95
*LIT JOURNALS*
Ninth Letter vol 12 #2 Fall Win 15 16 $14.95
*FOR THE KIDDIES*
Legendary Routes of the World: A Pop Up Book by Alexandre Verhille & Sarah Tavernier (Little Gestalten) $29.99
I Met a Penguin by Frank Asch (Nieves) $25.00 – Reissue of 1972 book about a lion falling in love with a penguin.