Dame Darcy stuff!!!!!! Coloring books ($25), Witch 2016 Calendar ($15)!
2016 Calendar Echo Collector Calendar by Leif Goldberg!!! $20.00
*ZINES*
Fallopian Falafel various issues $2.50 each – Hebraic feminists unite!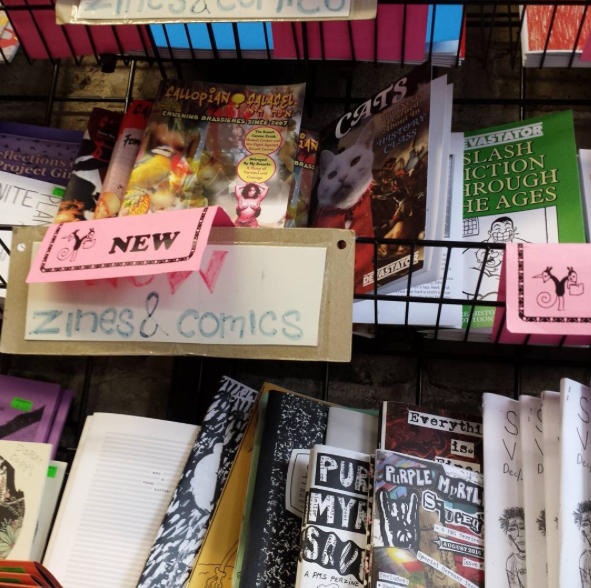 Purple Myrtle Squeegy, various issues $1.50
Sub/Verse #3 Dec/Jan $5.00
Color in Me by Jesse Ward $15.00
Classic Track Takes Me Back by K. $4.00
*COMICS & MINIS*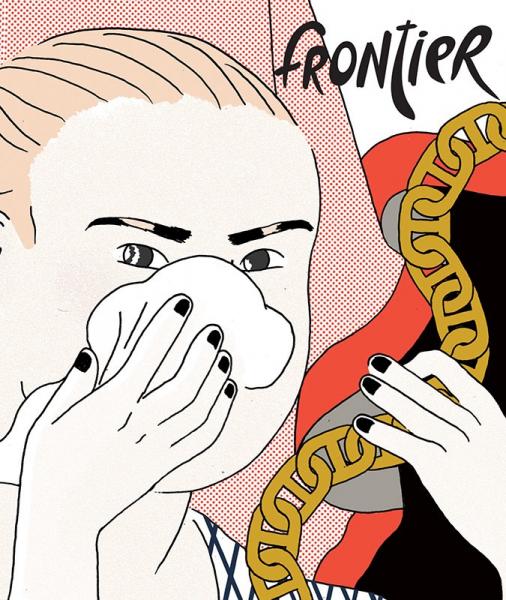 Issues of Frontier (from Youth In Decline) $8.40 each
#8 by Anna Deflorian
#9 by Becca Tobin
#10 by Michael DeForge
Stuff from Oily comics!
Revenger #5 by Charles Forsman $5.00
HABIT #2 $8.00 – 52 pages of madness from Josh Simmons (The Furry Trap) and his deranged collaborators. This issue includes: Tom Van Deusen, Eric Reynolds & Ben Horak.
Comics by Eroyn Franklin:
Bikram Addict $3.00
Vantage #2 $5.00
Comics by Isabella Rotman
Feel Small $4.00
Siren School $5.00
Burn Your Demons $6.00
Welcome to Free America issues #001-#0004 $6.00-$7.00
Nerd Jam Pack Special Issue by Oliver Wilkie $15.00
Gleaming Corridor #1 by Ben Sears $10.00
My Boo Ghost Zine, curated by Brett Manning & Sarah Gilstrap $5.00
Listen to Your Third Eye by Brett Manning & friends $10.00
Twilight Children #3 by Gilbert Hernandez $4.99
Strawberry Ghost by Helen America $6.00
*GRAPHIC NOVELS & TRADE PAPERBACKS*
Runaways: Battleworld $15.99
Kid Eternity: Deluxe Edition by Grant Morrison & friends $24.99
Walking Wounded: Uncut Stories from Iraq by Olivier Morel (NBM) $24.99
Complete Voodoo vol 1 by Craig Yoe $29.99
*ART, PHOTO & DESIGN BOOKS*
TF at 1: Ten Years of Quartersnacks by Quartersnacks (PowerHouse) $29.95 – Best and worst from the NY skateboarding web site, along with new interviews, and documentation of the spots, the videos, the shops and more.
Out of the Woods: A Collection of 15 Postcards by Emily Winfield Martin (Black Apple) $16.00
Subway Art: 30th Anniversary Edition by Martha Cooper $24.95
The Women of Ink: 16 International Tattoo Artists by Ákos Bánfalvi (Schiffer) $34.99
*FICTION*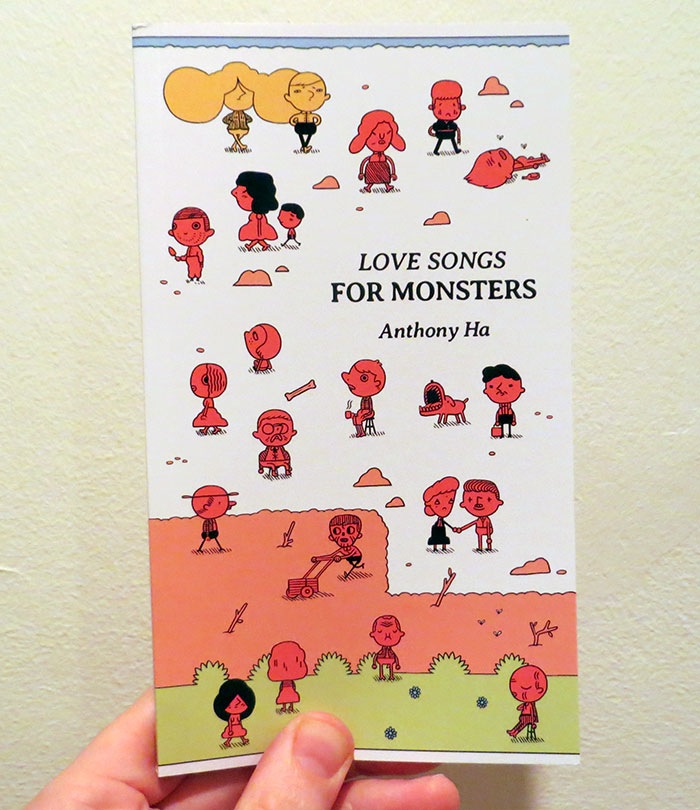 Love Songs For Monsters by Anthony Ha (Youth In Decline) $10.00 – Science fiction short story debut from this author. Cover by Michael DeForge.
Sophia by Michael Bible (Melville House) $16.95 – Reverend Maloney isn't the world's greatest spiritual advisor. He drinks gin out of his coffee cup and has sex dreams about the Holy Ghost. His best friend Eli isn't perfect either, but he's a chess genius, which has to count for something. So Maloney decides that they should hit the road: Eli can win major chess tournament after chess tournament; Maloney can pocket Eli's winnings while getting away from, well, certain situations.
10:04 by Ben Lerner $16.00
Dick Goes to the Bank by Avery Dick $14.95
Loss Angeles by Mathieu Cailler (Short Story America) $25.00
After the Apocalypse: Stories by Maureen F. McHugh (Small Beer Press) $16.00
Pictures of the Gone World by Lawrence Ferlinghetti $12.95
Cat that Ended the World by Gene Pool Harding $15.00
*ESSAYS*
Fake Missed Connections by Brett Fletcher Lauer (Soft Skull Press) $25.00
Io Anthology: Literature, Interviews, and Art from the Seminal Interdisciplinary Journal, 1965-1993 ed. by Lindy Hough, Richard Grossinger (North Atlantic) $29.95 – Io forged an eclectic path through the upheaveals of the 1960s in art, literature, science, and the life of the spirit with writing that embraced astrophysics, science fiction, parapsychology, topology, poetry from Black Mountain, Beat, and New American traditions, wisdom from Hopi and Iglulik elders, homeopathy, hermetics, alchemy and the occult, astrology, Tibetan Buddhism, and Sufism.
*POETRY*
Things Just Aren't They Poems by James Payne (Monster House Press) $12.00
Hand Poems by Richard Wehrenberg Jr. (Monster House Press) $5.00
*POLITICS & REVOLUTION*
Fools, Frauds and Firebrands: Thinkers of the New Left by Roger Scruton $26.00
*MAGAZINES*
Shock Cinema #49 $5.00
Fader #101 Dec 15 Jan 16 $6.99
Gather Journal #8 Win 16 Origin $19.99
Monocle vol 9 #89 Dec 15 Jan 16 Hunker Down for the Holidays $12.00
Forecast #3 2016 Beyond the Surface $18.00
*CHILDRENS*
Book With No Pictures by BJ Novak $17.99
*OTHER STUFF*
More blank cards $3.00 each from such artists as Sam McPheeters, Will Bryant and more!