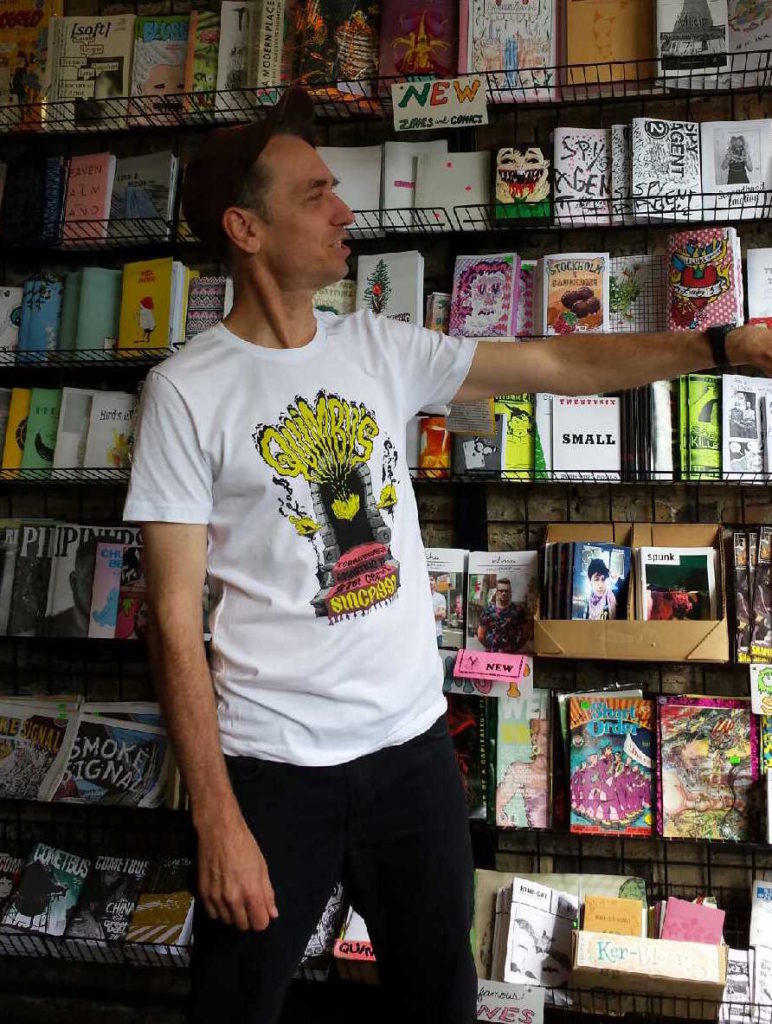 Quimbys Bookstore 25th T-shirt by Gabby Schulz $15.99 – Modeled by the artist himself above. Celebrate two and a half decades of the weirdest bookstore on the planet by wearing a Quimby's t-shirt designed by comics artist and Quimby's employee extraordinaire Mr. Gabby Schulz (aka Ken Dahl), author of such fine books as Sick, Monsters and Welcome to the Dahl House, and who is responsible for many of the winning signs around the store. These shirts were printed locally, by our friends at Sharprint Decorated Apparel, and we couldn't be happier with the work they've done. These chino-printed 4 color babies come on a white shirt and declare to the world, Quimby's has been "tenaciously resisting the 21st Century Since 1991."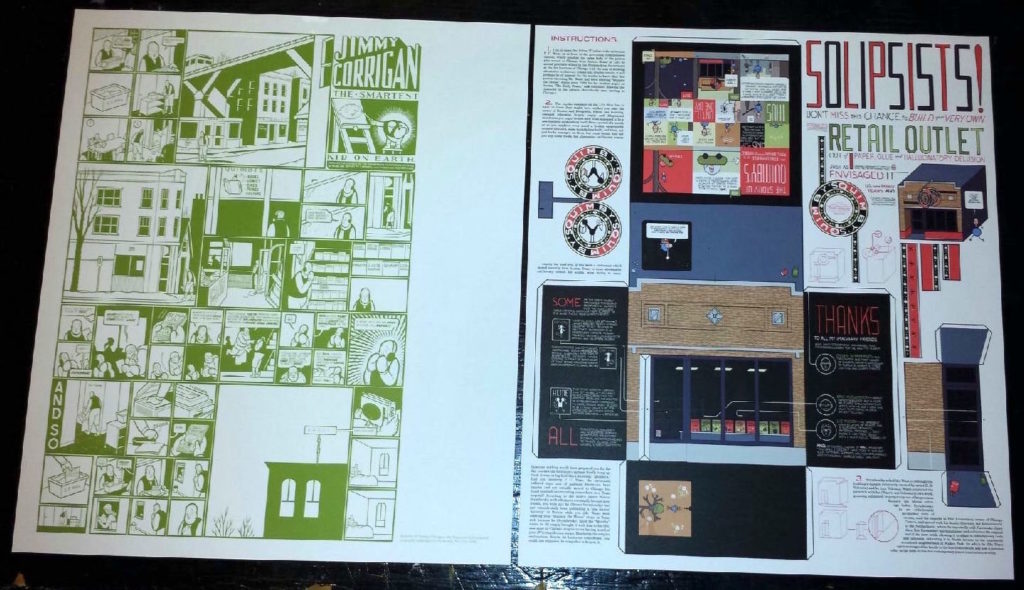 Chris Ware Quimby's 25th Print in 2 sizes!
It's a model of our store that you can make your very own in-house Quimby's to stare at any time you want. It also explains, in the poetic way that only Mr. Ware can, the story of the store, his relationship with it, and some of the key players in the store: including the original and current owners as well as the manager. Don't miss this chance to build your very own Quimby's! PLUS! The smaller edition of this print has an Acme Novelty Library comic on the back by Mr. Ware, originally published in Chicago's very NewCity in 1996, featuring Jimmy Corrigan learning about freak culture here at this fine establishment, then disseminating his first Xeroxed foray into fringe publishing.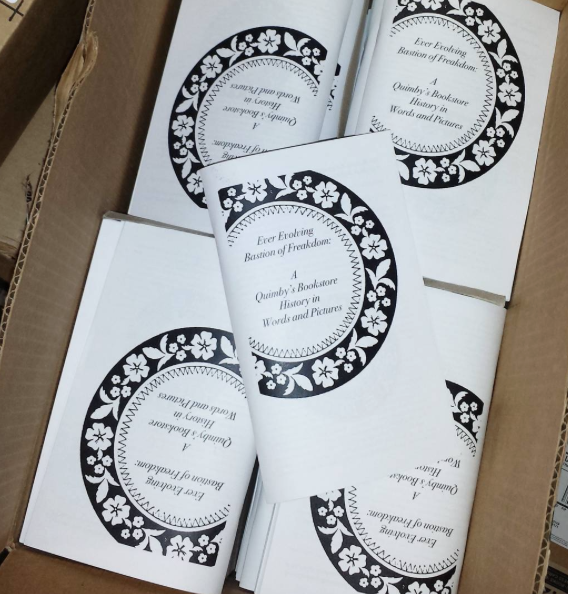 Ever Evolving Bastion of Freakdom: A Quimby's Bookstore History In Words and Pictures by Liz Mason, Keith Helt and Steven Svymbersky $6.00 – The story of the early days of Quimby's up through today. Pictures, graphics, juice, from employees, shoppers, consignors and artists that have frequented the store's hallowed doors. This special "ashcan edition" is a limited print run zine to celebrate the store's silver jubilee and documents much of the mirth and mayhem that has made Quimby's the place that it is. We are proud to unveil it.
Coming this week!: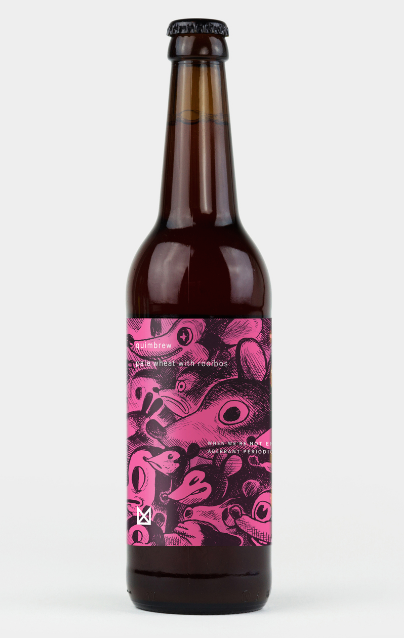 Pre-order QuimBrew by Marz Community Brewing & Quimby's Bookstore with an awesome label by the amazing Chicago artist Laura Park. Order it from The Beer Temple, and your shipment will come with the Quimby's oral history zine!
*ZINES*
Somnambulist #27 Two Friends Talk About Their Cities by Martha Grover $5.00
Lady Teeth issues #4-8 by Taryn Hipp, various prices $2.00
*COMICS & MINIS*
Sparrows Dragon: A Prelude by Ariel Chan $6.00
Shape Denter #1 & Modern Place vol 1 by Rodger Binyone (No-Man Illustration) $20.00 each
Hairless Who #3 by Joe Tallarico $6.00
Good Area by Dan Dandrea $1.00
Weird View Weird Few by Evah Fan $6.00
Fluke Fanzine #13 with Tav Falco $4.00
*ART & DESIGN BOOKS*
Dabs Myla Before and Further (Gingko Press) $24.95
Shelter: Moki (Gingko Press) $29.95
A Cycling Lexicon: Bicycle Headbadges from a Bygone Era by Phil Carter & Jeff Conner (Gingko Press) $19.95
Street Book: Writer's Walk by Benjamin Legan (Publikat) $24.95 – 32 different city settings filled with buses, benches, subway platforms and other features for you tag and mess up.
Steampunk: The Art of Retro-Futurism by Dopress Books (CYPI Press) $39.95
The Jukebox Coloring Book by The Jukebox Cowboys (Publikat) $12.95 – A bunch o'artists illustrated songs by artists like Johnny Cash, the Village People, and Grandmaster Flash — now you can color them in.
*MUSIC BOOKS*
Hard-Core: Life of My Own by Harley Flanagan (Feral House) $23.95 – Memoir from the founder of the Cro-Mags.
Oh So Pretty: Punk in Print 1976-1980 by Rick Poynor (Phaidon) $29.95
Swim Through the Darkness: My Search for Craig Smith and the Mystery of Maitreya Kali by Mike Stax (Ferl House) $19.95 – Craig Smith was a 1960s gol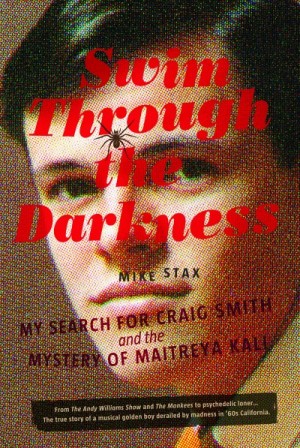 den boy – good looking, charismatic, outgoing; a preternaturally gifted musician and songwriter whose songs were recorded by some of the biggest names in entertainment – Andy Williams, Glen Campbell, the Monkees. Starting out his career on the Andy Williams Show as a member of the Good Time Singers, Smith next teamed up with Chris Ducey in the duo Chris & Craig, then the Penny Arkade, a talented group mentored and produced by Mike Nesmith of the Monkees. Smith's future success seemed assured, until an unexpected turn of events plunged him into a terrifying darkness. Clean-cut Craig Smith became Maitreya Kali, the self-proclaimed psychedelic Messiah. He laid out his poignant, disturbing schizophrenic vision on a sprawling self-released double-album before disappearing completely. Author Mike Stax spent fifteen years piecing together the mystery of Maitreya Kali, uncovering one of the strangest and most tragic untold stories of the 1960s and '70s.
Terminated for Reasons of Taste: Other Ways to Hear Essential and Inessential Music by Chuck Eddy (Duke U Press) $26.95
*FICTION*
Late Stories by Stephen Dixon (Curbside Splendor) $16.95
*POLITICS & REVOLUTION*
Demand the Impossible: A Radical Manifesto by Bill Ayers (Haymarket) $14.95
*LIT JOURNALS*
Wrong Quarterly Issue #4 $9.99
*FOR THE KIDDIES*
Charlotte Wander On by Matt Cubberly & Irene Kovalova $20.00
Blip: A Toon Book by Barnaby Richards (Raw Junior) $12.95