Krampus and the Old Dark Christmas Roots and Rebirth of the Folkloric Devil (Feral House ) $28.00 – Written by Al Ridenour, who has lectured on Krampus at the Goethe Institutes in Los Angeles. Designed by Sean Tejaratchi of Crap Hound fame!
*ZINES*
The Horror Art of Corinne Halbert $13.00
Unholy Book by Corinne Halbert $5.00
8 Track Mind #103.1 Echoes From the Glory Days $1.00
Daydreamers by Syed Zeeshan Iqbal and Allison Molloy $15.00
MicroSatan Mag #3 $3.00
Rip Roast Shred Gnar a BMX ZIne by Matt Hoffman $2.00
Life Without Booze Reflections on Six Montsh Sober by Taryn Hipp $2.00
Chipped Teeth #4 A Perzine About Mental Health $3.00
*COMICS & MINIS*
TRUE STORIES #2 by Derf vol 2 $5.99
Can of Air #2 by Peter E Rosales $2.00
*GRAPHIC NOVELS*
Complete Neat Stuff Box Set by Peter Bagge (Fantagraphics) $59.99
Nicolas by Pascal Girard $14.95
Ghosts TPB by Raina Telgemeier $10.99
Creepy Case Files of Margo Maloo $15.99
Moonshot TPB vol 1 The Indigenous Comics Collection by Hope Nicholson $17.99
*ART & DESIGN BOOKS*
Slab Serif Type Century of Bold Letterforms by various $34.95
Show Me Your Guts Coloring Book by Artery Ink $19.95
Taxidermy HC by Alexis Turner $14.98
*MUSIC BOOKS*
Life Is A Rip Off by John Inzane Olson (Third Man Books) $25.00 -LIFE IS A RIP OFF, published by Jack White's imprint Third Man Records, is a collection of surprisingly untraditional record reviews which Olson wrote over the course of 365 days. Don't miss John Olson (known for among other things, being from Wolf Eyes) reading from this book here at Quimby's on Oct 8th!
Post Punk Then and Now by Gavin Butt & friends $14.99
*FICTION*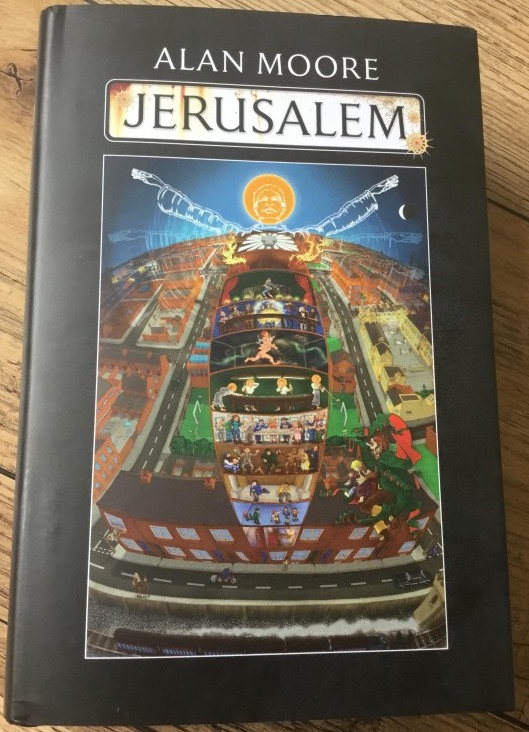 Jerusalem by Alan Moore $35.00 – Not a graphic novel as you would expect from Mr. Moore, but an epic novel that channels both the ecstatic visions of William Blake and the theoretical physics of Albert Einstein through the hardscrabble streets and alleys of his hometown of Northampton, UK. Vagrants, prostitutes, and ghosts rub shoulders with Oliver Cromwell, Samuel Beckett, James Joyce's tragic daughter Lucia, and Buffalo Bill, among many others. An art exhibition is in preparation, and above the world a naked old man and a beautiful dead baby race along the Attics of the Breath toward the heat death of the universe.
Empty Ones by Robert Brockway $24.99
Girlfriends, Ghosts, and Other Stories by Robert Walser $15.95
Tree or A Person or A Wall by Matt Bell $16.00
*ESSAYS*
I'll Tell You In Person Essays by Chloe Caldwell $16.95
Things That Can And Cannot Be Said: Essays and Conversation by Arundhati Roy and John Cusack $10.95
*MAYHEM*
Untimely Demise: A Darkly Humorous Presentation of 365 Deadly Deeds by various $16.95
*MAGAZINES*
Maximumrocknroll #401 Oct 16 $4.99
Wire #391 Sep 16 $9.99
Make vol 53 Oct Nov 16 $9.99
Neural #54 $7.99
Skeptic vol 21 #3 16 $6.95
Shindig #58 Yardbirds $12.99
Laphams Quarterly vol 9 #4 Fall 16 Flesh $18.00
Haunted Mysteries and Legends Magazine Fall 16 $9.99
Horror Hound #61 Sep Oct 16 Elvira Mistress of the Dark $6.99
High Times Best of #82 16 Growing For One $6.99
*SEXXXY*
Soft Touch Redux by N. Cowdry $5.00
*FOR THE KIDDIES*
King Baby by Kate Beaton $17.99
Worst Breakfast by China Mieville & Zak Smith $16.95
Hilda and the Stone Forest by Luke Pearson $19.95
The Bear Who Wasnt There and the Fabulous Forest by Oren Lavie (Akashic) $17.95
*FOR THE KITTIES*
All Black Cats Are Not Alike by various $15.95
*DIY*
Cyclogeography: Journeys of A London Bicycle Courier by Jon Day $18.95