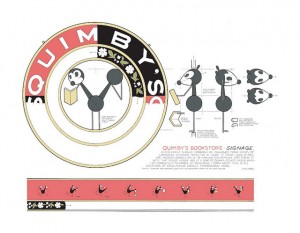 Many of our customers have been anxiously awaiting for the opportunity to purchase a signed version of the Quimby's Bookstore Chris Ware Signage Print. Well, the time is now! We now have a limited run of them SIGNED! They're $100 signed and the unsigned ones are $50.00. Click here to find out more about each of them.

And! And! And! We are proud to present you…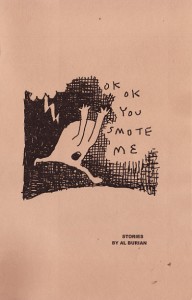 OK OK You Smote Me Stories by Al Burian $3.00 – Quimby's alum and international zine curmudgeon Al Burian has crafted a new zine exclusively for the store, the second in our Quimby's Exclusive line of periodicals, AVAILABLE ONLY AT QUIMBY'S. And of course it is compelling, humorous and wistful, as you would expect from the Burn Collector himself. Don't miss Al here at Quimby's on Tues, March 22nd! He'll be celebrating the release of Burn Collector #15 and the Quimby's Exclusive. In attendance will also be BC #15 contributors Anne Elizabeth Moore and Liam Warfield. Al will also be at the Chicago Zine Fest starting March 25th.
ZINES & ZINE-RELATED BOOKS!
Herbal First Aid – Assembling a Natural First Aid Kit DIY Academy 2005 by Raleigh $1.00
Body-Conscious Birth Control: An Introduction to the Fertility Awareness Method (FAM) $2.00 – This small DIY zine provides basic information necessary to use FAM as birth control. This zine takes a whole-body approach to natural birth control, focusing on awareness above all else.
Life Death Love and All of the Above by Meredith Wallace $4.00
Smiling Disease – A Guide to Public Stickering by Scott (Microcosm) $1.00 – Have you ever dreamed of plastering the city with stickers of your own design and annoying the crap out of squares? Here is a your chance: A complete guide to placing adhesive decorations in places where the general populace will see them. Everything from how to get the best stickers printed, to going undetected, some theory, stickering scruples, and dealing with the full psychological ramifications of having your stickers removed. Clear Channel posts their ads everywhere, why shouldn't you?
Ice Cream by Kelsey Gauret $2.00
Cheap and Raunchy #6 $4.00
Half Nelson #1 by Samantha LaFountain and Jon Natzke $1.50
Welcome Home by S. Chapman $2.00
Wish You Were Here Wish I Was There by Lauren P Smith and Stacey Chapman $2.00
I Dont Understand Farming #5 by Ian $.75
Space Bodies #1 Simple Plezzzures vol 2 2011 by Zoe Jet Ellis and Kevin Quinn McGuinness $8.00
Spank #17 Homo Art Zine $7.75
Travel Naturally #78 $9.95
COMICS & MINI COMIX!
Inkfight by Ruby Thorkelson $6.00
Animal Sex: You Might Not Want To Know by Isabella Rotman $3.00 – Yes, you do want to know, because this comic is so cute yet informative it's hard to put it down.
Blammo #7 by Noah Van Sciver (Kilgore Books) $5.00
Temporama by Clayton Jr (Nobrow) $13.50
Jeff Job Hunter by Jack Teagle (Nobrow) $13.50
Ada by Atak and Gertrude Stein (Nobrow) $18.00
Expansion Part 1 by Matt Sheean and Malachi Ward (Adhouse) $8.00
Utu by Malachi Ward (Adhouse) $8.00
Class Reunion #1 by Charlie Newton $2.50
Jam Comics $6.00
Jerks In Space Art Latest Minicomic Science Edition by John Karnes $1.00
Scout by Malachi Ward (Adhouse) $5.00
ART & DESIGN BOOKS!
Street Art, ed. by Johannes Stahl (h.f.ullmann) $16.99
Abstract Graffiti ed. by Cedar Lewisohn (Merrell) $29.95
Tools of Criminal Mischief by Roger Gastman (R. Rock Enterprises) $24.95
Store Front the Disappearing Face of New York by James T. Murray (Gingko) $24.95
Cutting Edge Surface Patterns and Palettes 960 Seamless Patterns (Sendpoints) $39.95 – Contains DVD with 960 patterns in in vector format.
Marylin – Box Set Photographs and Memories by Andre De Dienes (Taschen) $39.99 – Before there was Marilyn, there was Norma Jeane Dougherty. She was briefly engaged to photographer Andre De Dienes. When he died fans ravaged his home and found all this awesome Marilyn stuff. About ten years ago we sold a version of this book that was $200. Now Taschen has released it in a more affordable edition, a 2 volume hardcover in a slipcase.
Basquiat 25 Anniversary Special Edition by Leonhard Emmerling (Taschen) $14.99
GRAPHIC NOVELS & TRADE PAPERBACKS!
Night Animals by Brecht Evans (Top Shelf) $7.95
Volume One Danny Jeremy Carol Comics by Lizz Hickey $14.00
Birchfield Close by Jon McNaught (NoBrow) $16.00
Pebble Island by Jon McNaught (NoBrow) $16.50
Melvin Monster vol 3 John Stanley Library (D+Q) $24.95
Girl Comics TPB (Marvel) $15.99 – With such artists as Lucy Knisley, Jill Thompson, Colleen Coover and more.
Comics – An Illustrated History of Comic Strip Art 1895-2010 by Jerry Robinson (Dark Horse) $39.99
FICTION!
Rexworth Manifesto – A Novella and Stories by GT Hilary $15.95
MAGAZINES!
Juxtapoz #123 Apr 11 $5.99
Fortean Times #272 Apr 11 $11.99
Skeptical Inquirer Mar Apr 11 vol 35 #2 $4.99
Sneaker Freaker #20 $14.95
ID Magazine Spr 11 $10.99
Art of Mary Jane Mar 11 $6.99
Treating Yourself #27 $7.99
High Times May 11 $5.99
Hip Mama #48 $5.95
Boneshaker Magazine #4 $9.00
BlackBook #82 Mar 11 $4.50
Fangoria #301 $8.99
Granta #114 Win 11 Aliens $16.99
Wire #325 Mar 11 $10.99
In These Times Mar 11 $3.50
Monocle vol 5 #41 Mar 11 $10.00
Against the Current #151 Mar Apr 11 $5.00
Rebel Ink Magazine Apr 11 $5.99
Urban Ink #18 $8.99
CHILDRENS BOOKS!
To Market To Market by Nikki McClure (Abrams) $17.95
Blueberry Girl by Neil Gaiman and Charles Vess (Harper) $6.99
MUCKRACKING, MEMOIRS, MAYHEM, MISCREANTS & MISCELLENOUSNESSESESNESS!
Suck It Wonder Woman: The Misadventures of a Hollywood Geek by Olivia Munn (St Martins) $14.99 – Now in soft cover.
Nerds – How Dorks Dweebs Techies and Trekkies Can Save America by David Anderegg PhD (Tarcher) $14.95
Street Boners – 1764 Hipster Fashion Jokes ed. by Gavin McInnes (Grand Central) $18.99
MUSIC BOOKS!
Alex Steinweiss – The Inventor of the Modern Album Cover by Kevin Reagan (Taschen) $69.99 – Alex Steinweiss invented the album cover as we know it, and created a new graphic art form. In 1940, as Columbia Records' young new art director, he pitched an idea: Why not replace the standard plain brown wrapper with an eye-catching illustration? The company took a chance, and within months record sales increased by over 800 per cent. His covers for Columbia—combining bold typography with modern, elegant illustrations—took the industry by storm and revolutionized the way records were sold. Over three decades, Steinweiss made thousands of original artworks for classical, jazz, and popular record covers for Columbia, Decca, London, and Everest; as well as logos, labels, adverting material, even his own typeface, the Steinweiss Scrawl. He launched the golden age of album cover design and influenced generations of designers to follow.
SEX & SEXY & SEX CULTURE!
Erotic Bible To Europe From Kinky to Chic by Erika Lust (Femme Fatale Books) $19.95
Topless Summer Love Girls – A Gentlemans Guide to Women Relationships and Breasts $29.99
OTHER STUFF!
I Read Zines Sticker $1.00
Support Independent Publishing Sticker $1.00