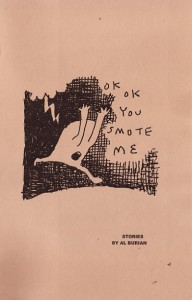 1. OK OK You Smote Me Stories by Al Burian (Quimby's Exclusive) $3.00 – Quimby's alum and international zine curmudgeon Al Burian has crafted a new zine exclusively for the store, the second in our Quimby's Exclusive line of periodicals, AVAILABLE ONLY AT QUIMBY'S. In OK OK You Smote Me, Al takes us around the corner to his mayhem-prone stint on Wicker Park's Dean Street, unhexing his way-too-hexed apartment and watching the tumult as Old Chicago takes a scraggly, low-level "stand" against encroaching yuppie "neighborhood improvement". Compelling, humorous and wistful, with that trademark Burn Collector balance of heart and snark. -EF
And don't miss Al here at Quimby's on Tues, March 22nd! He'll be celebrating the release of Burn Collector #15 and this Quimby's Exclusive edition. In attendance will also be BC #15 contributors Anne Elizabeth Moore and Liam Warfield. Al will also be at the Chicago Zine Fest starting March 25th.
2. Your Wildest Dreams Within Reason by Mike Sacks (Tin House) $13.95 – "Your Wildest Dreams, Within Reason collects Mike Sacks's unique humor pieces into one handsome, convenient volume. Originally published in The New Yorker, Vanity Fair, Esquire, and McSweeney's, among other venerable publications, Sacks's writing is original and sharp, yet broadly funny. Whether it's a groom tweeting his wedding and honeymoon in real time, or a publisher offering editorial suggestions for The Diary of Anne Frank, Sacks's work tangles contemporary social satire with his absurdist sensibilities."
3. Juxtapoz #123 Apr 11 $5.99
4. Is It the Future Yet by Corinne Mucha (Quimby's Exclusive) $3.00 – Who said print is dead? Well they are wrong, wrong, wrong. Another Quimby's exclusive topping our bestseller list this week, made 'specially for us by the lovely and talented Ms. Mucha! The future of print looks very bright indeed!
5. Make Your Place – Affordable, Sustainable Nesting Skills by Raleigh Briggs (Microcosm) $7.00
6. Mojo #209 Apr 11 $9.00
7. Brainscan #26 by Alex Wrekk $2.00 – Alex writes about "what the deal is" with her and Joe Biel of Microcosm. This zine takes it to the point – talking about some serious issues wrapped up in unresolved emotional abuse and failed mediation. -EF
8. Pinups #13 Chuck by Christopher Schulz $14.00 – This issue delivers 56 tantalizing pages of hanging out (nude) in a backwoods cabin, fiddling with the transistor radio (nude), crunching some granola (nude) and "frolicing" in the forest (nude). Featuring Chuck (who, in my humble opinion, is Pinups hottest model yet), these quiet moments with this strapping young (nude) woodsman ooze superhottt rustic autonomy not to be missed. Be sure to take the staples out and assemble your giant wall-size Chuck poster from the backside of the pages.
9. Believer #79 Mar Apr 11 2011 Film Issue $10.00
10. Cometbus #54 In China With Green Day by Aaron Cometbus $4.00