Home / Store / Books / Creative, Not Famous: The Small Potato Manifesto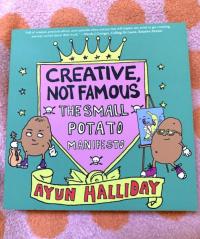 Creative, Not Famous: The Small Potato Manifesto
by Delaine Derry Green, Ayun Halliday, J.T.Yost, MariNaomi, Liz Mason, R. Sikoryak, Ben Snakepit and Steven Svymbersky
Published by Microcosm Publishing
6"x6", 288p, paperback
$14.95
Few artists achieve fame and fortune, but that doesn't mean your creative life can't flourish. Writer, illustrator, zinemaker, and playwright Ayun Halliday interviewed dozens of creative people and shared her own experiences to produce this rallying cry for the "small potato" -- someone whose focus is making cool, meaningful work and living a creative life rather than achieving wealth or celebrity. Sections range from the practice of artmaking to wrangling self-doubt to DIY marketing and self-promotion. Along the way, Halliday shows that your art can bring you satisfaction, success, community, and a modest income, without losing sight of your reasons for doing it in the first place.
Meet the small potatoes!
Akin Salawu
Anthony Wills Jr.
Ben Snakepit
Bob Laine
Christine Schisano
Connie Fu
Delaine Derry Green
Drew Ackerman
Edward Thomas-Herrera
Ellia Bisker
Emmy Bean
Greg Kotis
Heather Riordan
J.T. Yost
J. Gonzalez-Blitz
Karen Christopher
Liz Mason
Lorijo Manley
Maria Camia
MariNaomi
Meghan Finn
Mimi Pond
Moe Bowstern
Nick Balaban
R. Sikoryak
Rachel Kramer Bussel
Rob Ackerman
Sabrina Chap
Shelton Lindsay
Stephanie Summerville
Steven Svymbersky
Todd Alcott
Trav SD
Winter Miller
Plus 4 Mystery Spuds Draped in the Mantle of Anonymity!
*WE HAVE TO CHARGE TAX IF YOU'RE IN ILLINOIS. OUR WEBSITE ISN'T SET UP TO DO IT. APOLOGIES. IT IS 10.25%, WHICH ON THIS BOOK IS $1.53.
---
More by Delaine Derry Green, Ayun Halliday, J.T.Yost, MariNaomi, Liz Mason, R. Sikoryak, Ben Snakepit and Steven Svymbersky