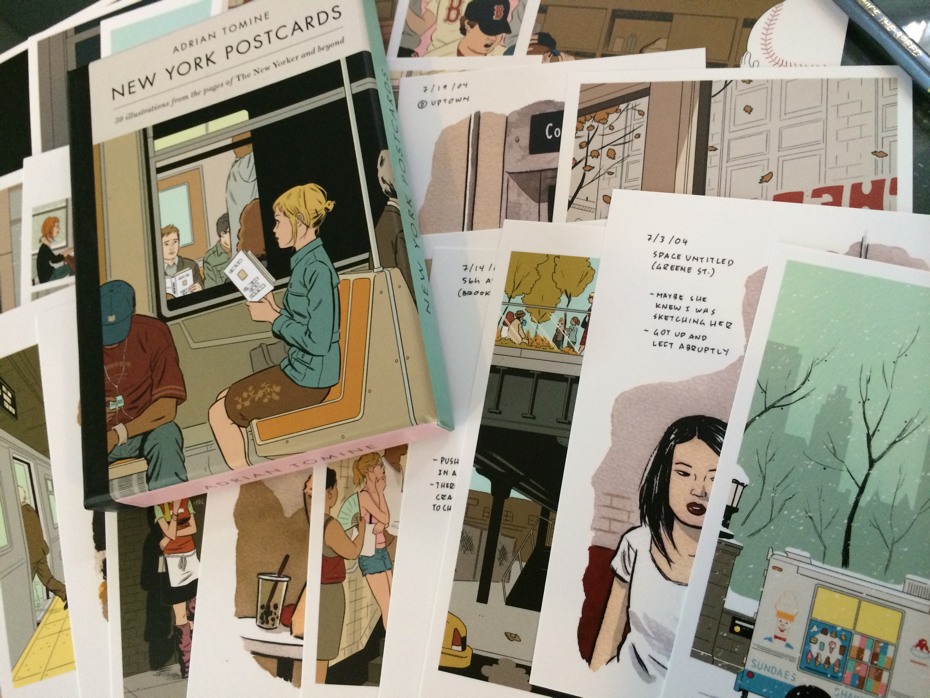 New York Postcards Box Set by Adrian Tomine (D+Q) $14.95 – 30 illustrations from the pages of the New Yorker and beyond.
Zines & Zine-Related
So As Not to Suicide – A Survival Manual $2.00 – Suffer from anxiety? This might help you.
Bookstores and Baseball 6th Inning $6.00
I'm Really Really Scared – On Social Anxiety by Sylvia $1.00
You Must Always Have a Secret Plan (Little Tricycle Red Guide) $3.00 – Thoughtful and beuaitful one pager, folds out so you can hang it, if this were the holidays we'd say, "What a great stocking stuffer!"
Last Night at the Casino #7 Apr 14 by Billy $3.00 – Former Chicago zinester in Vegas as a casino dealer.
index A to Z: Art, Design, Fashion, Film, and Music in the Indie Era $45.00
Comics & Comix
Cosplayers #1 by Dash Shaw (Fantagraphics) $5.00
Riled Up #2 Trick Or Treat by Pete Hassett and Labotka $10.00
Life In Bodies of Water by Julia Von De Bur $4.00
Ten Minicomics by Alex Nall $5.00
Graphic Novels & Trade Paperbacks
Climate Changed a Personal Journal Through the Science by Philippe Squarzoni $24.95
100 Bullets Brother Lono by Brian Azzarello $16.99
Flight by Dave McAwesome (The Vorspiel Ltd.) $5.00
Art Books
Kenzine $35.00 – A collaboration between Toilet Paper the photo magazine and Kenzo, the Parisian clothing store.
Book of Trees: Visualizing Branches of Knowledge by Manuel Lima $29.95 – Enticingly arty look at semantically mapping out knowledge.
Hello Kitty 40th Anniversary Arigato Everyone $65.00
Fiction
Panther In the Hive by Olvia A. Cole $15.00 – Apocalyptian adventure based in Chicago.
Sex & Sexy
FEDS presents Sweets vol 8 #23 $7.99
Magazines
2600 Hacker Quarterly vol 31 #1 $6.95
Girls and Corpses #8 Spr 14 $8.95
Craft Beer and Brewing #1 Spr 14 $9.99
Little White Lies #52 $12.99
Dwell May 14 $5.99
Mojo #245 Apr 14 $9.99
Monocle vol 8 #72 Apr 14 $12.00
Dissent Spr 14 $10.00
In These Times Apr 14 $3.50
The Fifth Estate vol 49 #1 Spr Sum 14 $4.00
Skin and Ink Jun 14 #151 $6.99
Lit Journals & Chap Books
Tweeds #1 $15.00
DRK DUV by Ag Davis $6.00
Kids Books
Oddfellows Orphanage by Emily Winfield Martin $7.99