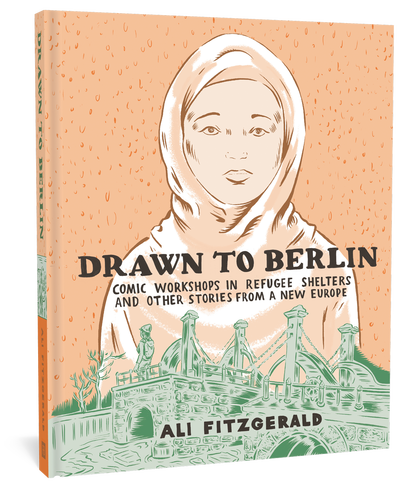 Entwining political and personal displacement, Ali Fitzgerald's graphic memoir, Drawn to Berlin: Comic Workshops in Refugee Shelters and Other Stories from a New Europe, is about loss, community, and the drawings that bind us. The students in Fitzgerald's drawing classes are among the record-breaking number of people who are seeking asylum in Berlin, fleeing from countries such as Syria and Afghanistan. They draw images of experienced violence and careful optimism: rafts and tanks, flowers and the Eiffel Tower. Over the course of her decade in Germany, Fitzgerald experiences the highs of the creatively hopeful along with the deep depression of the disillusioned, all while waiting to stumble into her own glory like the great Modernists before her. Her comics are compassionate and unflinchingly intimate, as the fantasy of her bohemia crumbles in a globalized city.
"Ali Fitzgerald has given us a beautifully crafted and sobering history lesson." –Harry Bliss, New Yorker cartoonist
Ali Fitzgerald is a comic artist and writer living in Berlin. She is a regular contributor to the New Yorker. Her comics have also appeared in New York Magazine's The Cut, The New York Times, The Huffington Post, Bitch, and The Guardian. From 2013 to 2016, she wrote and drew the popular webcomic Hungover Bear and Friends for McSweeney's.
For more info: fantagraphics.com/drawntoberlin
Here's the Facebook event invite!
Thursday, November 8th 7pm – Free Event