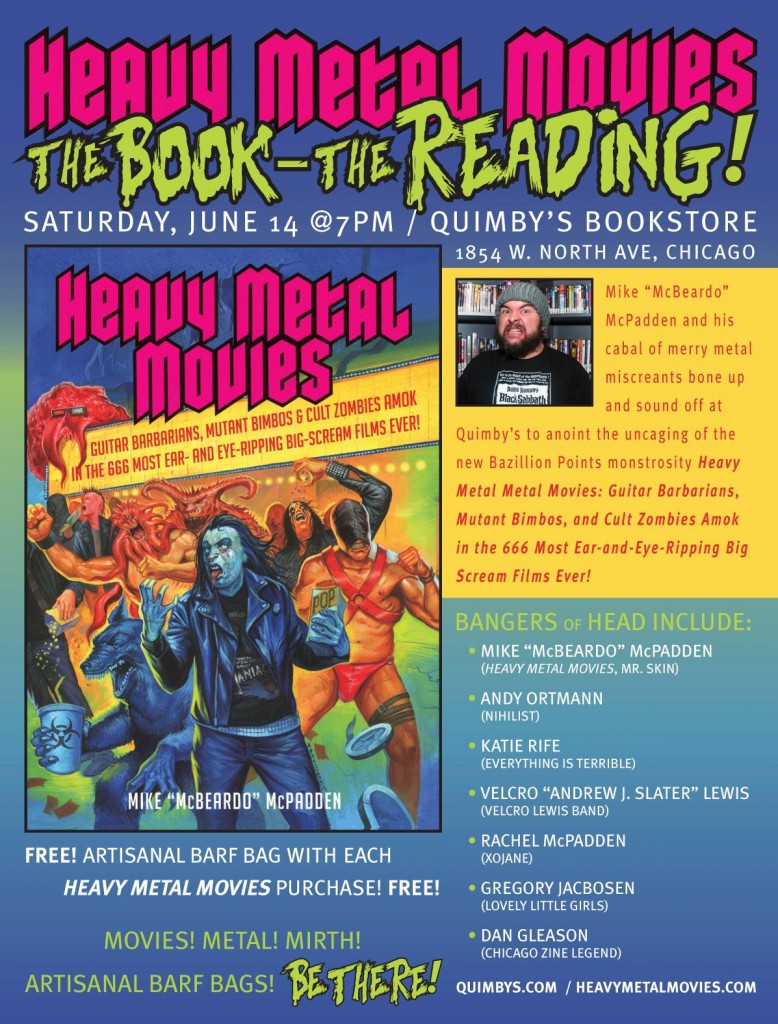 Mike "McBeardo" McPadden's new book Heavy Metal Movies: Guitar Barbarians, Mutant Bimbos & Cult Zombies Amok in the 666 Most Eye- and Ear-Ripping Big Screen Films Ever! (Bazillion Points) is a lavishly illustrated, epic reference tome devoted to cinema's most headbanging blowouts. Heavy Metal Movies covers cult classics (Heavy Metal; This Is Spinal Tap), documentaries (Heavy Metal Parking Lot; The Decline of Western Civilization Part II), concert films (Let There Be Rock; The Song Remains the Same), rock-and-roll horror (Black Roses, House of 1000 Corpses), and gore-core (Cannibal Holocaust; A Serbian Film), along with movies that simply exude pure metallic heaviosity (Conan the Barbarian, The Road Warrior).
McPadden will read from Heavy Metal Movies, accompanied by original pieces about movies and/or metal composed and read by Andy Ortmann (Nihilist Records), Katie Rife (Everything Is Terrible), Andy Slater (Velcro Lewis), Gregory Jacobsen (Lovely Little Girls), Rachel McPadden (xoJane), and Dan Gleason (Chicago zine legend).
"McPadden has struck gold with Heavy Metal Movies. A must read!" –Robin Bougie, Cinema Sewer
Mike McPadden published the legendary '90s zine Happyland and has been featured in Esquire, Playboy, Black Book, New York Press, Hate, and Rollerderby. Since 2003, he's served as Head Writer at online phenomenon Mr. Skin.
For more info: HeavyMetalMovies.com
mikemcpadden(at)gmail(dot)com
Twitter: @McBeardo
Facebook post: https://www.facebook.com/events/631650036921274/