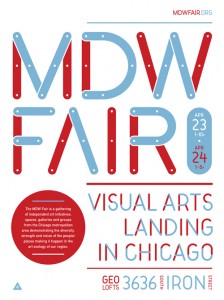 Version 11: The Community. Announces the creation of The MDW Fair: Visual Arts Landing in Chicago
THE MDW FAIR Visual Arts Landing
At Geolofts, 3636 South Iron Street, Chicago, IL, 60608
Saturday, April 23rd: 1-10pm
Sunday, April 24th: 1-6pm
www.mdwfair.org
Admission: $5
Public Media Institute, Roots & Culture and threewalls have created The MDW Fair, a first annual gathering of independent art initiatives, spaces, galleries, publishers and artist groups from the Chicago metropolitan area and beyond. With over 50 participants, The MDW Fair demonstrates the diversity, strength and vision of the people and places that make up the rich art ecology of our region. Launched at Version 11: The Community, The MDW Fair is a rare chance to encounter the creators of the vibrant art ecology of our region.
Held April 23-24, 2011 at The Geolofts, 3636 S. Iron Street, Chicago, the fair features 501(c)3, commercial and unincorporated galleries, independent curatorial projects, publishers and media groups in over 25,000 square feet of exhibition space that includes a 8,000 square foot sculpture garden with work by local artists featuring: Mike Andrews, Dayton Castleman, Jacob C. Hammes, Jesse Harrod, Cody Hudson, Daniel Lavitt, Heather Mekkelson, Brian Murer, The Mt. Baldy Expedition: James Barry and Hui-min Tsen, Ben Stone, and Patrick Willi.
In addition to exhibitions by participating spaces, local podcasters Bad At Sports will host a live game-show and panel discussions will be scheduled throughout fair hours chaired by Britton Bertran, Jamilee Polson, Lorelei Stewart and Steve Ruiz.
The MDW Fair is a manifestation of the collective spirit behind the region' s most innovative visual cultural organizers, focusing on the breadth of work done here by artists and arts-facilitators alike. Please join us and see why Chicago remains a center of ingenuity and talent. Participants include: Twelve Galleries, Peregrine Program, Western Exhibitions, Alderman Exhibitions, ACRE, 65GRAND, Roots and Culture, Lloyd Dobler, Flat 9 Prelude, Adds Donna, Johalla Projects, Devening Projects, Linda Warren Gallery, Green Gallery, Sidecar Gallery, Pentagon Gallery, Post Family, Iceberg Projects, Slow, Reuben Kincaid, The Hills Esthetic Center, Ebersmoore, Antenna, University of Illinois at Chicago, LVL3, No Coast, JNL Graphic Design, Roxaboxen, Packer Schopf Gallery, Monument II, Stockyard Institute, Harold Arts, Heaven Gallery, The Suburban, ZG Gallery, Regional Relationships, The Storefront, Hornswaggler, University of Chicago, 2nd Bedroom/TAG TEAM, Chicago Arts Review, Oxbow, Bad At Sports, What It Is, The Hyde Park Art Center, threewalls, The Cultural Center, Rebuild Foundation, The Chicago Urban Art Society and others
Visit the MDWfair.org website for updates