Quimby's will be open on Monday, September 3, 2012 from noon to 5pm. Come buy the new issue of Tiki Magazine then sit back and pour yourself a mai tai at home!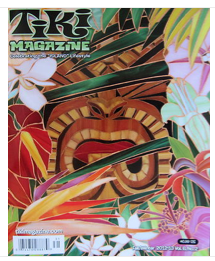 Tiki Magazine vol 8 #2 Fall Win 12/13 $6.99 – Celebrating the "Island" Lifestyle. This issue starts off with a beautiful cover by mosaic artists Maggie Rickard and Mark Bloom, better known as Velvet Glass. Other great features include famed carver Leroy Schmaltz, poet Don Blanding, comic book series the Neon Tiki Tribe, Disneyland Tiki bar Trader Sam's…. and much,much more. With 66 pages of everything tiki.
Zines & Zine-Related Book
Paradox Lost #1  by Maxwell Stern and Timothy Dilich $7.00
Activities by Megan Hopkins $12.00
OK Cupid Messages I Have Not Responded To by Delphine Bedient $4.00
Abservd Magazine vol 1 #2 $5.95
Show Me The Money #37 by Tony Hunnicutt $2.50
Remedy Quarterly #10 Discovery $7.50 – Food n' kitchen journal of personal essays and eating well.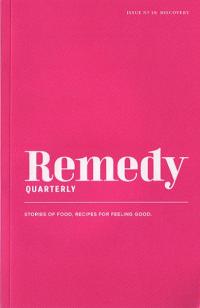 KerBloom #97 Jul Aug 12 $2.00 – Artnoose writes a time capsule letterzine to new baby Bernard, frank and smart.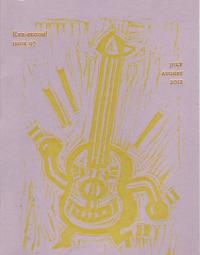 Comics & Comix
What It Is Comic  by Dawn Wing $7.00
comics by Hazel Nowlevant: Ci Vediamo and Curio vol 1 Experimental Issue
In Situ #1 and #2 by Sophie Yanow
Garage by Roope Eronen $5.00
Comics by Amanda Vahamaki: Maestro, In The Garden  $8.75 each
Crass Sophisticate #29 by Josh Reinwald and Justin Rosenberg $2.00 – Oh Shit, is that Anthony Bourdain porking Lady Superdawg on the cover of the latest Crass Sophisticate? Josh and Justin maintain their reputation for utter mayhem and dubious taste with this latest "Kill the Pigs" installment of Crass Sophisticate  that drags the manic cousins through the garden and comes to a shocking  conclusion that has to be read to be believed. -EF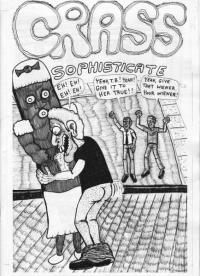 Graphic Novels & Trade Paperbacks
Dal Tokyo HC by Gary Panter (Fantagraphics) $35.00
One Soul by Ray Fawkes $24.99
Supernatural Dogs of Edinburgh by Brian Wood and Grant Bond $14.99
Heartless by Nina Bunjevac (Conundrum) $20.00
After School Special by Dave Kiersh $15.00
Homer – The Odyssey by Seymour Chwast $20.00
Fiction
Commodity a Love Story Told in Receipts by Caitlin R. Warner $12.00
Distrust That Particular Flavor by William Gibson $16.00 – Yes, THAT William Gibson. Now in soft cover.
Summer of Hate by Chris Kraus (Semiotexte) $17.95
First Spring Grass Fire by Rae Spoon (Arsenal) $14.95
The Marriage Plot by Jeffrey Eugenides $16.00 – From the author of Middlesex and The Virgin Suicides. Now in soft cover.
Rapture of the Nerds: A Tale of Singularity Posthumanity and Awkward Social Situation by Cory Doctorow and Charles Stross $24.99
J and L Illustrated #3 $20.00 – J & L Books' acclaimed J & L Illustrated series presents handsomely designed paperback volumes of fiction and art at an affordable price. Shout magazine wrote of the first volume, published in 2002: "This impressive collection of illustrations and fiction makes sense of the world like good liquor should." Edited by writer Paul Maliszewski (author of Prayer and Parable and Fakers), this third volume of J & L Illustrated is comprised of 13 short stories by authors Amie Barrodale, Scott Bradfield, Stephen Dixon, Steve Featherstone, William H. Gass, Michael Martone, Joseph McElroy, Elizabeth Miller, Robert Nedelkoff, Hasanthikia Sirisena, Steve Stern, Mike Topp and Xiaoda Xiao. The Paris-based artist Shoboshobo provides accompanying drawings.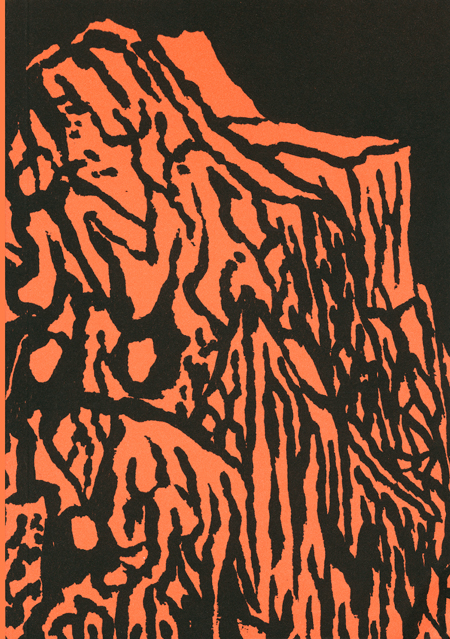 Sex & Sexy
Thrones of Desire Erotic Tales of Swords Mist and Fire by Mitzi Szerto (Cleis) $15.95
Sexytime: Post Porn Rise of the Pornoisseur by Jacques Boyreau and Peter Van Horne (Fantagraphics) $29.99
B Magazine #2 $8.99
Mayhem, Miscreants, Memoirs & Misc
Sister Spit: Writing, Rants and Reminiscence from the Road by Michelle Tea $16.95
100 Whores: Memoirs of a John by Dementiuk Mykola $15.00
One Thousand Mustaches: A Cultural History of the Mo by Allan Peterkin (Arsenal) $12.95 – Both a lighthearted cultural history and an earnest style manual.
My Heart Is an Idiot by Davy Rothbart $25.00 – Essays by the founder of FOUND Magazine and This American Life contributor.
Politics & Revolution
Occupying Language: Secret Rendezvous With History and the Present by Marina Sitrin and Dario Azzellini (Zuccotti Park Press) $9.95 – From the Occupied Media Pamphlet Series.
Electoral Dysfunction: A Survival Manual for American Voters by Victoria Bassetti $17.95
DIY
Recycled Home: Transform Your Home Using Salvaged Materials by Rebecca Proctor $19.95
Cannabis Indica vol 2 Essential Guide to the Worlds Finest Marijuana Strains by ST Oner $20.00
Music Books
The Indie Cred Test (Orange Second Edition) by Henry H. Owings $19.00
Jagger: Rebel Rock Star Rambler Rogue by Marc Spitz $16.00
Very Irregular Head: The Life of Syd Barrett by Rob Chapman $20.00
Black Metal: Beyond the Darkness – an overview in an in-depth reader format, bridging the gap between conventional accounts of the scene and the new pan-academic focus on Black Metal as a conduit for socio-cultural expression.  by Louis Pattison, Nick Richardson, Brandon Stosuy (Black Dog Publishing) $29.95
Gainsbourg: The Biography by Gilles Verlant $24.95
Magazines
Bitch #56 $5.95
Design Bureau Sep Oct 12 $8.00
Wallpaper Sep 12 $10.00
Backwoodsman vol 33 #5 Sep Oct 12 $4.95
Skeptical Inquirer Sep Oct 12 vol 36 #5 $4.95
Sovereign #39 Sep 12 $3.95
Heroes and Desperados 2012 $8.95
Pacific Standard Sep Oct 12 $5.99
Bizarre #192 Sep 12 $10.50
Pigeons and Peacocks #5 $13.99
Gothic Beauty #37 $6.95
Skunk vol 8 #2 $5.99
Pin Up America Sep Oct #11 $5.99
Decades #1: Beet Stain $15.00
Lab Magazine #6 $9.99
Under the Radar #42 $5.99
Filter #49 $5.95
Mojo #226 Sep 12 $9.99
Big Cheese #147 $7.99
Decibel #96 Oct 12 $4.95
Monocle vol 6 #56 Sep 12 $12.00
In These Times Sep 12 $3.50
Empirical Sep 12 $6.99
Reason Oct 12 $3.95
Z Magazine Sep 12 $4.95
Tattoo Revolution Sep 12 $11.75
Literary Journals, Poetry & Chap Books
Golden Handcuffs Review vol 1 #15 $12.00
Childrens
Benny and Penny in Lights Out by Geoffrey Hayes $12.95
The things listed in this list are at our brick and mortar store at 1854 W. North Ave. Occassionally we make some of it available for mail order on our website, but we curate what we put up there. To see which new items are on our website, see quimbys.com/store and mail order them for prompt home delivery.