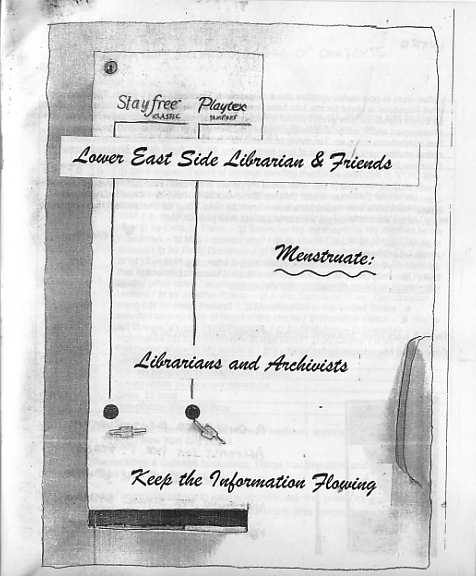 Lower East Side Librarian & Friends – Menstruate: Librarians and Archivists Keep the Information Flowing by Jenna Freedman $2.00
Zines
Abservd Magazine vol 1 #4 $4.49
Zine Centro #2 $1.00
zines from the Trans Oral History Project Distro: Tracing This Body and New Flesh New Struggle by Michelle 'Brien, Full Metal Faggot #4 $3.00
Brainscan #30 by Alex Wrekk $3.00
Comics & Comix
Molecules #1 by Michael DeForge $3.00
Smoke Signal #14 (Desert Island) $5.00
Maakies Newspaper #1 by Tony Millionaire (Desert Island) $6.00
Arrete Cest Ici Lempire de la Mort #1 by Simon Hanselmann $3.00
Greys #1 by Olivier Schrauwen $8.00
Naaburger by Aapo Rapi $17.50
Borg Tron #11 by Lesot Lehdet $12.10
Why Is my Easy Easy Life so Hard? by Dina Kelberman (HicandHoc) $8.00
Ystava Friend by Roope Eronen $5.00
Paparoad by Jyrki Heikkinen $7.50
Italo Sport by Tommi Musturi $5.00
Distance Mover #7 by Patrick Kyle (Mother Books) $5.00
Pixel Dogs Soft Bark #1 the First 50 Strips by Zach Hazard Vaupen $12.00
Snake Oil #8 by Charles Forsman $7.00
Cyber Surfer #1 by Alex Schubert $5.00
If You Got It You Got It #1 by Rand Renfrow $3.00
Nightcrawlers #1 by John F. Malta $3.00
Arrete Cest Ici Lempire de la Mort #1 by Simon Hanselmann $3.00
Basketball Comic #1 by Michael DeForge et al. $4.00
Qviet #1 by Andrew Burkholder $6.00
Demon Dust #14 Jan 13 by Bernie McGovern $2.00
Graphic Novels & Trade Paperbacks
Sad Sex Book by Heather Bejamin $10.00
Calling Dr. Laura: A Graphic Memoir by Nicole J. Georges $16.95 – Everybody in Nicole's life lied to her about who her father really was her whole life. She calls Dr. Laura. What does Dr. Laura tell her (besides the evils of shacking up)? Guess you'll have to read it to find out.
Fables vol 18 Cubs in Toyland by Bill Willingham et al. $16.99
Comics About Cartoonists: Stories About the World's Oddest Profession by Craig Yoe et al. $39.99
X Lehti 2010 XXX by Laja Aijala $36.70
One Trick Rip Off and Deep Cuts by Paul Pope $29.99 – In color and hardcover. Oooo la la.
Fiction
Cannon Fodder or the Secret Lives of Henchmen by Kyle Decker $12.00
Persona Non Grata by Stefanie Quinn Jackson $19.95
Sexy
Original Plumbing #10 $8.00
Magazines
Bust Feb Mar 13 $5.99
Tape Op #93 Jan Feb 13 $4.95
Abservd Magazine vol 1 #4 $4.49
Wire Jan 13 #347 $9.99
Bizarre #197 Feb 13 $10.50
Make vol 33 $14.99
High Times Mar 13 $5.99
Mother Earth News #256 Feb Mar 13 $5.99
Internationalism #163 Nov 12 Apr 13 $1.00
Harpers Magazine Feb 13 $6.99
Poetry, Lit Mags, Lit Journals, Chap Books
There Exists by Cynthia Spencer and Chelsea Tadeyeske $4.00
Feel and Beat Again by Jim Davis $10.00
The Iowa Review vol 42 #3 Win 13 $9.95
North Chicago Review #1 $10.00
Kids
Chus Day by Neil Gaiman and Adam Rex $17.99