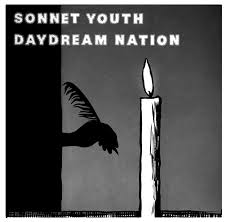 Sonnet Youth: Daydream Nation by Jeffrey Lewis $2.00 – All of Daydream Nation's fourteen songs have been rewritten by Jeffrey as fourteen sonnets in the Shakespearian mode in iambic pentameter, accompanied by illustrations.
Zines
The Operature: A collaboration with ATOM-r -Book from The Operature 25-screen exhibition . Comes apart to reveal a 33″ x 42.5″ poster.
Blank Stare #2 $5.00
Jazz Tobacco #1 $5.00
Brain Damage #1 Bjork Is Up Your Ass by Johan Bjorkegrens $18.00
Earth Is Mostly Ocean by Tyler Meese $2.00
Future Trash #1 by Adam Wiesner $3.00
Sunfighter Gunfighter by Abe Lampert $5.00
Dire Earth Chronicles #1 Dead Walls & Dire Earth Chronicles #2 Transparent Color by Luke Thompson, Kevin Moran & Nic Collins $10.00 each
The Unsuccessful Artists Handbook by Dana Jeri Maier $10.00
Victory Journal #6 Fall 13 Blood and Asphalt $5.00
Soulbond #2 A Dorky MTG Fanzine $1.00 – Magic The Gathering in the house.
Duke City Graffiti #1 by Lisa Barrios and Agustin McCord $5.00 – Devoted to Albuquerque graffiti. 8×11-inch full color.
Comics & Comix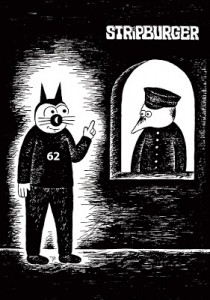 Stripburger #62 $8.00 – A kick-ass international zine with a Slavic flavour.
Havawood #1 by April Hava Shenkman $15.00
Weird Magazine #4 $10.00 – Comics from the likes of Noel Freibert, CF, Sua Yoo, Chris Day, Dash Shaw, Andy Burkholder & more.
Night of the Shears #1 by Noel Freibert $3.00
Addicted to Garbage #2 by Mathyou Landvote $2.00
Roundhouse Kick by R. Burns $3.00
Graphic Novels & Trade Paperbacks
Gut Feelings by Leah Wishnia $6.00
Art & Design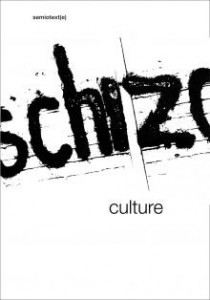 Schizo-Culture, 2-vol. set, The Event, The Book, ed. by Sylvère Lotringer and David Morris (Semiotext(e)) $34.95 – This slip-cased edition includes The Book: 1978, a facsimile reproduction of the original Schizo-Culture publication; and The Event: 1975, a previously unpublished and comprehensive record of the legendary 1975 "Schizo-Culture" conference, conceived by the early Semiotext(e) collective conference, that set it all off. The journal that came later was designed by a group of artists and filmmakers including Kathryn Bigelow and Denise Green, it documented the chaotic creativity of an emerging downtown New York scene, and offered interviews with artists, theorists, writers, and No Wave and pre-punk musicians together with new texts from Deleuze, Foucault, R. D. Laing, and other conference participants.
Exposure Nudity and Graffiti In Albuquerque by Billy McCall (and friends) $30.00
Essays
White Girls by Hilton Als (McSweeneys) $24.00
DIY/How to
Alive With Vigor: Survivng Your Adventurous Lifestyle by Robert Earl Sutter III (Microcosm) $9.95
Politics & Revolution
Socialist and Labor Songs: An International Revolutionary Songbook by Elizabeth Morgan (PM Press) $14.95
Talking Anarchy by Colin Ward & David Goodway (PM Press) $14.95
Until the Rulers Obey: Voices From Latin American Social Movements by Clifton Ross & Marcy Rein (PM Press) $29.95
Slash They Ass Up: A Black Punk Manifesto by Yumii Thecato $16.00
Sex & Sexy
Erotic Stories ed. by Rowan Pelling $16.00 – Erotic tales from all over the world, by such writers as Pauline Réage, Anaïs Nin, Nicholson Baker and more.
Fiction
Last Girlfriend on Earth and Other Love Stories by Simon Rich $13.00 – Now in soft cover.
Highly Unlikely Scenario: Or a Neetsa Pizza Employee's Guide to Saving the World by Rachel Cantor $16.95
Orfeo by Richard Powers $26.95
Gun Machine by Warren Ellis $17.00 Now in soft cover.
Leaving the Sea: Stories by Ben Marcus $25.95

Magazines
The Baffler #24 $12.00
Juxtapoz #157 Feb 14 $5.99
Neural #46 $8.00
2600 Hacker Quarterly vol 30 #4 $6.95
Disfunkshion vol 18 $5.99
Tom Tom Magazine #16 Magazine For Female Drummers $6.00
Makeshift #8 Win 13 Journal of Hidden Creativity $10.00
Colors #88 $16.95
High Times Mar 14 $5.99
Man of the World #6 $20.00
Special Request #1 Food $20.99 – Like design? Like food? Like mags like Gather? This is for you.
Dazed and Confused vol 3 #29 Jan 14 $9.99
Film Comment vol 50 #1 Jan Feb 14 $5.99
Fangoria #330 $10.99
The Shadow #55 $1.00
In These Times Jan 14 $3.50
Against the Current #168 Jan Feb 14 $5.00
Dissent Win 14 $10.00
Freshly Inked vol 4 #1 Mar 14 $6.99
Tabu Tattoo #56 $6.99
Mountain Astrologer Feb Mar 14 $7.95
Outburn #72 $4.95
Tape Op #99 Jan Feb 14 $4.95
Poetry, Lit Journals & Chap Books
Comb #2 by Ian Hubert $3.00
Calyx by Michael Anichini and Elizabeth Chisholm (Convulsive Editions) $8.00
Means of Egress by Chad Chmielowicz (Convulsive Editions) $8.00
June Cuckold by Catherine Theis (Convulsive Editions) $8.00
In Forest Static by Christopher Hund (Convulsive Editions) $6.00
The Believer #104 Jan 14 $8.00
The Iowa Review vol 43 #3 Win 13 14 $9.95
Poetry: Sit With Me a While, Collected Works 2000-2011 by Michael A. Horvitch
Geist Fact Fiction #91 $6.95
Kids Stuff
Hearts by Thereza Rowe (Toon Books) $12.95
Glass Owl by Cecilia Pinto & Megan Williamson $10.00