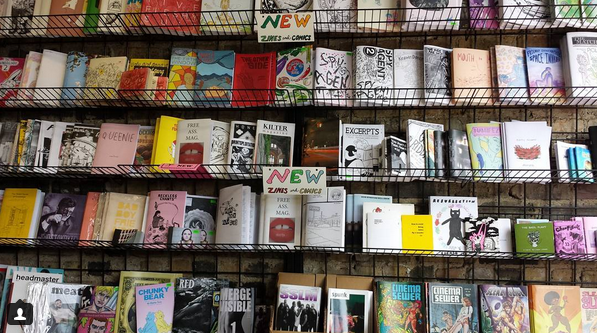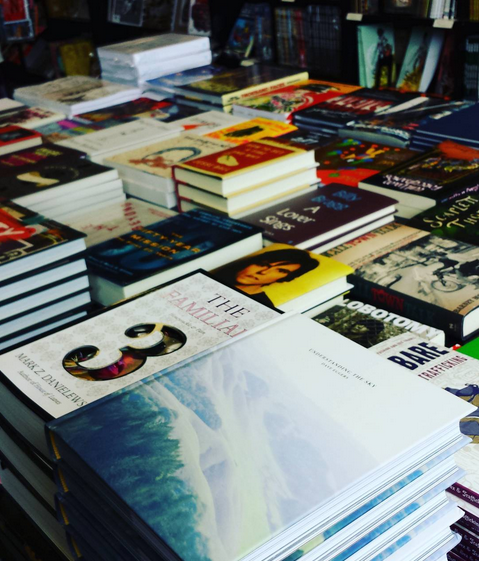 *ZINES*
The Match #115 Sum 16 by Fred Woodworth $3.00
Punk Rock Glee Club #2, ed. by Liz Mason $5.00 – The zine that started out about Chicago-based a capella punk band Blue Ribbon Glee Club that does covers of bands like Fugazi and the Misfits expands into covering other a capella punk bands (!) and also features awesome pieces from amazing Chicago writers regarding specific punk rock songs. Contributors include: Ben Tanzer on "The World's a Mess It's In My Kiss" by X, Shay DeGrandis on "Ever Fallen In Love (With Someone You Shouldn't've)" by the Buzzcocks, Mike "McBeardo" McPadden on "Kiss Me Deadly" by Generation X, Celia Forrest on "Black and White" by the dB's, Paul Durica on "Children of the Revolution" by T-Rex & Dan Kelly on "X-Offender" by Blondie. For those who love punk (we salute you).
On the Way by Hart Ginsburg $20.00
2 photo zines from by Alexander Swilley, $5.00 each:
Filth Zine #2
Pipedream
*COMICS & MINIS*
Crass Sophisticate #36 by Josh Reinwald & Justin Rosenberg $3.00
What Is a Witch by Pam Grossman (Tin Can Forest) $20.00
Town Hall Lawn by Marissa Falco $1.00
Resurrection by Carmen Johns $5.00
Vulture City Stories by Sam Spina (Kilgore) $5.00
Vile #1 Cowards Hole by Tyler Landry $7.95
Titan #3 by Francois Vigneault $4.95
Danger Country the Role Playing Game by Levon Jihanian $5.00
*GRAPHIC NOVELS*
Maakies: Drinky Crow Drinks Again by Tony Millionaire (Fantagraphics) $29.99 – Booze-soaked high-seas adventures with Drinky Crow, Uncle Gabby and co.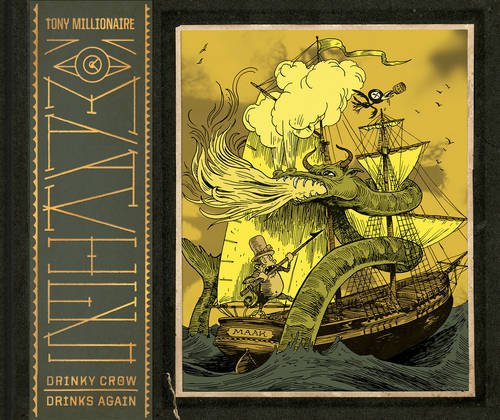 A Horse, A Crow, and a Hippo Walk Into a Bar: A Collection of Stories by Lauren Barnett
Crying In Front Of Your Dog by Phil McAndrew (Grimalkin Press) $15.00
Saga vol 6 by Brian K. Vaughan & Fiona Staples $14.99
Beyond Paper Walls by Adam Fotos $19.99
Fantasy Sports 2 The Bandit of Barbel Bay by Sam Bosma (Nobrow) $19.95
Thousand Faces by Philippe Thirault & friends (Humanoids) $29.95
*ART & DESIGN BOOKS*
The Chicago "L" by Greg Borzo $24.99 – Photo book.
*OUTER LIMITS*
Ghosts from Our Past: Both Literally and Figuratively: The Study of the Paranormal by Erin Gilbert, Abby L. Yates & Andrew Schaffer $15.00 – Reprinted with perspective gained through time. And Ghostbusters.
*FICTION*
How to Set a Fire and Why by Jesse Ball $24.95
Where the Bird Sings Best by Alejandro Jodorowsky (Restless) $19.99 – Mythic proportions! Now in soft cover!
Slade House by David Mitchell $16.00 – Now in soft cover.
Tales of the Bagman vol 3 Bagman vs the Butcher by BC Bell $15.00
*MUSIC & FILM BOOKS*
Incantations of Daniel Johnston: A Graphic Novel by Ricardo Cavolo and Scott McClanahan (Two Dollar Radio) $17.95 – A spirited, eye-popping collaborationg between New York Times-bestselling Spanish artist Ricardo Cavolo and award-winning author Scott McClanahan. Long a fan of Daniel Johnston, the man and his music, Cavolo illustrates Johnston's colorful life, from his humble beginnings as a carnival employee to folk musician in Austin, to his rise to MTV popularity and persistent struggle with personal demons.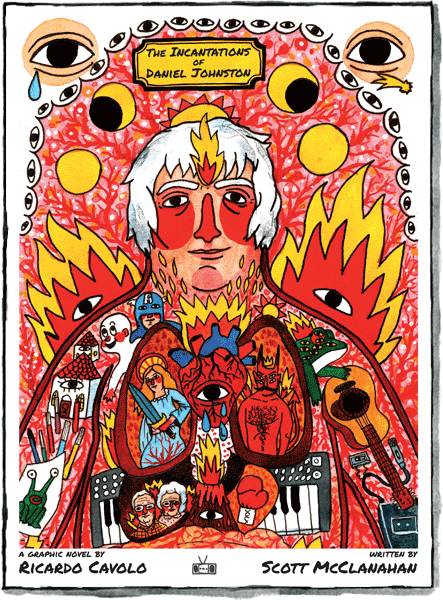 Small Town Talk: Bob Dylan, The Band, Van Morrison, Janis Joplin, Jimi Hendrix and Friends in the Wild Years of Woodstock by Barney Hoskyns $26.99
Vention: Star Wars Collection by Vincent S. Egolf Esq. $19.99 – A collection of all the patents George Lucas filed for Star Wars properties.
On Bowie by Rob Sheffield $19.99
Party of One: A Memoir in 21 Songs by Dave Holmes $26.00
The Fifty-Year Mission: The Complete, Uncensored, Unauthorized Oral History of Star Trek: The First 25 Years by Edward Gross and Mark A. Altman $29.99
*FOOD*
Cook Korean!: A Comic Book with Recipes by Robin Ha $19.99
*MAGAZINES*
Tom Tom Magazine #26 Roots $6.00
Posture Magazine #2 16 The Ornamentation Issue $20.00
Cleaver Quarterly #7 $17.00
Internationalist #43 May Jun 16 $.50
True Crime Jun 16 $9.99
Frankie #71 $14.95
Backwoodsman vol 37 #4 Jul Aug 16 $5.50
*POETRY & CHAP BOOKS*
2 E.E. Greer chap books:
Montage Repercussion $8.00
Regarding the Stacks $7.00
Wait Till You See the Full Picture by Mark McCoy $24.99
2 Jon Dambacher poetry books:
Green Poems by Jon Dambacher $8.00
Silent Scenario Directed by Buster $8.00
*SEX GUIDES, CULTURE & EROTICA*
The Ultimate Guide to Sex Through Pregnancy and Motherhood: Passionate Practical Advice for Moms by Madison Young (Cleis) $18.95
Begging for It: Erotic Fantasies for Women ed. by Rachel Kramer Bussel (Cleis) $15.95
Meat: The Paris Issue $20.00
Chunky Bear and his Naughty Adventures by Mighty Tony $5.00