*ZINES*
How to Plan For Action: A Protest Prep Zine by Sarah Friedman $1.00
How Not to Kill Yourself Zine: A Survival Guide For Imaginative Pessimists by by Set Sytes $4.00
Conspiracy Fun Book Learn Real Historical Facts About the Dark Underworld of Oppression and Murder That School "forgot" to Teach You! by Joseph E. Green $4.00
Grief and Other Things Men Gave Me by Jane Belinda $6.00
Judas Goat Quarterly #72 Win 16 by Grant Schreiber $1.50
Coup #1 Collection of Unfinished Projects Angle $10.00
The Lowbrow Reader #10 $4.00 – Illustrations by David Berman, Drew Friedman, Gilbert Gottfried, and Jeffrey Lewis. Lowbrow hero Amy Heckerling spills the beans on Joseph Goebbels's secret diary. (Her article is pretty timely—sad!) The Velvet Underground's connection to the diabolic Steve Urkel is explored. Mel Brooks is discussed. What's not to love?
Borderless #2 Passport $15.00
Xerography Debt #40 $4.00 – The review zine with perzine tendencies!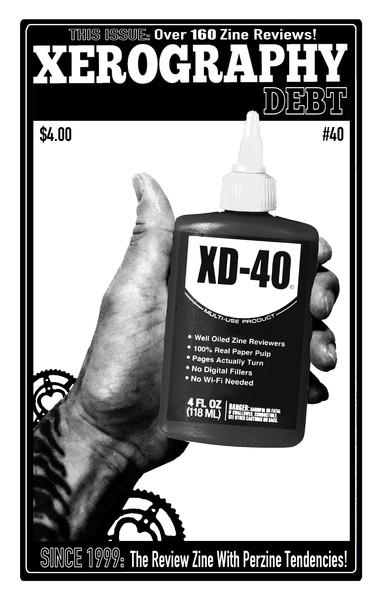 Pedal By Pedal: A Zine About Women Over Forty Who Ride Bicycles: vol 1 by Julie Brooks $5.00
Going Places #2 Powow Country $3.00
10 Hot Sax Positions by Joe Degeorge Sax Machine $2.50
Lizard People: Dear Reader: A DIY Guide to Searching For Weird Shit by Julia Eff $2.00
Curio: A Book of Paper Toys by Anna Jo Beck $10.00 – Curio: A Book of Paper Toys is a collection over 20 paper toys. A lithographed and hand bound artist book in an edition of 30.
The Cool Teen's Guide To Fingering by infoTEENment $2.00
The Cool Teen's Guide To The Mall by infoTEENment $2.00
Seeing and Believing by Maureen Ohara Ure $24.00
In Flight Safety $10.00
Brutal by Nathan Pearce $2.00
*COMICS & MINIS*
Unquotable Trump #1 by R. Sikoryak $4.00 – Collects the first 16 covers posted on the unquotabletrump.tumblr.com page. All Trump dialogue from the 2016 presidential campaign and beyond. Drawn by R. Sikoryak.
Possession Scenes Collected #1-#5 by Lyra Hill $10.00
Monstrum Ingenium Myth Series #1 by Rodger Binyone $5.00
Halvin and Cobbes by Jared Solomon $8.00
*GRAPHIC NOVELS*
2 books by Tillie Walden:
The End of Summer $18.00
I Love This Part $12.00
Abominable Mr. Seabrook by Joe Ollmann (D+Q) $22.95
Zonzo by Joan Cornella (Fantagraphics) $14.99 – 50 all-new strips of smiling psychopaths!
Dept. H vol 1 by Matt Kindt (Dark Horse) $19.99
*ART BOOKS*
Biomech Visions by Andres Hurtado (Last Gasp) $29.00
*MAYHEM & OUTER LIMITS*
Practical Spellcraft: A First Course in Magic by Leanna Greenaway $16.95
Shamanic Graffiti: 100,000 Years of Drugs, 100 Years of Prohibition by Frank Ogden, Marcus Ashley Rummery (Trine Day) $19.95 – Freud said dreams were the "royal road" to the unconscious, and then along came a superhighway: psychedelics. Personally, we can access the psychedelic experience, but Frank Ogden shepherded over a thousand people's experiences. What is presented is the howling unconscious released from the normal chemical constraints that restrict it. Written in the simple, but vivid style Frank popularized in his bestselling, The Last Book You'll Ever Read, Shamanic Graffiti presents an alternative history of the brain and it's functions: shamanism. Giving real world examples, the book finishes-up by exploring the theories of two pre-eminent psychedelic theoreticians, Dr. Timothy Leary and Dr. Stan Grof and looks at the future of psychedelic drugs.
Esoteric Hollywood: Sex, Cults and Symbols in Film by Jay Dyer (Trine Day) $19.95 – Sample quote, accompanied by a picture of Elliot from E.T. on his bike in front of the moon, "Elliot has all the power of a male witch. Is he a moonchild?"
Rivals of the Ripper: Unsolved Murders of Women In Late Victorian London by Jan Bondeson $35.00
Legends: Murder, Lies and Cover-Ups: Marilyn Monroe, Princess Diana, Elvis Presley, JFK and Michael Jackson: Who Killed Them and Why They Didn't Have to Die by David Gardner $14.95
*POLITICS & REVOLUTION*
Worshiping Power: An Anarchist View of Early State Formation by Peter Gelderloos (AK Press) $16.00
Antifascism, Sports, Sobriety: Forging a Militant Working-Class Culture by Julius Deutsch (PM Press) $14.95
*MAGS*
Tape Op #117 Jan Feb 17 $4.95
Majestic Disorder #8 $18.99
Vive Le Rock #41 Iggy Pop and The Damned $10.50
Harpers Magazine Feb 17 $6.99
Make vol 55 Feb Mar 17 $9.99
Four Two Nine #9 $12.99
Four and Sons #6 Dogs and Culture Collide Fall Win 16 $19.99
*LIT JOURNALS & CHAP BOOKS*
Parody vol 5 #2 $5.00 – The Weird Al of Lit Journals!
The Chicago Review vol 60 #2 Helen Adam and Her Circle $15.00
Sail On Silver Girl by Katryn Macko $5.00