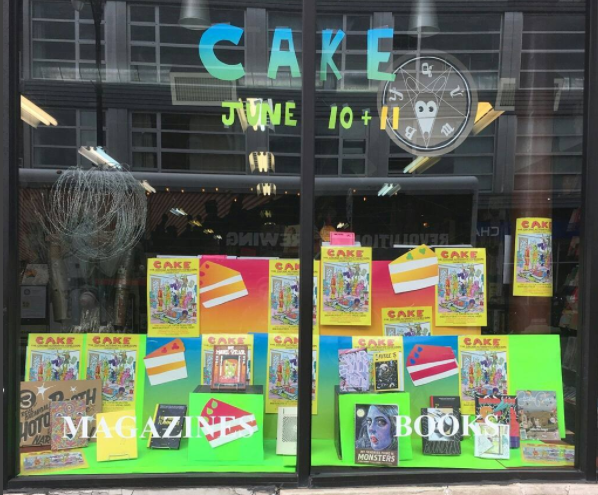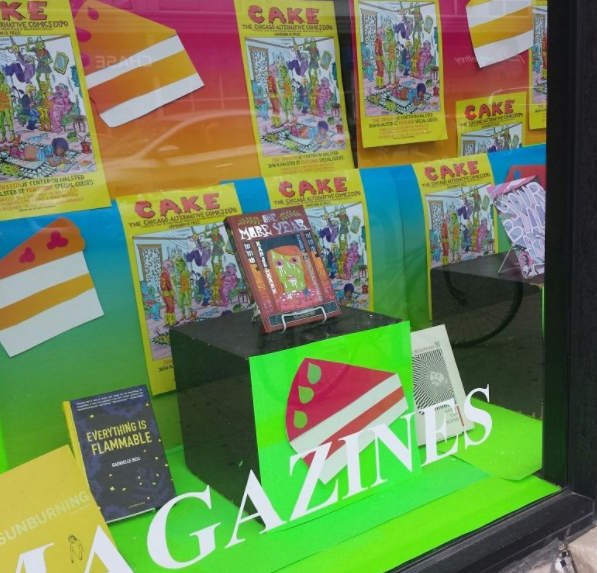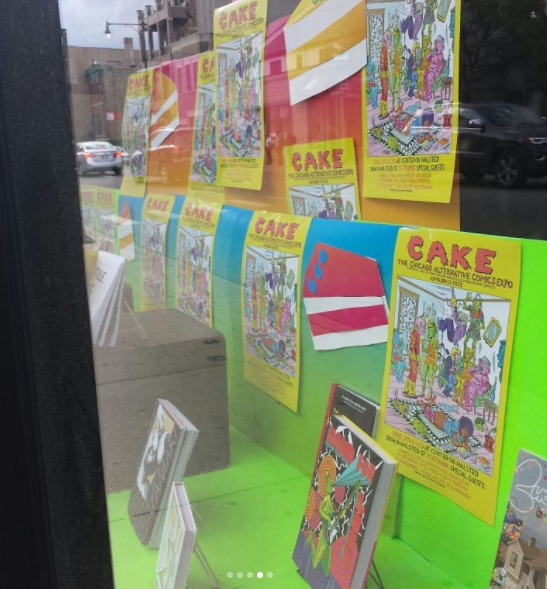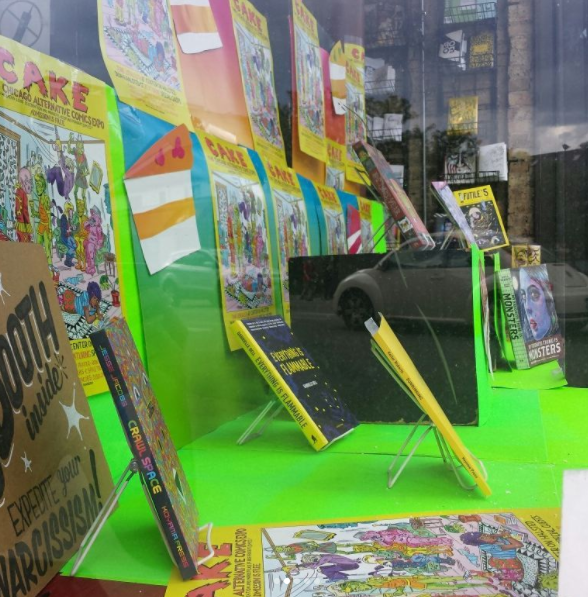 We sure do love sweets! CAKE is next weekend! Opening night event here at Quimby's Fri 6/9 with Gabrielle Bell, Emil Ferris, Lucy Knisley and C. Spike Trotman, tabling exhibition Sat 6/10 and Sun 6/11 at the Center on Halsted. More info at cakechicago.com. CAKE window, by Corinne Halbert.
new stuff this week!:
*ZINES & ZINE-RELATED BOOKS*
Dum Ditty Dum #1 Oct 28 1977 & #2 March 24 1987, $5.00 each – Rando dates picked — musical history of those dates elaborated.
Books Kill Buildings Internet Capital Selves by Other Forms $5.00
Would be Saboteurs Take Heed #3 by Audrey Chan $8.00
Dope by Adam Gondek $12.00
Other Side of White Walls: A Collaborative Zine by Paige Landesberg & friends $8.00
Pool Zine by Rohan McDonald $15.00 – Human essence scattered into fractals of matter. Moving apart, separating, convulsing, only to join back together again. Can you lift the block from the bottom of the pool? ~CH
Countersignals vol 1 Militant Print Counter signals by Jack H. Fischer $15.00
*COMICS*
Trash Babies by Steffany Bankenbusch, Robin Franklin and Michelle Wanhala $6.00 – A spunky girl finds a mystical slice of pizza and befriends an even pluckier opossum. Join them on their trash alley adventures! ~CH
Excerps by Logan Kruidenier $8.00
Fae Archaic #6 Two Fold Preview by Kurt Burdick $4.00
Window UFO by Alex Ross Williams $8.00
2 Kriota Willberg comics:
At Least We Have Our Health: Gag Cartoons About Science History and Bioethics $4.00
Anatomical Triangles of the Neck: A Selection of Love Stories $3.00
*GRAPHIC NOVELS*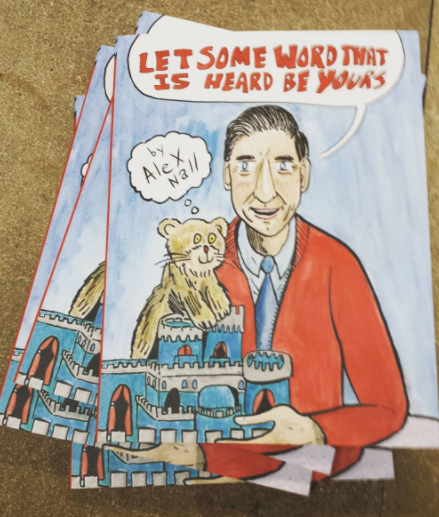 Let Some Word That Is Heard Be Yours by Alex Nall $12.00 – CZF organizer's graphic novel about Mister Rogers!
The Casebook of Rabbit Black vol 1 by Kate Sherron $14.99
LOST ANGELS: Volume One: Paradise High by Chris Anderson and Dan Panosian $19.99
Bitch Planet Volume 2: President Bitch by Kelly Sue DeConnick & friends
Canopy by Karine Bernadou (Retrofit) $15.00
Sound of Snow Falling by Maggie Umber (2dcloud) $22.95 – A paint and paper documentary, observing great horned owls in their natural habitat.
Lennon: The New York Years by David Foenkinos, Corbeyran and Horne
*ART & DESIGN*
Planet of the Apes: The Original Topps Trading Card Series by by The Topps Company & Gary Gerani $24.95
Muhammad Ali: The Greatest Coloring Book of All Time, ed. by Darius James (Feral House) $15.95
Fantasy Babes: A Gamer Glam Coloring Book by Sephanie A. Quinn $7.99
*POLITICS & REVOLUTION*
Demagoguery and Democracy by Patricia Roberts-Miller $9.95
*OUTER LIMITS*
Alien World Order: The Reptilian Plan to Divide and Conquer the Human Race by Len Kasten $18.00
Vulgar Tongues: An Alternative History of English Slang by Max Décharné $26.95
*MAGAZINES*
Razorcake #98 Mikey Erg $4.00
Maximumrocknroll #409 Jun 17 $4.99
GLQ vol 23 #3 Journal of Lesbian and Gay Studies 2017 $12.00
Record Collector #5 Serious About Music: 1967 the Year Rock Freaked Out $11.50
The Big Takeover #80 $5.99
Murder Most Foul #104 Worlds Number One True Crime Quarterly $10.99
Monocle #104 Jun 17 Boop Boop $12.00
Transformation #101 Aubrey Kate Triple Threat $12.50
TSQ Transgender Studies Quarterly vol 4 #2 May 2017 $12.00
Juxtapoz #198 Jul 17 $6.99
Cinema Retro vol 13 #38 2017 $11.99
Wired UK Jun 17 $7.99
New Noise Magazine #32 Flatliners $4.99
Maegu #1 $24.99
True Crime Detective Monthly May 17 $9.99
*OTHER STUFF*
Blank Books made by Josh Doster, various prices!