Goblinko patches, stickers & wrapping paper!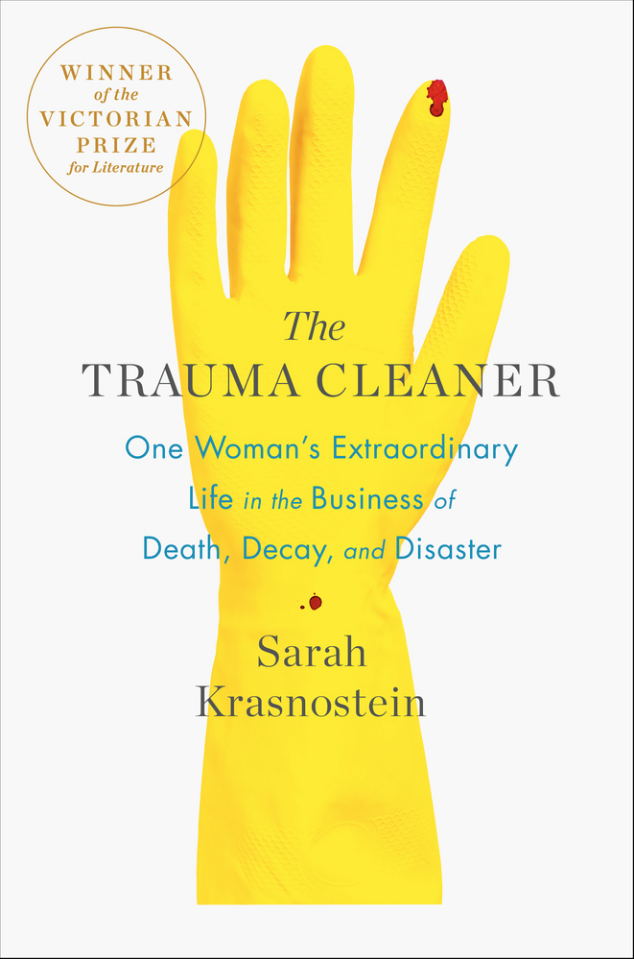 The Trauma Cleaner: One Woman's Extraordinary Life in the Business of Death, Decay, and Disaster by Sarah Krasnostein $26.99 – Remember Harvey Keitel in Pulp Fiction? Pankhurst is like that. But before she was a trauma cleaner, Sandra Pankhurst was many things: husband and father, drag queen, gender reassignment patient, sex worker, small businesswoman, trophy wife. . . But as a little boy, raised in violence and excluded from the family home, she just wanted to belong. Now she believes her clients deserve no less. A woman who sleeps among garbage she has not put out for forty years. A man who bled quietly to death in his living room. A woman who lives with rats, random debris and terrified delusion. The still life of a home vacated by accidental overdose.
Zines
Chickfactor #18 $15 – Issue #18 is here of the legendary indie nerd fanzine edited by Gail O'Hara, who cofounded CF with Pam Berry in 1992 (yes, Belle & Sebastian wrote a song about it). This issue features big, fun interviews with Kendra Smith, The Softies, Alvvays, Lindy Morrison & Amanda Brown (The Go-Betweens), Girl Ray, Frances McKee (the Vaselines), Gerard Love (Teenage Fanclub, Lightships), Governess, Marisa Anderson, Tanita Tikaram, A Jukebox Jury with Kathy Foster, Rebecca Cole & Joanna Bolme; and the usual polls, loads of reviews & other stuff!
Awesome Things #2 by Liz Mason $3 – A continuation of the list all things awesome: Einstein-Rosen bridges, loop libraries, nudging the cat's belly so it pendulum swings, or co-worker quotes like, "That guy seems like a warlock. Not like a cool warlock. Like an alcoholic warlock."
Old Haunts #1 by Dan B $2
Chomp #5 A Hard Man is Good to Find $15
Inspect Connection $5
Trauma Is Really Strange by Steve Haines, art by Sophie Standing $13
Rick Astley Zine by Allison Felus $3 – Allison decontructs "Never Gonna Give You Up" and the Stock Aitken Waterman production team behind a few of Astley's hits, and includes a testament in personal defense of his oeuvre (for the first two albums anyway). Rickroll this zine into your life. You had to know someone was going to make that joke, right? -LM
Punk Around #1 Nizhny Life $3
Comics & Minis
Moonlight by Cole Johnson $5 – Delicious fragments and tidbits of an artist's life, or anyone's life really. Each strip possesses a magical, pensive nostalgia full of familiarity and mystery all at once. It's easy to get swept away in the dreamlike narratives Johnson weaves for us. ~CH
Revolution Channel #1 Towers on the Moon by Erik Thompson $10
Phantasmagoria by Rafael Huerta $10
Black Bean Zine #0 by Simone Simone $1
Malcolm-10 by Turtel Onli $2
Migratory Patterns by Kane Shirley $10
Exes #1 Comics by Dave K and Cole J $2
Isle of Flotsam #2 by Caleb $3
Moments of Adventure #1 & #2 by Colin Mathieson $4.95 each
Just Encased vol 1 $7
Graphic Novels
R. Crumb Sketchbook Jan 1975-Dec 1982 (Taschen) $40 – Combines volumes 5 and 6 from the second R. Crumb Sketchbook boxed set. 444 pages about his move to CA, his marriage to Aline, birth of his daughter, further adventures of Mr. Natural, mischievous Snoids, Arcade comics strips and more!
The Art of Edena by Moebius (Dark Horse) $34.99 – A companion to the World of Edena graphic novel, this collects four fantastic Edena-related short stories and a motherlode of Moebius illustrations.
Big Planet Comics Red anthology (Big Planet/Retrofit) $6 – Anthology featuring artists from or working in Washington DC, Maryland and Virginia, such as Robin Ha, Jared Morgan & more.
The Hookah Girl: And Other True Stories by Marguerite Dabaie (Rosarium Publishing) $6.95 – Semi-autobio of a childhood as a Christian Palestinian in America.
Dark Garbage by Jon Michael Frank $15
Forward by Lisa Maas (Arsenal Pulp) $18.95 – Two women, both of whom are unable to move "forward" and put the pieces of their lives back together.
Prisoner 155 Simon Radowitzky by Agustin Comotto (AK Press) $ 26 – The first English-language book devoted solely to the Ukranian expat, assassin, prisoner, and Spanish Revolution veteran, who died a factory worker in Mexico City.
Lucy & Andy Neanderthal: The Stone Cold Age 2 by Jeffrey Brown $7.99 – Paleo pranks between neanderthal siblings!
The Bridge: How the Roeblings Connected Brooklyn to New York by Peter J. Tomasi $24.99 – Would you jump off a bridge if we told you to? Perhaps the Brooklyn Bridge? Would you buy this book about the making of it?
Algeria Is Beautiful Like America by Olivia Burton $24.99
Politics & Revolution Books
May Made Me: An Oral History of the 1968 Uprising in France by Mitchell Abidor (AK Press) $20
Outer Limits
How to Swear: An Illustrated Guide by Stephen Wildish $14.95 – Fuck yeah! This visual guide to this fine art employs quick-read charts, diagrams, explications and strategies while offering guidance, history and etymology, quips, insults, answers to lingering questions, and much more.
Fiction
The Disco Days Trilogy books by by David F. Ross – Adventures about music in Scotland in the 80s and 90s.
Lit Journals & Poetry
McSweeney's 52: In Their Faces a Landmark: Stories of Movement and Displacement edited by Nyuol Lueth Tong $26
Breakbeat Poets vol 2: Black Girl Magic edited by Mahogany L. Browne, Idrissa Simmonds & Jamila Woods (Haymarket) $19.95 – Anthology to celebrate and canonize the words of Black women across the diaspora.
Lady Churchill's Rosebud Wristlet #37 $5 – New issue of the occasional outburst of fiction, poetry, nonfiction, and chocolate.
Paper Darts vol 7 $20
Mags
RFD #173 Spr 18 First Time $11.95
Taproot #26 Heal $12
Local Interest
West by Southwest to Stickney: Draining the Central Area and Exorcising Clout by Richard Lanyom (Lake Claremont Press) $21.95