Holiday shopping is in full swing now, but we still set aside a few minutes to tell you about the 60-some new items we got in this week. A new Big Questions from Anders Nilsen for your arty sibling, a new Paul Koob comic about cheese for those who love all things food, and a sexy comic for your ninja nympho roommate. Enjoy!
ZINES!
Adderall Photo Zine – Unlimited Edition by TR Ericsson $5.00
Spacenipple The Strange Retractions of Orbiting by Virginia Visker and Josh Doster $6.00
Shithead 3 by Josh Doster $20.00
American Gun Culture Report #3.1 Sum 08 ($3.00) and American Gun Culture Report #4.1 Win Spr 09 ($3.50)
Letters From the Bottom of the World Sum 10 $.75
Recinerated Nov 10 Written in Reverse $2.50
Meat #2 by Adrian Lourie $20.00
Caboose #7: Britney Spears 101 by Liz Mason $10.00
COMICS & MINICOMICS!
A B Cheese by Paul Koob $10.00 – Remember Hamster Man? Well, Paul Koob is back! And this time it's a clever and cute artist book-comic-zine thing about a gazillion different types of cheese. And the alphabet! Perfect for all cheese-a-philes. Delcious!
Big Questions #15 The Sweet Taste of Victory by Anders Nilen (D&Q) $7.95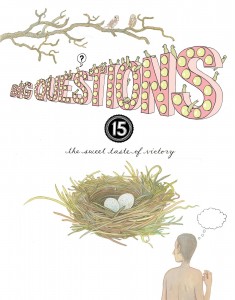 Seraph Manifesto vol 1 #3 by M. Collett by Nick Jones $3.00
Cage #1 by Max Folsom $5.00
Thank You NASA #1 Music Recording Comic by Simon Hunt $4.00
Where Were You Last Night by Elizabeth Valasco  $3.00
Rex Comic by Hannah Ayers $2.00
Comics by Nik Havert: Sun and Moon (with Sean Russell) $3.00, Salem AZ #1 Ltd Ed (with Paul Schultz) $5.00 etc.
Simon LeFag Gay Detective #1 the Case of the Used Condoms by Dave $1.00
Ninja Girl by Bonesteel $5.00
Closed Caption Comics #9 $20.00
Motte and Bailey by Krystal DiFronzo $4.00
ART & DESIGN BOOKS!
L'image Obscene: The Obscene Image Parisian Hospital Break Room Graffiti by ed. by Gilles Tondini (MBP) $34.95
Graphics Alive vol 2 (Viction:ary) $39.95
How to Disappear by Moki (Gingko) $29.95
Mayday: The Art of Shepard Fairey (Gingko) $29.95 – Yes, he does other things besides Obama and Andre the Giant.
GRAPHIC NOVELS & TRADE PAPERBACKS!
Madwoman of the Sacred Heart by Jodorowsky and Moebius (Humanoids) $29.95
Motel Art Improvement Service by Jason Little (Dark Horse) $19.99
Glamazonia The Uncannny Super Tranny ed. by Justin Hall (Northwest) $24.99
MAGAZINES!
Juxtapoz #119 Dec 10 $5.99
Bizarre #170 Dec 10 $10.50
As Loud As Possible #1 $9.00
Flaunt #112 $8.95
Oakazine #5 $15.00
Wallpaper Jan 11 $9.50
Shots #110 Win 10 $6.50
Paper Win 10 11 $4.00
BlackBook #81 Dec 10 Jan 11 $4.50
Hyphen #22 Win 10 $4.95
Wire #322 Dec 10 $10.99
Signal to Noise #60 Win 11 $4.95
LITERARY JOURNALS & CHAP BOOKS!
First Line vol 12 #4 #3.00
Annalemma #7 $15.00
POLTICS & REVOLUTION!
Agony of Power by Jean Baudrillard (Semiotext(e)) $12.95
MUSIC BOOKS!
Thelonious Monk SC the Life and Times of an American Original by Robin DG Kelley (Free Press) $18.00
MAYHEM, MISCELLANY & OUTER LIMITS!
Ticking is the Bomb SC by Nick Flynn (Norton) $14.95
SEX & SEXY!
Tentacle Love #1 by Nik Havert and Philo $5.00
Ninja Nympho Roommate #1 by Nik Havert and Xavier $5.00