Slingshot 2012 Planners are here! $6.00 for pocket-sized small ones and $12.00 for the larger spiral-bound edition. In a variety of colors. Get organized for 2012 with the help of Berkeley's Slingshot anarchist collective.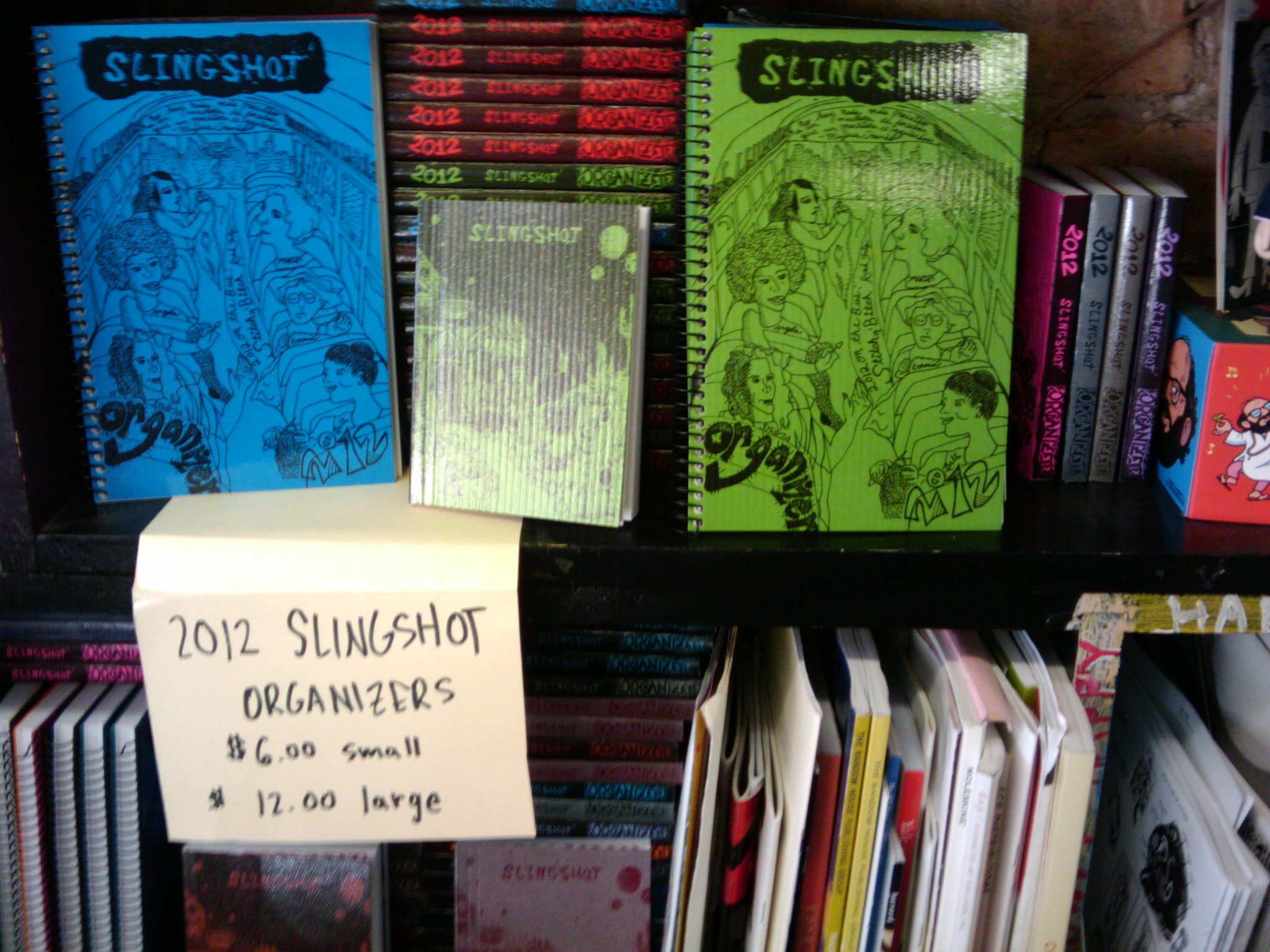 Zines
East Village Inky #48 by Ayun Haliday $3.00 – The all music issue!
Your Secretary #1 Playing Victim #3 by Jami Sailor $1.00
Norent #1 a Guide to Life and Such by Sn@cki $8.00
Legends of the Silver Screen #1 by Owen Ashworth $3.00
Biking-related zines from Elyse Bennett Devan (from Microcosm): How Do You Bring the Souls of Black Folk Up From Slavery $1.75 Fascinating History of Nail Polish $1.50 Natalie and the Virgin a Tragic Tale of Love From the Annals of Time $2.00
Dirty Love and Fiberglass Smiles #4 Memphis A Rewriting of the Crew Change by Rust $10.00
2011 Twin Cities Zine Fest Encyclopedia $5.00
Hack This Zine #12 Spr 11 Exploit Code Not People by hackbloc $2.00
Transmissions From the Emperors Heavenly Ford vol 1 Notes on Life as an American by Thomas Kenning (Microcosm) $4.00
Taking the Lane vol 3 Unsung Heroes by Elly Blue $3.00
Taking the Lane vol 4 Sexy on the Inside by Elly Blue $3.00
Bikenomics: How Bicycling Will Save the Economy if We Let It by Elly Blue $5.00
Hack Sketches From a Chicago Cab by Dmitry Samarov $16.00
Comics & Comix
Monster Dudes #1 written by Dave Scheidt and drawn by Matt "Meniscus" Fagan $3.99 – Made by our buddies down the street at Brainstorm! Hilarous and charming. Well, what did you expect?
Ganges #4 by Kevin Huizenga (Fantagraphics) $7.95 – The fourth issue of Kevin H.'s Glenn Ganges series, drawn with appetizing minimalism, written with mystical mind expansion. How is that possible? It just is. Part of Fantagraphics' Ignatz series.
Crass Sophisticate #27 $2.00
Feedback #10 by John Isaacson $2.00 – Another stellar issue from John "DIY Screenprinting" Isaacson about shows he goes to. And he goes to a lot! How does he find time to do comics about them?
Short Stories of Lives Cut Short by Mitch Munster and Bryan Kotwica $5.00
Graphic Novels & Trade Paperbacks
Neonomicon TPB by Alan Moore (Avatar) $19.99 – Issues collected in one volume of Moore's Lovecraftian epic series.
Walking Dead Survivors Guide by Robert Kirkman etc. (Vertigo) $12.99
Unwritten vol 4 Leviathan TPB by Mike Carey (Vertigo) $14.99
Underwire by Jennifer Hayden (Top Shelf) $9.95
Art Books
Print and Pattern vol 2 by Bowie Style (Laurence King) $29.95
A to Z of Visual Ideas How to Solve and Creative Brief by John Ingledew (Laurence) $30.00
DIY Furniture: A Step By Step Guide 30 Unique Projects from Designer Makers by C. Stuart (Laurence) $24.95
Fiction
Damned by Chuck Palahniuk (Doubleday) $24.95 – New book from the author of Fight Club. Here's what the internet has to say about it: "Are you there, Satan? It's me, Madison," declares the whip-tongued thirteen-year-old narrator of Damned. She died, goes to Hell and is joined by characters that are not unlike the characters in the Breakfast Club. They go on a quest to confront Satan in his citadel. Coming of age book? Like maybe the same way Dead Like Me was a coming of age TV show? We shall see.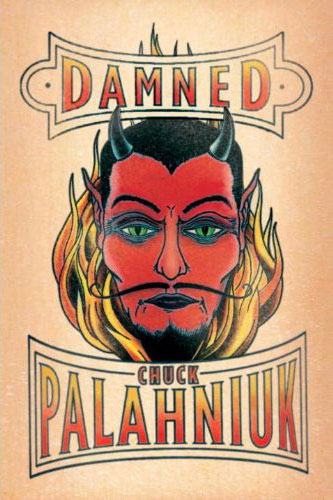 Dear Sun I am Real by SG Rainbolt $8.99
Facts of Winter by Paul Poissel (McSweeneys) $13.00 – New soft cover edition.
Mid Life by Bojan Pavlovic $9.95 – From the publishers of The First Line lit journal.
Mayhem, Miscreants, Memoirs, mEssays
Tylenol Mafia Marketing Murder and Johnson and Johnson by Scott Bartz $18.00
50 Funniest American Writers by Andy Borowitz (Penguin) $27.95
Why Am I a Five Percenter by Michael Muhammad Knight (Tarcher) $14.95 – Misrepresented in the media as a black parallel to the Hell's Angels, portrayed as everything from a vicious street gang to quasi- Islamic revolutionaries, The Five Percenters are a movement that began as a breakaway sect from the Nation of Islam (NOI) in 1960s Harlem and went on to impact the formation of hip-hop. References to Five Percent language and ideas are found in the lyrics of wide-ranging artists, such as Nas, Rakim, the Wu-Tang Clan, and even Jay-Z.
Dirty! Dirty! Dirty!: Of Playboys, Pigs, and Penthouse Paupers – An American Tale of Sex by Mike Edison (Soft Skull) $15.95 – wild and uncompromising history of four infamous magazines and the outlaws behind them, Dirty! Dirty! Dirty! is the first book to rip the sheet off of the sleazy myth-making machine of Hugh Hefner and Playboy, and reveal the doomed history of Hefner's arch rival, Penthouse founder Bob Guccione, whose messiah complex and heedless spending — on a legendary flop of a movie paid for with bags of cash, a porn magazine for women, and a pie-in-the sky scheme for a portable nuclear reactor —fueled the greatest riches to rags story ever told. From the writer of I Have Fun Everywhere I Go.
Politics & Revolution
Inside This Place Not Of It: Narratives From Womens Prisons ed by Ayelet Waldman and Robin Levi (McSweeneys) $16.00 – People in U.S. prisons are routinely subjected to physical, sexual, and mental abuse. While this has been documented in male prisons, women in prison often suffer in relative anonymity. Women Inside addresses this critical social justice issue, empowering incarcerated and formerly incarcerated women to share the stories that have previously been silenced. Among the narrators include a woman sterlized without her consent and a woman undergoing toxic treatment for a HIV positive diagnoses she didn't have and more. Part of the McSweeney's Voice of Witness Series.
Magazines
Bizarre #181 Nov 11 $10.50
Wallpaper Nov 11 $10.00
True Crime Oct 11 $8.99
Make vol 28 $14.99 – Not the lit journal, but the DIY project mag.
Gentlewoman #4 Fall Win 11 $12.99
Another Man #13 Fall Win 11 $14.99
Color Skateboards vol 9 #3 $7.99
Harpers Magazine Nov 11 $6.99
Wire #332 Oct 11 $10.99
Perspectives on Anarchist Theory vol 13 #1 a Movement by The Insititute For Anarchist Studies (Microcosm) $6.00 – With contributions from folks like Josh MacPhee, Chris Borte and more.
Inked Nov 11 $7.99
Music Books
Le Freak: An Upside Down Story of Family Disco and Destiny by Nile Rodgers (Spiegal) $27.00 – By the architect of the "Chic Sound" that dominated the late seventies, but was also a hitmaker in the 80s for artists like David Bowie, INXS, Duran Duran, Madonna, and more.
Sex & Sexy
Handbook vol 5 #4 2011 The Masked Issue $6.00
Model Men Gay Erotic Stories by N. Placky (Cleis) $14.95
Women in Lust Erotic Stories by RK Bussel (Cleis) $14.95
Ellen Von Unwerth Fraulein (Taschen) $69.99
Big Book of Pussy ed. by Dian Hanson (Taschen) $59.99 – Editor Dian Hanson delves into the historical significance of this humble os, to show how the yoni has been coveted, feared, reviled, and worshipped by civilizations worldwide, from New Guinea to old Ireland. The text is supported by playful photographs of women exposing their vulvas, from 1900 to the present day, images both naturally furry and stylishly groomed. Interviews with Vanessa del Rio, squirter Flower Tucci, vaginal performance artist Mouse the singular Buck Angel and more.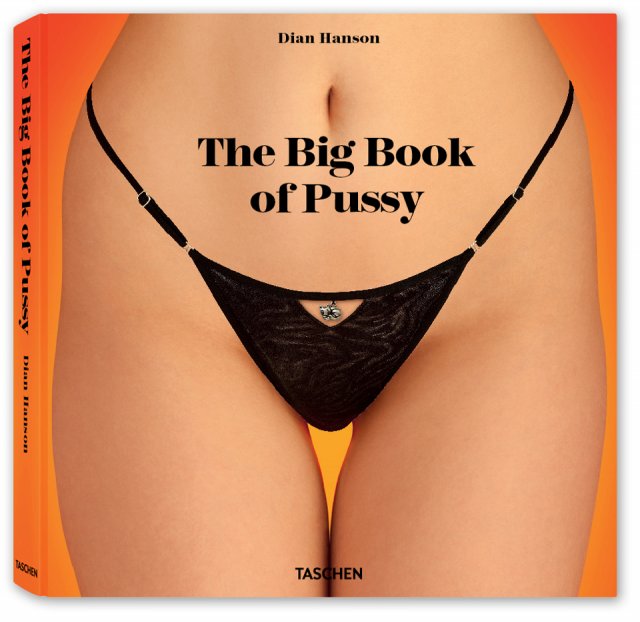 Other Stuff
More Moleskine blank journals and 2012 planners. In a variety of sizes, colors, lined, unlined, week at a glance, day at a glance etc.
2 new Build Your Own Postcards from Matt Bergstrom (artist of the Build Your Own Chicago and New York Postcards): *Build Your Own San Francisco Postcard and Build Your Own St. Louis Postcard. $2.00 each