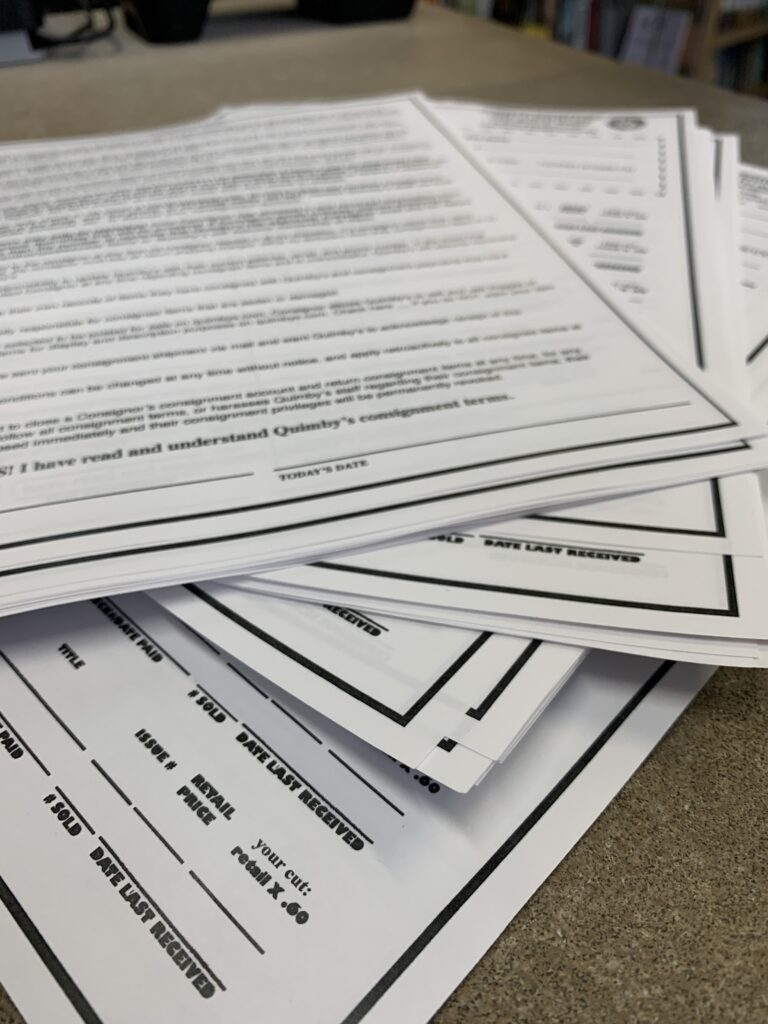 We love our consignors! Without you, we wouldn't be the store we are. To make consignment a sustainable practice for Quimby's, we have to update our policies. Not to worry. You'll still get your 60% of your retail price when you sell your stuff here. The new consignment form that we are asking all of our consignors, both new and current consignors, to sign is here: Consignment Form 2023. We are asking for your patience with us while we adjust to an era in which more people than ever before are self-publishing and consigning zines, mini-comics, and books. Here are some answers to questions that we know you'll be asking about consigning here at Quimby's and our new policies:
Why oh why is Quimby's changing their consignment policies?
We're in the process of the biggest update to our systems in our 32-year store history. This is a major, ongoing undertaking for our tiny staff, and involves, among many other complex and time-consuming tasks, a physical inventory of every single one of the tens of thousands of items in our shop. Yep, it's a huge project.
Oh, and those many thousands of consignment items? That number gets bigger every single day, as we receive the highest volume of zines, comics, and books for consignment in our history. Y'all are creative and prolific, and we love it! But we now receive so many consignment items on a daily basis that it's difficult for us to keep up with them all without making some changes to how we work with consignors.
If you've ever wondered why more shops don't offer consignment as an option, that's because the consignment process requires a lot of work on the part of a shop's staff. We're committed to continuing to offer consignment so all of you wonderful creators out there can sell your work here. We can only do that, though, by updating our consignment policies.
We deeply value our consignors and love having your work in our shop! We appreciate your ongoing patience as we navigate these unprecedented changes for our business and your support for our new policies.
I've been consigning here for a long time/I used to be able to check in whenever I wanted to/I can see that my consignment item is sold out/I'm the second cousin twice removed of a staff member/etc. That new every-four-months check-in rule doesn't really apply to ME, right?!
Yes, yes it does. We are not making exceptions to any of our consignment terms for any consignor, because it would not be fair to do that. We know that, for some folks, this will be a change in their consignment routine. We appreciate your willingness to follow our new policies! And if you don't want to follow all of our new policies, we will return your consignment items to you and permanently close your consignment account, no problem.
I came all the way over to the shop on the cursed Damen bus. Can't you just pull up my consignment file on your fancy desktop computing device real quick and tell me on the spot how much you owe me and how many restocks you can take?
No, we can't. That wouldn't be fair the the consignors who are following our policies regarding email-only check-ins. Also, checking on a consignor's stock and sales is a much more complicated process than just pulling up a file on the computer. (Buy us a drink and we'll walk you through the entire laborious process sometime.) When our shop is open, it's difficult for us to conduct consignment checks and also run the shop and assist customers, which is a major reason why we've adopted the email-only policy.
Why can't you pay me via Venmo/Zelle/gold doubloons/etc.?
Quimby's does not have a business cell phone, so we can't make payments via app-based methods such as Venmo, Zelle, and CashApp. The only forms of payment we offer are PayPal (paid as "For goods and services" because we are a business and we have to do it that way), bank check mailed via USPS or picked up in store, or cash picked up in store.
Why isn't my consignment item up on your website? 
We manually update our web shop, and don't have the staffing to list every consignment item we receive on quimbys.com. Only about 10 percent of the items in our shop are put up on our site. 
I dropped off/mailed in my consignment items a week ago. Why isn't it up on the New wall yet?
Because we are humans, not androids. Sometimes it takes a while for us to process the high volume of items we receive for consignment every single day.
Can you send me a photo of my consignment items in your shop?
Nope. We don't have a shop cell phone, nor do we have the time to take photos to send to you. Feel free to take your own photos of your stuff in the shop or send in a friend to do it for you.
I don't like these new policies. I don't think they should apply to me, a special and entitled person. And I'm going to harass your staff until you do what I want.
Any harassment of our staff for any reason WILL NOT BE TOLERATED. EVER. If you act like a jerk*, we will permanently close your consignment account immediately. We also may ban you from our shop.
* Acting like a jerk includes, but is not limited to: Repeatedly emailing/calling/DMing/showing up at our shop to ask about your consignment items after we have already replied once to your question and/or have already let you know once that you are in the check-in queue; contacting any of our staff members personally (via their social media accounts or any other means) to ask about your consignment items; using hateful language, raising your voice, or making threats when you communicate with us; and any other behavior that is unprofessional, rude, or hurtful. Pull any of this shit and you will no longer be welcome here.