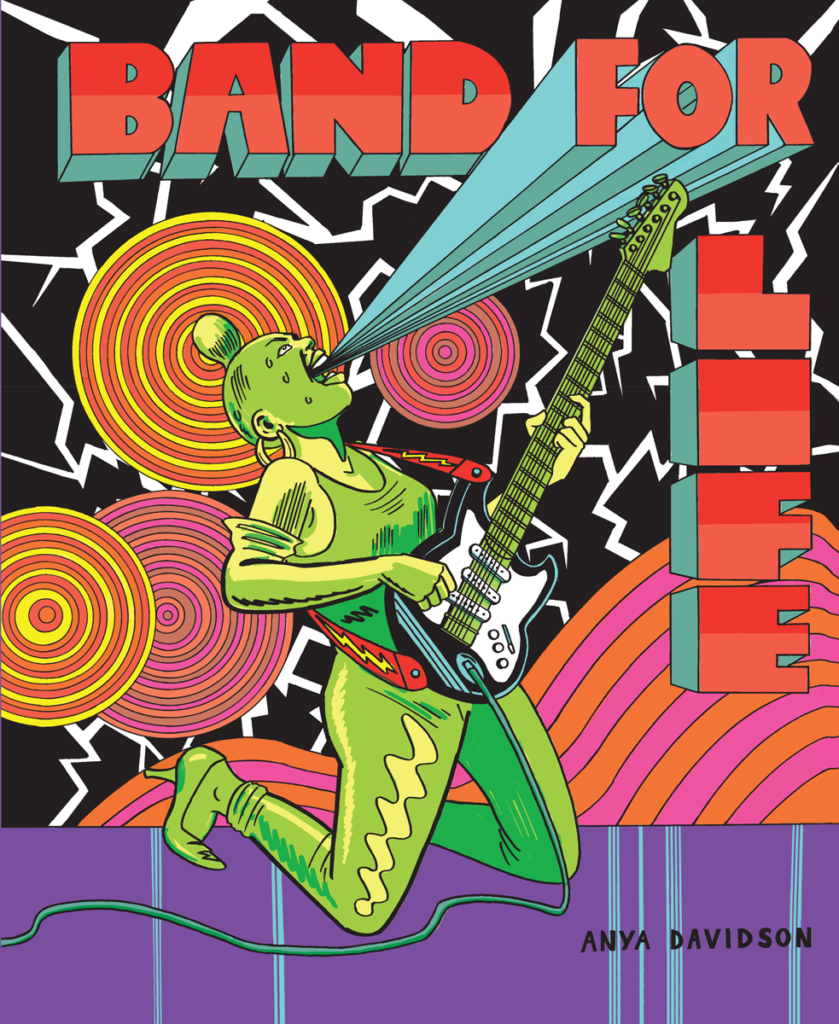 Band for Life collects the beloved series that follows a misfit band of Chicago punks trying to be self-sustaining with their finances and friendships as they navigate the often confounding art world. It's the story, told in comic strip form, of a noise rock band and their community of friends and acquaintances based in an alternate reality version of Chicago. Though beset with disaster at every turn and frequently reduced to squabbling, they stick together because the band is the fulcrum of their otherwise confounding lives, and together they help each other find their way.
Fusing elements of the classic British sitcom The Young Ones, as well as classic kids comic strips like Charles Schulz's Peanuts and John Stanley's Melvin Monster, Band for Life is a work of dark humor, but also infused with genuine affection for its cast; in many ways it is a love letter to creative people compelled to create, with no hope of financial reward.
"I was raised on old school adult comics from the '60s to '80s, the artwork of Pedro Bell, Overton Loyd and Ronald Stozo of the Parliament-Funkadelic Universe, Ralph Bakshi movies, and the like. When I came across Band For Life, I was immediately drawn in. The art reminded me of Funkadelic album covers, but with its own original swagger. The storylines spoke to my personal experience as a lifelong musician and band leader/member, in the same way that This Is Spinal Tap made me cry once I realized my life was as absurd as the movie. Anya Davidson is tapped into the very human experience that makes life in a band the story of family." — Norwood Fisher (Fishbone)
"Anya Davidson gets that being in a band is generally about 5% playing music and 95% anything but. In true punk form, Band For Life kicks into high gear with page number one and never lets up." — Brian Chippendale (Lightning Bolt)
"Anya's comics look like Dick Sprang and Boody Rogers got locked in a Pez factory and were told they would not be released until they produced hundreds of pages of a gutter punk Herculoids meets Josie and the Pussycats soap opera dripping soul and neglect." — Gary Panter (Jimbo)
"Band for Life is a warped and hilarious portrayal of the banality and adventure of bandhood from someone who lived it, but  embellished gloriously by Anya's imagination. Fucked up, feminist and funny. If you have ever ground away late nights in a basement trying to desperately remember the bad songs you just wrote, you will recognize your strife here with 'the Wildest Band on Earth'." -Jessica Hopper, author & Editorial Director, MTV News
Anya Davidson was born in Sarasota, Florida in 1983. She graduated with a BFA from the School of the Art Institute of Chicago in 2004. She is a cartoonist, musician, teaching artist and printmaker whose work appeared in many zines and anthologies, including Kramers Ergot and Best American Comics. Her debut graphic novel, School Spirits, was published by Picturebox Inc. The Ignatz award-winning series, "Band for Life" is her first book with Fantagraphics.
More info: